By Lucy Komisar
Jack O'Brien's crisp staging of Arthur Miller's iconic 1947 American morality play lays bare the corruption underlying the normalcy of American society. This story of 70 years ago could be easily replicated today. Oh, so easily.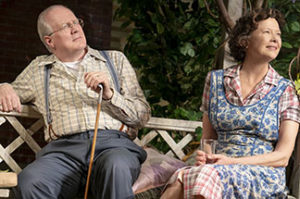 A two-story clapboard house, green vines up the side, is the home of Joe Keller (Tracy Letts as a good guy small businessman) and his wife Kate (the excellent brooding Annette Bening).
It's been three years since their son Larry, an Air Force pilot, died in plane crash while on a mission in World War II. He was to marry Ann Deever (the sweet na¯ve Francesca Carpanini), the daughter of his father's partner.
But then 21 P-40 planes crashed and their pilots were killed, because the Keller-Deever plant shipped a cracked engine cylinder to be fitted in the aircrafts. Steve Deever was sent to prison, because Keller testified he was home ill and didn't order the shipment, that Deever did. But Deever always said Keller told him by phone to move the parts, that they would hold up. Keller denied it and was exonerated.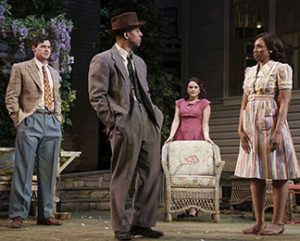 Neighbors, including the doctor's wife, Sue Bayliss (Chinasa Ogbuagu), know that Joe pulled a fast one to stay out of jail.
Larry never flew P-40s, but a day after the report of the defective engine disasters, his plane crashed.
Now Larry's brother, Chris (Benjamin Walker), wants to marry Larry's fiancée Ann, who has been living in New York and has refused to see her father in prison.
Chris and Ann grew up together, there is love there, but the story and their lives will unravel after Deever's son George (Hampton Fluker) arrives from New York after stopping to see his father in prison.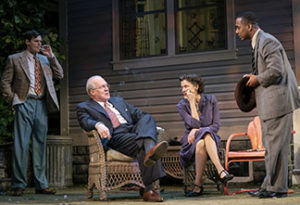 George is boiling with anger. Then Annie shows them a letter from Larry she has kept for three years. As details leak out, Kate erupts in a controlled passion, almost with interior noise. Miller milks the melodrama.
"I was in business," Joe protests.
"Don't you have a country?" Chris asks his father bitterly. "You're not even an animal, no animal kills his own."
But, indeed human animals do.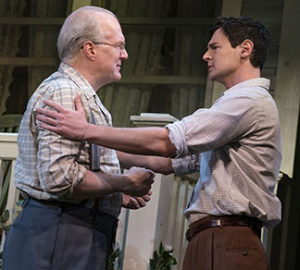 "All My Sons" is based upon a true story. During World War II, the Wright Aeronautical Corporation in Ohio conspired with army inspection officers to approve defective aircraft engines for military use. Several Wright aircraft assembly workers blew the whistle on the company. Three Army Air Force officers were convicted of neglect of duty. Nobody was convicted of murder or went to jail.
The story of the killer greed of small and large corporate business is repeated year after year.
Monsanto's Roundup gives people cancer. A jury in California has found the glyphosate-based Roundup weed killer to have caused cancer, eight months after another jury issued a $289 million verdict over similar claims in a different case.
Factories spew pollution that scientists says causes lung disease and much more. A new study from the UK has found that high levels of air pollution are associated with an increased risk of dementia.
Pacific Gas & Electric Co, which save money by not maintaining its transmission lines, caused the deadliest and most destructive wildfire on record in California, a blaze that killed 85 people and destroyed 19,000 homes last year.
None of the people responsible are in jail, they weren't even charged and tried. They won't be. And none appear to feel the guilt that Joe Miller did. America's corporate society seems even more corrupt today than it was in the 1940s.
Where are the mainstream theaters that stage plays about the current versions of All My Sons?
"All My Sons." Written by Arthur Miller, directed by Jack O'Brien. Roundabout Theatre Company, American Airlines Theatre, 227 West 42 Street, New York City. 212-719-1300. Opened April 22, 2019; closes June 30, 2019. 5/18/19.