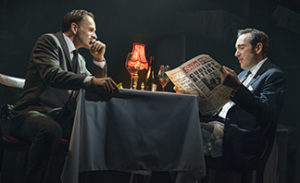 by Lucy Komisar
"The Sun" is a popular newspaper for the undereducated British masses. It was a broadsheet started in 1964, then reinvented as a tabloid five years later by the Australian Robert Murdoch and Larry Lamb, a North Englander he named as editor. They were outsiders to the London Fleet Street crowd and felt it.
Lamb told Murdoch that the Street, where the major papers were published, would crush him. The competition was "The Mirror," the largest selling paper in the world. And Murdoch (Bertie Carvel) and Lamb (Jonny Lee Miller), both portrayed vividly (and you believe it) as tough and unyielding, will poach and recruit to challenge the "stodgy" mass circ rag.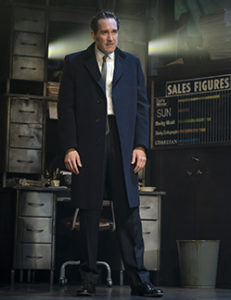 In this play by James Graham, directed by Rupert Goold, the Murdoch character seems ill at ease, but he's a fighter. He would tell Lamb, I want to destroy them. I want to crush them all, grind them down into the dirt!
Not that this is leading to better journalism. It's not what this is about. It's competition for readers who like scandal and, it turns out, naked ladies. Oh, also weather, bingo, sports and free stuff. Horrific headlines. Plus stories about the church and the royal family. But about gossip, not about the power of those institutions.
So, it's a mass marketing business. Wish they didn't call it journalism.
As a journalist, I was quite interested in the Murdoch/Lamb theory of creating the paper, which took over the first act, but found the second act story to be sheer forgettable melodrama.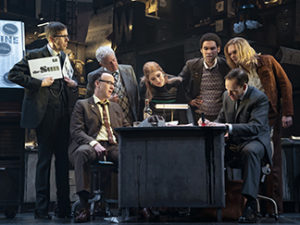 A horror soap opera that shows the paper's immorality is the kidnapping of the wife of a deputy editor. Instead of keeping the story quiet at the request of the police who say publicity might endanger her, Lamb goes ahead. Front page. It was populism playing to peoples' fears. Lamb checks the rise in sales. As Jonny Lee Miller plays him, Lamb seems sleazier than Murdoch.
SPOILER ALERT
The weirdest part is that she was supposed to have been killed by radical Muslims, who fed her to the pigs. But Muslims don't have pigs!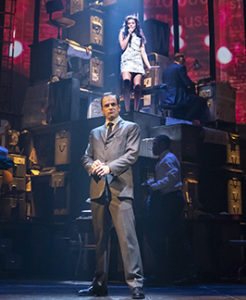 The other horror, crude in a different way, is persuading an Asian woman (Rana Roy), looking for a break, to be the first topless page 3 photo.
I liked the set (by designer Bunny Christie), which was wood desks piled on desks all the way to the ceiling. The set was better than the play. Or maybe I have to take that back, better than the reality of Murdoch's "Sun," if the story is true.
On the other hand, what is worse, "mainstream" papers that lie about major stories, such as weapons of mass destruction in Iraq, invented threats by Iran, and US imperialist attacks on Venezuela or scandal sheets that purvey obvious claptrap? Have to admit in that context, Murdoch doesn't look so bad. And playwright Graham and director Goold capture the mood perfectly.
"Ink." Written by James Graham, directed by Rupert Goold. From Almeida Theatre, London. Manhattan Theatre Club at Samuel J. Friedman Theatre, 261 West 47th Street, New York City. (212) 239-6200. Opened April 24, 2019; closes July 7, 2019. 5/21/19.