By Lucy Komisar
How do you take a 40s musical built around a sexist Shakespeare play and make it delight today's audiences? With pizazz and charm, if you are Roundabout Theatre director Scott Ellis. In this version of Cole Porter's and the Spewacks' "Kiss Me Kate," the feisty heroine gives as good as she gets, and she and her erstwhile spouse playing Katherine and Petruchio land some good kicks to the others' derrieres.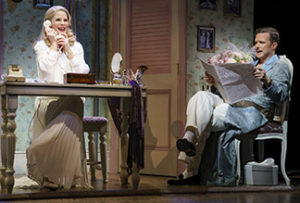 Lilli Vanessi (Kelli O'Hara) is still angry at her ex, Fred Graham (Will Chase). She's being courted by an army general (Terence Archie) who seeks to impress her when, on the phone from Washington, he hands the line to the president. Truman, of course.
When Kate discovers a bouquet from Fred was really meant for Lois Lane (a terrific comic Stephanie Styles) she threatens to walk out of the show. That's when two Damon Runyon types (John Pankow and Lance Codie Williams) arrive and force her to go on so Fred Graham can pay off a $10G gambling debt to which another cast member, Bill Calhoun (Corbin Bleu) signed his name. Their "Brush Up My Shakespeare" is a highlight.
The mishap gives Lois a chance to chastise Bill, in a quivering "Why Can't You Behave?"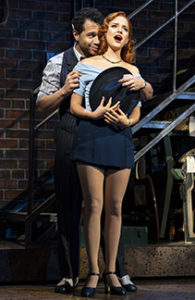 But the general makes a glaring mistake, confusing romantic relations with "the chain of command." When Fred explains to him that Kate is temperamental and that she can be "a pain in the….," he interjects, "But chastising the little woman is the sacred privilege of a husband and no one else…. Restoring family discipline… my message to the American people." (He's planning to run for president!)
It turns out the creep had a past assignation in Asia with Lois, for which he gave her a diamond bracelet. Style's "Always True to You in My Fashion" is a pretty modern free woman song. And he's planning to restart the affair, after a decent interval, maybe three months. He'll attempt his "command" mode with Lilli, but will discover that doesn't work.
So now that we've got the politics clear, to the production!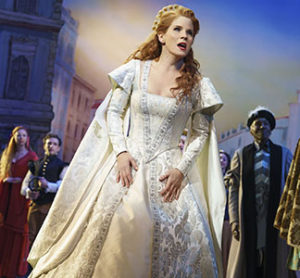 The scene shifts back and forth to the boards, where Petruchio (Chase) has "come to wive it wealthily in Padua." Kate, presented with him as a suitor, does a terrific "I Hate Men," opening a neighborhood bar door to view a bunch of retrograde guys drunk and cackling.
The ex-lovers fight, quite realistically, she snaps a whip at him. Kate is NOT submissive, Petruchio kneels and ends up on the ground with her foot on his stomach. Sure not the old "Taming of the Shrew" where Kate gets spanked!
The great poet had some reactionary ideas, or reflected the attitudes of his public. Shakespeare in modern dress, quite accepted, may require altering in text or action. Think of Al Pacino's excellent Shylock in the Public Theater's "Merchant of Venice," which was subtly transformed so that it was not an anti-Semitic play.
This is more revisionist Shakespeare. In his dénouement, Shakespeare has Katherine say, "I am ashamed that women are so simple to offer war when we should kneel for peace." Now, "Women" becomes "people," of course.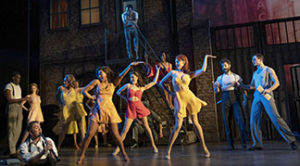 The production is high Broadway. I loved the jazzy Cole Porter music and jazz ballet (choreography by Warren Carlyle). "It's too darn hot" is a great clarinet and dance number, with James T. Lane leading a tap dancing show stopper. O'Hara, with star presence and a thrilling operatic soprano, is a smash. Adrienne Walker is a terrific "Hattie" in "Another Opening, Another Show."
All is enhanced by the 40s costumes (Jeff Mahshie) and the pastel chalk Venice set (David Rockwell.) This play could last as long as Shakespeare's original!
"Kiss Me Kate." Music and lyrics by Cole Porter; Book by Sam and Bella Spewack. Choreographed by Warren Carlyle; Directed by Scott Ellis. Roundabout Theatre Company at Studio 54, 254 West 54th Street (between Broadway and 8th Avenue), NYC. Opened March 14, 2019, closes June 30, 2019. Running time 2:30. 5/18/19.