By Lucy Komisar
This "Lear" with Glenda Jackson as the king is sometimes brilliant, sometimes annoying.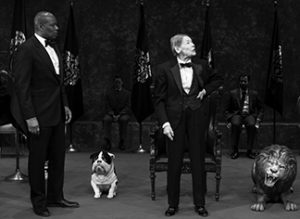 To be male and even supercilious, she makes her voice and demeanor angry, harsh, raspy, cackling. Indeed, Jackson is a brilliant actress, her voice and demeanor might be male, but she didn't persuade me she was a king. Or perhaps she was on the edge of madness very early in the plot, after her daughters' duplicity. As the play went on, I wasn't sure if she would shrivel or explode.
Director Sam Gold puts the cast in modern dress. Men in tuxedos, women in evening clothes. There are bottles of wine on the table. When troops come, they are in army fatigues.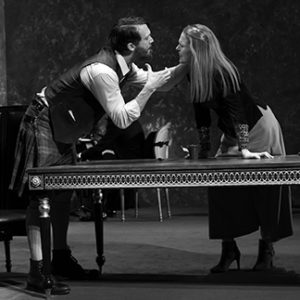 Philip Glass's music played by a string quartet sounds a bit 17th century, which is fine.
You know the story – the king demands pledges of loyalty from his daughters, and Cordelia (Ruth Wilson) the only honest one, cannot promise it in advance. Her scheming sisters Goneril (Elizabeth Marvel) and Regan (Aisling O'Sullivan) are glad to pledge, and once property is transferred to them, to betray the old man.
They also betray one another, with Goneril having on-the-floor sex with Regan's husband, the Duke of Cornwall (Russell Harvard). Which brings me to a director's decision that was a big mistake. The Duke deaf signs instead of talking, with his words for the hearing audience spoken by his onstage aide (Michael Arden). Arden also signs for the deaf audience. It was hard enough to always follow the text in this bi-national cast with many heavy British accents. The signing/speaking was a major distraction. To say that adds to the play's busyness is an understatement.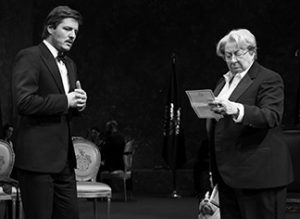 Also playing a man is Jayne Howdyshell as the king's friend, the Earl of Gloucestor. Her sex change was not quite believable to me; she seemed rather neuter. The marvelous Shakespearean actor John Douglas Thompson is the loyal Earl of Kent, though with his traditional demeanor, he doesn't appear to belong in this play.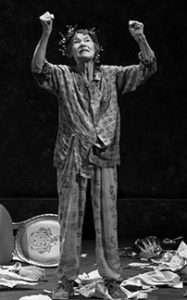 Another choice was also confusing. When the king finds himself in a desolate hilltop, that is shown as upended chairs and tables. Took a moment to figure out that symbolism of his world overturned, if that is what it meant. Or is the scene the narrow ledge in front of the drop curtain. Couldn't tell.
My favorite performer was the fool (Ruth Wilson), who sang in Cockney accent in a sprightly vaudeville fashion. The best "Lear" fool I've ever seen. She also played the good daughter, Cordelia.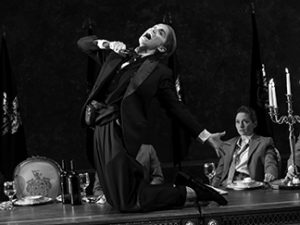 Shakespeare indeed had men play women's roles since females were not allowed on the stage, so quite appropriate to see Jackson do Lear. And, taken apart from the rest of the staging, who could do it more memorably than the great Glenda Jackson.
"King Lear." Written by William Shakespeare, directed by Sam Gold. Cort Theater, 138 W. 48th St., New York City. 212-239-6200. Opened April 4, 2019; closes June 9, 2019. 5/19/19. Also on NY Theatre Wire. Also on NY Theatre Wire.