By Lucy Komisar
Director Daniel Fish puts the iconic American musical "Oklahoma" in a country setting with a modern sensibility. And it sizzles.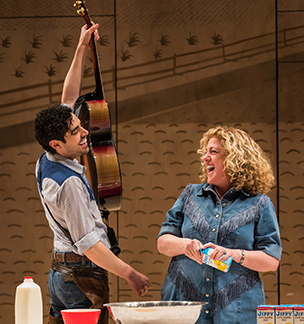 Racks of rifles are on walls circling the audience. Seven musicians sit in a center pit. The cast walks onto the plywood floor in cowboy boots. Patrons in the front rows are behind white-topped tables with red crock pots. (Set by Laura Jellinek). The scene and audience are lit, no mikes except some hand mikes. You know this is going to be different.
This is not the iconic big stage Oklahoma, first performed in 1943, we are used to. The mood is set by the theater in the round, where nobody is more than about eight rows from the action. And we are intimately involved, almost eves-dropping.
Curly McLain (Damon Daunno) strumming his guitar has an appealing twang in "Oh what a beautiful morning." Curly's sexy movement and guitar playing are a rock image. Aunt Eller (a fine Mary Testa), generally cynical, is preparing a cake in a large silver bowl, stirring flour, eggs and milk.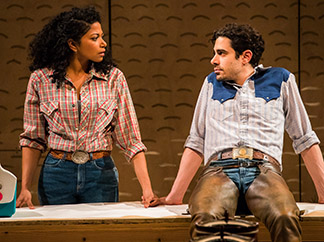 It's the Oklahoma territory in the early 1900s. A very feminist take on men and women is established by a strong cohort, Aunt Eller, her niece Laurey (Rebecca Naomi Jones) and Ado Annie (Ali Stroker).
Curly is attempting to seduce Laurey into coming to a box social by promising to carry her there in "a surrey with a fringe on the top." She is not impressed and goes to stir Aunt Eller's cake mix.
At first I couldn't figure what Laurey found wrong with Curly, who appeared to be a nice guy, pretty much on her level, especially considering the alternatives at the time. But you don't see any sparks, at least not on her side. Seems she wasn't going to settle for what was available.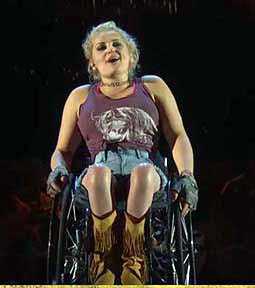 Ali Stroker as Ado Annie has another great twang, and her "Can't say no" (to sexual invitations) is a show-stopper, establishing the power of her voice and sensuality.
These women don't need men, which seems rather unusual for the times. Or at least any particular man. In a scene where they shuck corn and throw the husks into a big silver pot, they jump on tables and Laurey, in a fine voice, sings,
"Why should a woman who is healthy and strong,
Blubber like a baby if her man goes away?
A-weepin' and a-wailin' how he done her wrong,
That's one thing you'll never hear me say!
Never gonna' think that the man I lose is the only man among men.
…… Many a new face will please my eye,
Many a new love will find me;
Never've I once looked back to sigh over the romance behind me;
Many a new day will dawn before I do!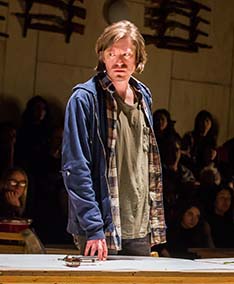 The dark part of the play, or maybe darker than the original, is the standoff between Curly and Jud (Patrick Vaill), an outlier who wants to court Laurey. It becomes a horrifying moment full of angst as Fish in a darkened theater projects a giant vision of Judd's face. It didn't work for me.
I was happier with Testa's "Out of your dreams" – she owns the song.
In the intermission the audience lines up for chili.
The second act opens with the famous Laurey's dream sequence danced by Gabrielle Hamilton; she is fine but the John Heginbotham choreography is dreadful. There's better dancing in "The farmers and the cowmen should be friends"- a jumping noisy hoedown. And then the terrific Ali Stroker again in "With me it's all or nothing…."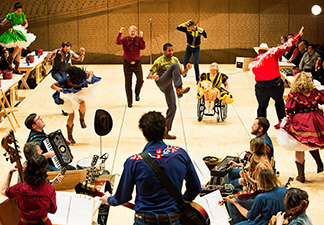 The real script problem is why Laurey can't think of whether to marry Curly. She is not flirty. She is standoffish, moody. She doesn't want him, then she does. On the other hand, men outnumbered women in the western territories, so maybe she had more of a choice than is apparent.
No spoiler alert, but a dark killer ending finishes with a self-defense plea that could actually work today in one of the corrupt courts sprinkled though the country.
The production is worth the script problems. Daniel Fish turns a 70+ year-old play into an edgy drama that is probably closer to life in the Oklahoma territory than the feel-good Rodgers and Hammerstein musical of the 40s.
"Oklahoma." Music by Richard Rodgers, book and lyrics by Oscar Hammerstein II; directed by Daniel Fish. Based on play "Green Grow the Lilacs" by Lynn Riggs produced on Broadway in 1930. Original choreography by Agnes De Mille; new choreography by John Heginbotham. Circle in the Square, 50th Street, east of 8th Avenue, New York City. 212-239-6200. Opened April 7, 2019; closes Jan 19, 2020. 6/29/19. Also on NY Theatre Wire.