By Lucy Komisar
This is the best juke box musical since "Motown" and "Jersey Boys." In fact, it's about a Motown group that also started in Detroit and had the famous manager Berry Gordy. As one local explains, in Detroit, "you either sang or you join a gang. If you can't do neither, better learn to run."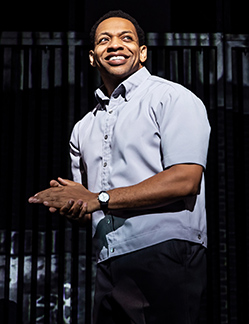 The book by Dominique Morisseau is enriched by music and lyrics from the Motown Catalog. Director Des McAnuff who also directed "Jersey Boys," tells the Temptations' story seamlessly working in their songs. Sergio Trujillo, who choreographed "Jersey Boys," brings the same imagination to this show.
The Temptations got started as young kids and created their lives in Motown. It was short for motor town, Detroit.
At 16, Otis Williams (Derrick Baskin) went to a juvenile detention center for gang activity and robbery. He decided that had to change. Singing would be his salvation.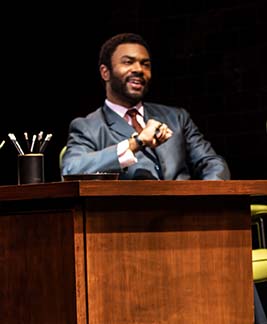 He started with a band called Otis Williams and The Distants. They did doo wop. He recruited others, including Melvin Franklin (Jawan M. Jackson, with a great bass sound). And then they met the legendary Berry Gordy (Jahi Kearse.)
He shaped them: "You fellas got a good look. Want you to keep it up. Faces groomed. Hair trimmed. When folks see five black brothers on their TV screens, they're going to see five gentlemen." They did, elegant in sequined jackets.
They had to dance. Melvin says, "I ain't no dancer.
Paul (James Harkness) replies, "Everybody's a dancer. Just got to find your groove.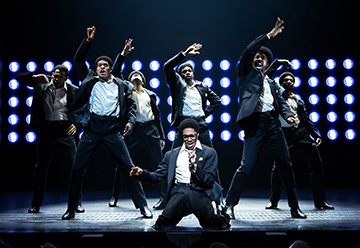 And Otis, "Maybe we should keep these moves simple. Don't wanna be trippin' all over each other."
From there came the special thing about the Temptations, the movement. Not dancing, but syncopated kinetic moves.
The main performers were Otis Williams, Paul Williams, Melvin Franklin, Eddie Kendricks (Jeremy Pope) and David Ruffin (Ephraim Sykes, with amazing dance splits). Their singing would do the Temptations proud. Even if you weren't a fan, you know some of their songs: "My Girl" and "Baby Love."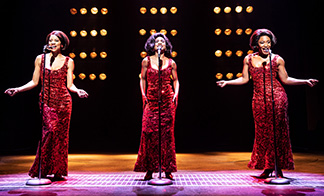 They started as the second backup act to Diana and The Supremes, who appear in the show in glittery red gowns.
The "Temps" had big TV success with the beat, the signature high notes and dance moves. "My Girl" topped the charts. They were on magazine covers. They got bookings in London and Paris.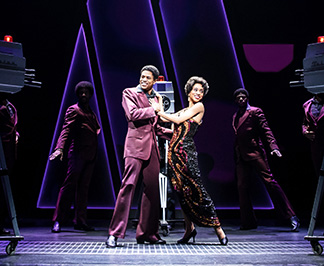 Sometimes there were five, sometimes a few more or less. Members of the group changed over time, due to personal problems, conflicts, deaths. There was a cost in personal relationships. But the music and the movement stayed.
The show is glorious with their songs and style: "In the Still of the Night, "Gloria," "You Can't Hurry Love."
If you're a Temptations fan, you will appreciate the inside story of the group. If you're a musical theater fan, you will delight in this production.
"Ain't Too Proud: The Life and Times of the Temptations." Book by Dominique Morisseau; adapted from Otis Williams's 1988 memoir, choreographed by Sergio Trujillo; directed by Des McAnuff. Imperial Theater, 252 W. 45th St. New York City. 212-239-6200. Opened March 21, 2019.  Running time 2:30. $29 student rush tickets, 2 per person at box office with student ID, subject to availability. 6/9/19. Also on NY Theatre Wire.