By Lucy Komisar

A bit of summer fluff, slightly hokey, but with a good underlying message, this play by Joe Iconis, Lance Rubin, and Jason Sweettooth Williams, is about an "older woman," Annie (Annie Golden) who can no longer get roles in theater and is scooped up by a bounty hunting firm on the track of a drug trafficker hiding out in the jungles of Ecuador.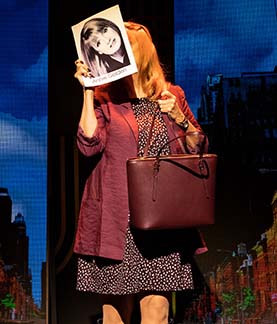 Annie had been living in a past, carrying around a youthful headshot, talking to a photo of a producer husband who died ten years before. But they don't play her songs anymore, and her voice is a little screechy.
Suddenly a "street lady" who had been sizing her up appears in her apartment, along with two masked henchmen. She is Shiro Jin (Emily Borromeo) who telling the plot she needs Annie for, calls up the musical sound of a "Les Mis" adventure.
She explains, "We are hired by clients to track down those who have wronged them." She is elegantly Asian in a pale pink silk jacket and straight gray pants, perfect for the genre.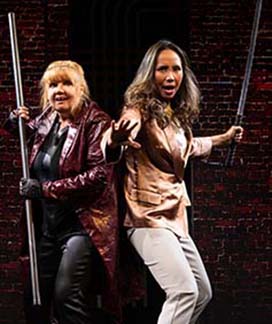 Her come-on to Annie is a bit odd — they want her because her voice is ferocious and she has the wisdom that comes with age – but Annie needs a job. Nothing else is in the offing, so she dons an "Assassins" sweatshirt. Annie Golden played Squeaky Fromme in Sondheim's "Assassins."
The training involves brandishing knives and long iron rods, shooting flares out of blowpipes and of course, the standard karate chopping.
This improbable musical will shift curiously between the theater world (the best parts) and Kung Fu adventurism. The martial arts are danced, as it is explained that "primal rage is a tool for the field."
Indigo (Jasmine Forsberg) wields a pair of knives for a move she calls "The Slice of Justice. Imagine there's some date-rapin' entitled bastard standing right over there."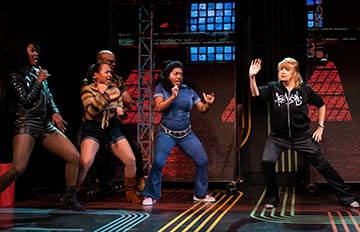 The music by Iconis, who also wrote the lyrics, comes from a live disco band, which is unfortunately too loud.
The spirited choreography is by director Jennifer Werner who keeps a good balance between real mystery and parody.
Annie's partner in the mission will be the hostile Lazarus (Alan H. Green), slightly threatening in dark glasses. It turns out his deep anger hides a melancholy.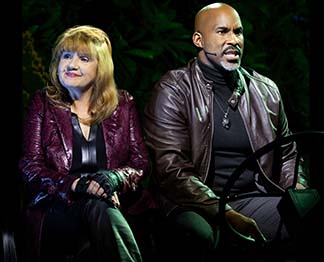 So, they are off in a jeep, driving from New York through thick tropical forests (thanks to Brad Peterson's projections and videos) on the track of Max Roundtree, dope pusher and pimp, who runs a brothel in the jungles of Ecuador.
The play is a send-up of action films, martial arts and "the master," romance (Annie and Lazarus are a most unlikely couple — older overweight woman and a big black guy.) Alas, the story is rather disjointed and is clever only in Annie's theater jokes.
The first crisis is that instead of carrying a manila envelope with the dossier they need about Max, she in error mailed that to a casting director and has the one with her old headshot. She does have a large star, an acting award from 1982. Like the gun in a mystery, it will be used.
Lazarus is angry at the dossier mix-up. Annie declares, "I feel like I'm working with Mandy Patinkin again!"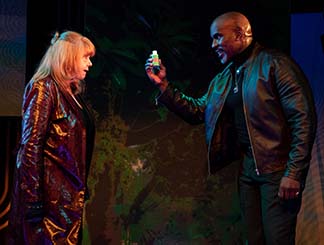 She sees all through prism of an actor. When a drugged-out worker from Max's entourage stumbles into view, they look for clues of where the big house is.
Annie figures, "He was coming at us on a down stage attack as if we were the audience- number one rule you don't turn your back on the audience! His core was sorta pulling him that way… so my money is on old Roundtree's house being Down Center Right."
Through binoculars, Lazarus sees a mansion labeled, "HoHouse." Annie declares, "I think we just stumbled on the best little whorehouse in Latacunga." So, now you get the idea. For the new tough Annie, her secret weapon is stagecraft.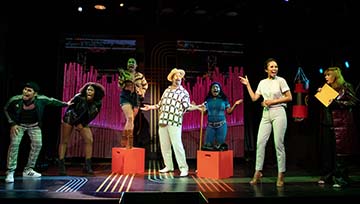 As the campy story unfolds, there will be prostitutes labeled "climax coaches," Annie, who has adopted a stage British accent, urging them to organize to demand breaks after performances.
And for a take-down of romance, Lazarus sings (in a powerful baritone):
Her hand/|
On top of mine/
Clammy with sweat.
Her hand/
On top of mine/
Hope she don't take it off yet."
One difference is that here women are in charge. The playwright says he seeks to subvert the stereotypes, which is why tough Lazarus talks about not being in touch with his "feelings."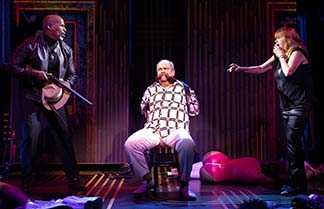 The play was inspired by exploitation films of the 1970s and 1980s marked by blaxploitation, martial arts, cars, revenge and Asian characters. And a lot of sex, violence, and melodrama.
Back to the plot: Of course, the intrepid couple will get their man and take him to New York.
The story gets dark. Max the pusher (a terrific Brad Oscar) had attempted to ramp up Broadway profits by giving actors a drug that would increase their stamina and vocal range and allow them to work twice as many hours. "Work ˜em hard until they die. There's always others standing by."
We learn why Shiro is after him, and why Annie was tasked with the job. There will be no spoiler alert, so you have to find out yourself.
Annie Golden is terrific in her musical numbers, starting with "A Woman of a Certain Age." By the end, her song about taking charge of her life, "Veins," rhymes with "I'm holding the reins." And she's talking about smashing the patriarchy. A better redo of the 70s and 80s! So, not a great play, not even as farce, but a good summer diversion.
"Broadway Bounty Hunter." Music and lyrics by Joe Iconis; book by Joe Iconis, Lance Rubin, and Jason Sweettooth Williams; directed & choreographed by Jennifer Werner. Greenwich House Theater, 27 Barrow Street, New York City. (At 7th Ave). Opened July 23, 2019, closes Sept. 15, 2019. Running time 2 hrs. 7/23/19. Also on NY Theatre Wire.