By Lucy Komisar
July 14, 2019
Freddy Cole didn't make it to his 8:30 set at Birdland last night. He was stuck in a nearby hotel when the power outage struck and, at 87, he couldn't take the stairs.
But July 13th was a glorious evening at the legendary jazz club, where his son Lionel Cole took over, playing the piano, singing and charming the crowd with his voice, his personality and his kilts.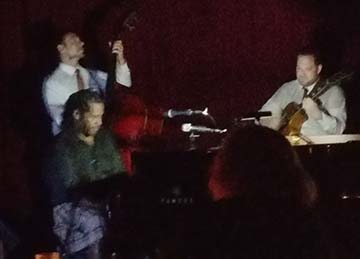 I loved the intimate candle lit room better than the electrically lit one! And someone had scrounged battery lights to highlight the group. The rest of us quaffed drinks that were served amazingly cold.
I had to walk 20 blocks from 23rd Street after a half hour stuck in a subway train, but the trek was worth it.
The Coles play cool jazz mixed with American standards. Besides Lionel's piano, there was Sam Raderman on guitar, Elias Bailey on bass, Jay Sawyer on drums and an addition, my favorite, the terrific saxophone player Joel Frahm, whose notes conjure up bright colors.
Sometimes Lionel sounded like R&B, others times like a piano bar cabaret singer. He did standards such as Ray Charles' "Georgia" and Rodgers and Hart's "My Romance." Then Marvin Gaye's "Walkin' in the Rain" and a song Nat King Cole recorded, "Straighten Up & Fly Right."
His piano was slow, cool and jazzy, with a hint of sparkle, his baritone a bit rough – he's not a crooner — with an inflection of pop, sometimes bluesy.
By the way, the Coles are a musical dynasty, Freddy is the younger brother of Nat and the uncle of Natalie.
Lionel said he joined his dad's group only a few months ago. If Freddy Cole wants the Cole name on the band when he leaves it, Lionel would be fine!
"Freddy Cole Quartet." Birdland, 315 West 44th Street, New York City. 212-581-3080. July 9-13, 2019. 7/14/19.