By Lucy Komisar
July 22, 2019
Robert Morgenthau, who was the District Attorney of Manhattan for 33 years, died today at 99. He was a mortal enemy of the corrupt offshore bank and corporate secrecy system and used the fact of dollars settling in Manhattan banks to go after money-launderers throughout the world.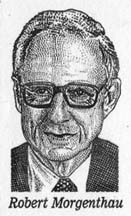 I interviewed him for a story I wrote for the Wall Street Journal in 1997 about the use of offshore in drug trafficking . He told me how to attack the offshore system, which is essential to corporate corruption, tax evasion, arms trafficking, kleptocracy and every kind of criminality.
He said, "The U.S. could say we won't permit foreign banks to open branches in New York if they insist on bank secrecy. We could say: you can't do business in this country."
That would have dealt a lethal blow to global money laundering.
Of course, the interests that run the financial system make a lot of money from laundering profits and taxes, not to mention selling arms to public and private killers, so that was never on the agenda. And the articles in the corporate press you now read about Bob Morgenthau's life will not mention it.
Read the story here.