By Lucy Komisar
Stories about men pretending to be women walk a fine line between skewering sexism and practicing it. "Tootsie" falls on both sides of that divide.
And this one, book by Robert Horn based on the 1982 film, is somewhat outdated. Real gender-bending stuff makes it unbelievably tame. And those stereotypes just don't go away. But it gets a good breezy production by director Scott Ellis, including a Fosse-style chorus line. And there is a cacophony of funny new topical one-liners.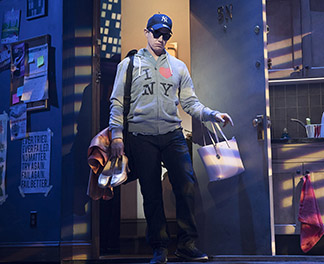 Actor Michael Dorsey (Santino Fontana) is 40. He hasn't made it in the theater largely because he is arrogant and difficult, fights with everyone and routinely gets fired. Santino Fontana as Michael has presence but misses on panache.
His erstwhile girlfriend Sandy Lester (a superb Sarah Stiles) is also not making it, but while Michael is self-assured in his failures, she is insecure to the point of hysteria. "God, I hate my life!" Male-female stereotype: Michael exudes confidence even in failure.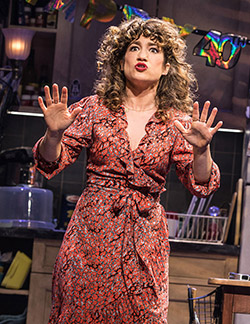 Sandy is going to an audition where all the judges look like Antony Scalia. Stiles is tough, comic, terrific. Probably worse than Scalia are the theater biggies drowning in narcissism.
Especially the aggressive, nasty, self-involved director, Ron Carlisle (Reg Rogers), who I would know in any play on Broadway because Rogers sounds the same — grating, rasping voice — and I assume the casting director chose him because Rogers is Carlisle. It works here.
In desperation, Michael gets a wig, high heels and necessary accouterments and becomes a female, Dorothy Michaels.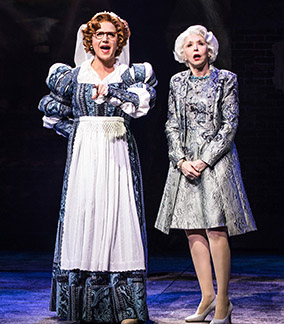 At the audition, not a success for Sandy, "Dorothy" charms producer Rita Marshall (a tough, appealing Julie Halston). White-haired Marshall notes that she has passed her socially imposed prime.
Dorothy has come up with a good idea for the $12-million production in difficulty. Marshall likes that. She informs the obnoxious director, "I'm the producer and I write the checks!"
Big success. Dorothy goes on to play leads in "Gypsy," "Evita," "Joan of Arc," "Mother Courage," "Elephant Woman." "Elephant Woman"??? )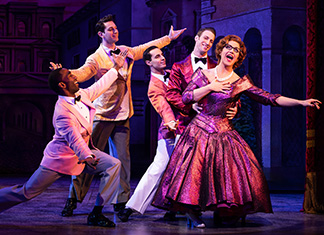 The plot also turns on the fact that Michael has fallen for cabaret singer Julie Nichols (Lilli Cooper, with a very good voice).
When he goes to the cabaret as a man, he tells her she looks like a woman "who needs a nice guy." Ouch. She ripostes: "Does that mean there are some?" Slap. In fact, most women just walk away, too polite to slap.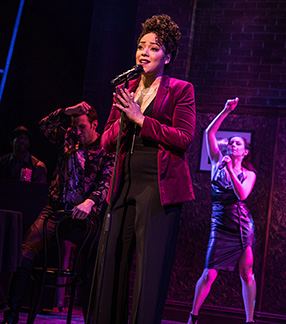 Complicating matters, another male actor has fallen for Dorothy.
Director Carlisle, also at the club, is over the top: "I've had numerous wives, some of them my own."
When the gender-bending actor's agent (Michael McGrath) shows up at his apartment unannounced, he discovers the wig and the ruse. After the doubletake: "Use whatever bathroom you like. You'll be the most hated man and woman on Broadway."
When Sandy finds out, she screeches, laments about being a woman in real life: "Lose your shoe at midnight, you're probably drunk."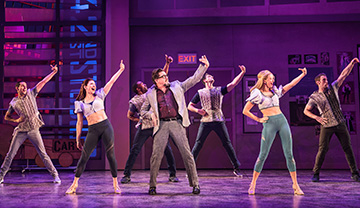 All along we are treated to big Broadway style with David Yazbek's music and Denis Jones' choreography.
So, the scene is chaotic, neurotic, the men are insecure narcissistic jerks. But even the one-liners flag their intrinsic authority; they win. The play is often clever and amusing, not very deep. But it's probably truthful at the end.
"Tootsie." Music and lyrics by David Yazbek, book by Robert Horn, based on the story by on McGuire and Larry Gelbart and the Columbia Pictures film. Directed by Scott Ellis, choreographed by Denis Jones. Marquis Theatre, 46th Street between Broadway & 8th Avenue, New York City. 800-982-2787. Opened April 23, 2019. Running time 2:35. 7/13/19. Also on NY Theatre Wire.