By Lucy Komisar
Aug 16, 2019
The Anderson Brothers take you on a gorgeous trip to the jazzy 1930s and 40s of the great composer Duke Ellington. With their swing jazz horns, Jeb Patton's fast-fingered piano and Molly Ryan's ethereal voice, you have magic.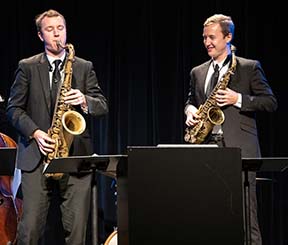 But this is not just a concert performance of more than a dozen of Ellington's brilliant compositions. And a band that also includes the fine sidemen Chuck Redd on drums and Neal Miner on bass.
On a large screen next to the musicians you see videos and photos, clips from interviews and musical selections, along with Will's commentary of what was happening to Ellington and jazz in those years.
Ellington was indeed a musical genius. He was the son of two pianists and got the nickname the Duke because of his penchant for elegant dress. He wrote his first composition "Soda Fountain Rag" in 1914 at age 14. And though the screen story concentrates on the 30s, it takes us up to the 60s when he was in "The Anatomy of a Murder." You get a sense of his work as composer, the history and artistry, his delight in Chicago jazz and New Orleans sounds.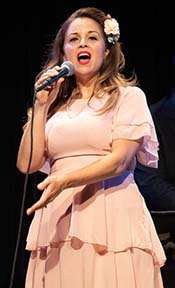 From the early years, we hear the Andersons' cool bluesy clarinet and sax in "Black & Tan Fantasy," 1927. Then "Mood Indigo" from 1930.
Molly Ryan brings a honeyed lilting voice to "Drop Me Off in Harlem," 1933. To her "That was my heart serenading you, A Prelude to a Kiss," 1938. And to her "I Got it Bad and that Ain't Good," 1941. With dulcet, mellow tones, she seems as if she walked out of the era on the screen.
Ellington was a major figure of The Cotton Club in Harlem. And his career got a boost from the Newport Jazz Festival.
It also got a stunning gift from the brilliant Billy Strayhorn. Will Anderson tells how Strayhorn walked in on Ellington, sat down at a piano and said "I want to play for you." Strayhorn's arrangements of Ellington's songs led to a 30-year collaboration. "Take the A Train" was Strayhorn's in 1939.
Ellington liked classical artists such as Chopin, Debussy and Ravel. One of the numbers, "A Simple Petal of a Rose," has a classical nuance.
Tucked away in Symphony Space on the Upper West Side, this was a special evening.
The Anderson's show on Louis Armstrong and his music is Aug 21-23, 2019.
The Anderson Brothers Play Ellington. Songbook Summit at Symphony Space, 2537 Broadway & 95th Street, New York City. (212) 864-5400. Aug 13-15, 2019. 8/16/19.