By Lucy Komisar
Aug 15, 2019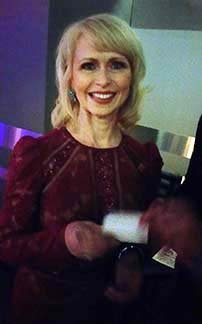 Karen Oberlin, a well-liked figure on the New York cabaret scene, brings a welcome slightly jazzy tempo to this musical expedition through the discography of Doris Day. Her voice has the Day honey and lilt, but I think she improves on the tempo. Oberlin did two shows Aug 13 at the Birdland Theater.
From "A Foggy Day" by the Gershwin brothers we get a tour of the tunes that Day made famous, including "Sentimental Journey" and the iconic "Que Ser¡ Ser¡." And Julie Style/Sammy Cahn numbers such as "It's Magic." Day of course is as iconic as the songs, and Oberlin has performed the show in many places, in the U.S. and abroad.
In between the songs, Oberlin tells the story of Doris Kapelhoff, little known at the time she was a TV, film and recording star. They begin with her start in vaudeville in Cincinnati, the influence of Ella Fitzgerald, and tumble down to the three rotten men she married, including one who beat her when she was pregnant and another who fleeced her of millions. Day seemed to reinvent herself and find her footing after each personal blow.
Oberlin is a lot more sophisticated and edgy than Day in her delivery, seen in songs like Cole Porter's "Night and Day." I prefer Oberlin's jazzy style!
Karen Oberlin: "Secret Love: A Tribute to Doris Day." Birdland Theater, 315 W 44th St, New York City. Musical director and pianist John DiMartino, bass Steve Doyle, arrangements Tedd Firth. The theater is an intimate café with food and drinks at tables and bar a floor below the Birdland Jazz Club. Aug 13, 2019. 90 min. 8/15/19.