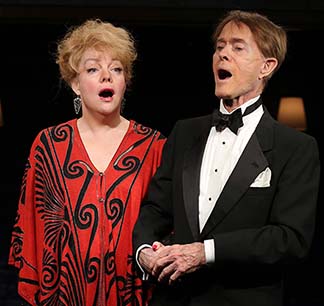 By Lucy Komisar
KT Sullivan is a smash as a comic Elaine Stritch in No«l Coward's "Why do the wrong people travel?"
"Why do the wrong people travel, travel, travel
When the right people stay back home?
What compulsion compels them
and who the hell tells them
To drag their cans to Zanzibar,
instead of staying quietly in Omaha.
The Taj Mahal and the Grand Canal
And the sunny French Rivera
Would be less oppressed if the Middle West
Would settle for somewhere rather nearer."
For that, she drops a few octaves down from her elegant soprano. And she doesn't just sing, she performs. I've seen her doing cabaret, but never knew she was such a good actress.
Sullivan is the reason to see this show, co-starring Steve Ross, which was written by Barry Day and directed by Charlotte Moore.
Sullivan also does a terrific "Mad About the Boy." Her sweet soprano is nostalgic in the song from "Private Lives" where she plays Gertie Lawrence.
The story between the songs is Coward's life, told through his copious letters to friends and theater people. Steve Ross plays Coward and Sullivan various people in his life.
Some of the letters are rather pretentious, notably to his mother. Others are appealing and interesting, especially about the joys and perils of the theater life. There's lots of famous name-dropping: Marlene Dietrich, Greta Garbo, Lynn Fontanne and Albert Lunt, Winston Churchill and the British Queen Mother.
The downside: Ross, a long-time cabaret singer, at 80 no longer has the voice that made his name. And the venue, a small stadium stage with badly raked rows on two sides, provides some impeded views. Including mine.
"Love, Noel: The Songs and Letters of Noel Coward." Written by Barry Day; directed by Charlotte Moore. W. Scott McLucas Studio Theatre, 32 West 22nd Street, New York City. (212) 727.2737. Non-reserved seating. Opened Aug 1, 2019; closes August 25, 2019. Running time 80 min. 8/11/19.