By Lucy Komisar
Sometimes you go to dinner and sometimes you go to an event. Dinner at the Russian Samovar is an event!
First, the drama is clear from how this was envisioned by the previous owners, Russian dancer Mikhail Baryshnikov and poet Joseph Brodsky. They made it into a place for artists, especially Russian artists.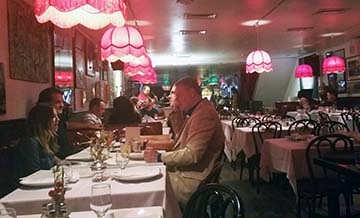 Here is the stage: Russian Samovar is in the heart of the theater district and it is a theatrical place. There are red leather banquettes and bentwood café chairs, red and green shades on hanging lamps. The walls are covered with Russian folk prints, quotes from the poet Brodsky. A soft red-fused light bathes the room.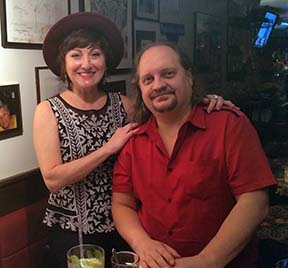 The producers: The current owner Roman Kaplan and manager, his daughter Vlada Von Shats and her sons, continue the Baryshnikov and Brodsky ambiance and elegance, with cabaret and arts productions.
And the performance: On a Thursday night there was music 6 to midnight, first an American cabaret style and then, from 8 pm, a mix of international standards, jazz and Eastern European and Russian peasant songs by the terrific pianist Elena Vasilchikova and violinist Valeriy Zhmud. Did you know that "Those Were the Days" was English put to a Russian song?
But of course, the star of the Russian Samovar is the Russian, Georgian, and Ukrainian menu by Chef Lidija Ragauskas.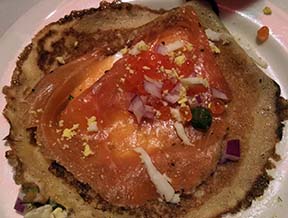 We started with delicate blini. Our waiter, Moon, laid out the blini, spread sour cream over it and on top placed red caviar, chopped red onions, chopped eggs, and capers as an art montage. For a friend who needed gluten free, the clever Moon substituted boiled potatoes for blini, and cut in pieces, made it a perfect replacement to top with caviar or salmon. Because smoked salmon was the second topping.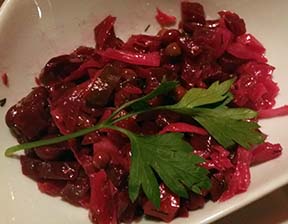 Russians like the Vinegret salad of beets, potato, cabbage, kidney beans, and onions. I was surprised when it was more complex than I expected, more so than the Olivier salad, a peasant dish with chicken, potato, onion, and peas that is a favorite of patrons harkening back to their origins.
To try several main courses, we shared a fish and then lamb.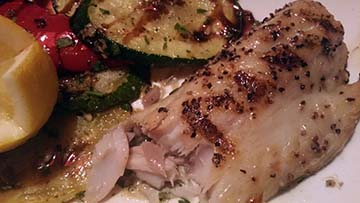 The fish was an elegant Branzino (sea bass), soft, made tasty and aromatic with herbs, and set off by colorful grilled red peppers, yellow and green courgettes and zucchini, all just the right texture.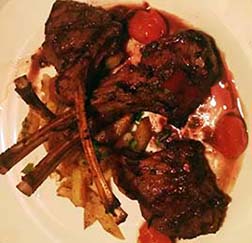 Then Karski – succulent baby lamb chops marinated in Georgian spices. I thought I detected tyme, parlsey and rosemary.
My favorite wines were the excellent dry fruity Cavit Riesling (Pavia, Italy 2017) which I like to drink as an aperitif or with dessert, though I had a nice cool clear Chard for the fish, and Meiomi Pinot Noir (California 2017), a lovely light red perfect for lamb.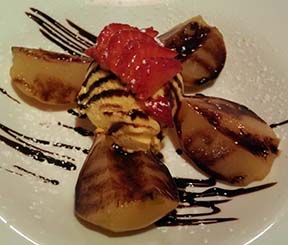 We took tastes of desserts that were as good as they sounded, my favorite being Zapekanka, a traditional cheese cake, and honey-spiced poached pear with ice cream.
And for more of the other kind of theater.
Different performers nightly at the restaurant piano bar.
And upstairs:
Mondays: Opera singer Michael Peer
Thursdays: Live interactive theater
Fridays and Saturdays: Gypsy Fun Trio playing traditional Russian music on violin and guitar
Sundays 3-7pm: The Uptown Jazz Company Jazz Blues Brunch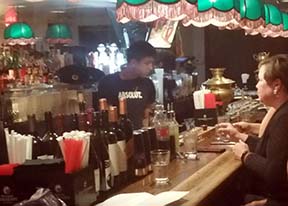 There is prix fixe Menu Monday through Friday until 7pm and a 10% discount on food with a ticket from any Broadway show.
Monday 5pm-2am
Tuesday – Thursday 12pm-2am
Friday – Sunday 12pm-4am
Kitchen closes 12am Sunday-Thursday and 1am Friday and Saturday.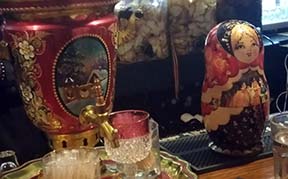 Russian Samovar Restaurant & Piano Bar
256 West 52nd Street (At 8th Avenue)
New York, NY 10019
212-757-0168
www.russiansamovar.com
Facebook: RussianSamovarNY
Instagram: Russian Samovar
Twitter: @SamovarRussian
Photos by Lucy Komisar.