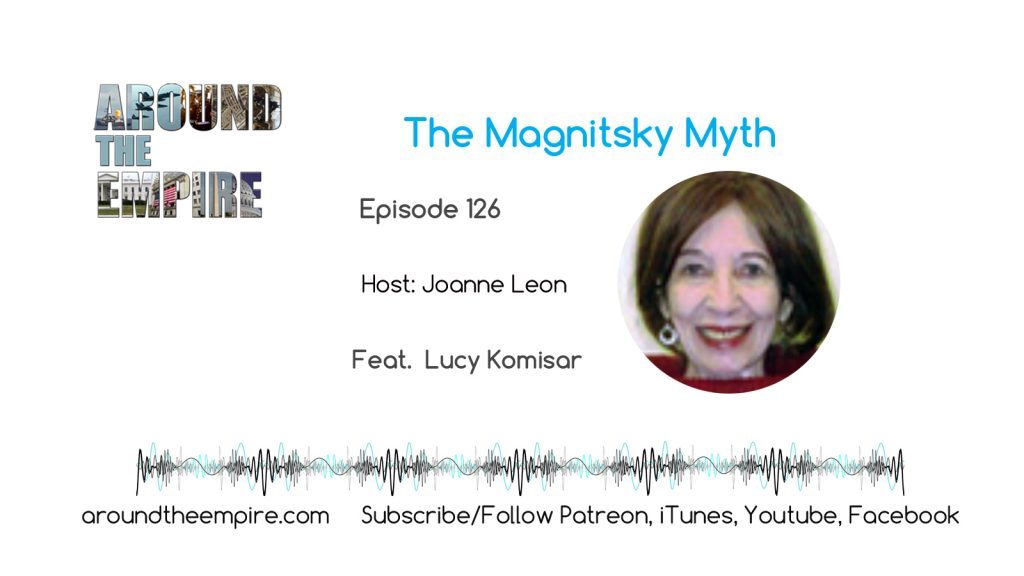 The American empire and its many tentacles. Podcasts & articles. Click the arrow.
Key elements: Bill Browder, Hermitage Fund, Magnitsky, Magnitsky Act, Magnitsky Hoax, money laundering, Mueller Report, Russia, Russiagate, shell companies, tax havens
Guest: Lucy Komisar. A deep dive into the story behind the "Magnitsky Hoax." Lucy tells the story of Bill Browder, Hermitage (his hedge fund) and how he managed to create a massive political weapon called the Magnitsky Act to protect himself and his benefactors and to use against others. The story also involves shell companies, tax havens, money laundering, Mikhail Khodorkovsky, Robert Maxwell, Gazprom, HSBC, Natalia Veselnitskaya, the Trump Tower meeting, the resurgence of the Cold War with Russia, Russiagate, the Mueller Report, and more.
Lucy Komisar is a New York City-based journalist with a long history of investigating offshore banks and corporate secrecy and abuses. One of her current long term projects is the investigation of the Browder/Magnitsky hoax.
FOLLOW Lucy on Twitter @LucyKomisar where there is lively and active participation in this investigative work and find her work at her website TheKomisarScoop.com.
Around the Empire is listener supported, independent media. Pitch in at Patreon: patreon.com/aroundtheempire or paypal.me/aroundtheempirepod. Find all links at aroundtheempire.com.
SUBSCRIBE on YouTube. FOLLOW @aroundtheempire and @joanneleon. SUBSCRIBE/FOLLOW on iTunes, iHeart, Spotify, Google Play, Facebook or on your preferred podcast app.
Recorded on September 24th and 27th, 2019. Music by Fluorescent Grey.
Reference Links:
Timestamps:
2:00 Intro, Lucy's background, how she met Bill Browder, investigating money laundering, Khodorkovsky, Avisma, Browder, Yukos, Peter Bond, Russia

9:00 The Magnitsky Hoax, how Browder/Magnitsky ties into other things like Russiagate, resurgence of the Cold War, Robert Maxwell, etc.

11:30 Bill Browder background, Robert Maxwell, Salomon Brothers, telecom Peter Star, Edmond Safra, IMF funds, Beny Steinmetz, Hermitage hedge fund, Mossack Fonseca, Ziff Brothers

16:30 Offshore shell companies, fall of USSR, "shock therapy", shares/vouchers, Cyprus, Gazprom, Russia-Cyprus double taxation treaties, fraud, Kalmykia region in Russia, Browder tax evasion

23:45 Sergei Magnitsky (Browder's accountant) investigated 2006, Browder lost Russian visa 2005, Putin, 2007 Browder companies docs seized, Firestone Duncan, Browder says companies stolen

31:00 Magnitsky interrogated 2008, prepares to flee, arrested & imprisoned, HSBC (trustee for Hermitage fund), tax refund fraud, Renaissance, Prevezon, OCCRP, Browder media stenographers, Rimma Starova blew the whistle, Russian reporter Oleg Lurie met Magnitsky in prison, Magnitsky doesn't mention abuse to Lurie or human rights orgs, Browder doesn't mention to US House Human Rights Committee, Magnitsky dies in prison in Nov 2009 poor medical treatment, Russian authorities investigate and report terrible prison conditions, medical neglect

46:00 Russia still pursuing Browder for tax evasion, Jonathan Winer worked for John Kerry's State Dept and later APCO, Khodorkovsky also client of APCO, Winer helps Browder craft a new story & strategy ("Magnitsky Hoax") of Magnitsky murder, forgeries, used by media and govt for The Magnitsky Act, in his fraudulent document Browder names new culprits

54:30 Browder and Magnitsky Act help advance US anti-Russia foreign policy, OCCRP (Organized Crime and Corruption Reporting Project) helps Browder create docs, Magnitsky Act includes a section protecting Khodorkovsky

1:01:00 Documentary "The Magnitsky Act: Behind the Scenes" debunks Browder's story, banned from broadcast

1:03:00 Ken Dilanian's May 2016 reporting on Magnitsky and Browder was killed by NBC, Robert Otto State Dept emails leaked

1:11:45 Trump Tower meeting, Natalia Veselnitskaya, Rob Goldstone, Prevezon case, Russiagate narrative, Fusion GPS, Glenn Stimpson

1:32:30 Trump-Russia investigation, The Mueller Report repeats Browder's Magnitsky hoax story

1:43:00 in 2016 Browder found guilty in Russian court and new embezzlement charges filed as a result of his tax refund fraud

1:51:00 Complexity of tax havens, shell companies, money laundering, purpose of Global Magnitsky Acts campaign as a political weapon
James Madison explains Russiagate: If tyranny and oppression come to this land, it will be in the guise of fighting a foreign enemy.