This is the 30th anniversary of Cabaret Conventions, the iconic yearly gathering of the best cabaret singers and their fans in New York to celebrate and promote an art form that started centuries ago and was noted in France back in the 1900s. It is sponsored by the Mabel Mercer Foundation, named after the great American jazz singer.
In the U.S., 100 years ago, cabaret reached a peak in the roaring twenties and especially with jazz. It was eclipsed by the failure of taste represented by rock in the 1960s, but still has a strong fan base. And glorious singers, some of whom are a lot younger than their audiences!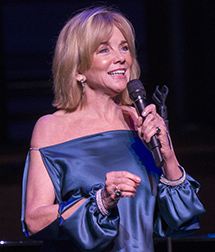 I saw three of the four Cabaret Convention events in October. They are themed: in this case homage to Dorothy Fields and great women songwriters, to composer Frank Loesser, and to iconic singer Judy Garland. There were a dozen or more singers each evening. Here are some of my favorites. You may notice that most of the photos are of women. That is because the women were better than the men.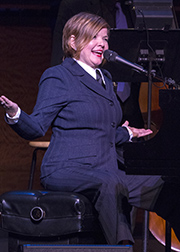 The great lyricist Betty Comden called Dorothy Fields "the mothership of women songwriters." In the evening devoted to women song writers, Linda Perl sang "I Feel a Song Coming On," her voice soaring, very Broadway. Her "Someday I will feel a glow just thinking of you – The way you look tonight" was suave, full of drama.
I liked Darius de Haas' slow jazzy take on the classic Dorothy Fields / Jimmy McHugh "Sunny Side of the Street: "Grab your coat and get your hat."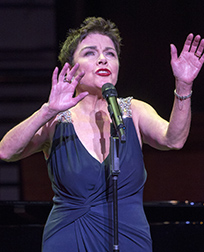 Multi-talented jazz vocalist and songwriter Karrin Allyson did a terrific rendition of Blossom Dearie's not well-known "Bye, By Country Boy.' A favorite. I loved her cool jazzy piano. "Some of that Sunshine" was her own music. I want to see her again!
In elegant black floor-length gown, Christine Andreas' lilting soaring glorious soprano was a highlight of the evening in "The Summer Knows." Her "I'm Flying" from Peter Pan trills, excites.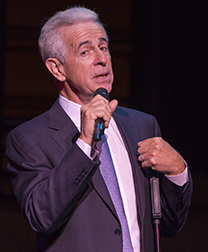 Stacey Sullivan's "I Love Being Here with You" was a charmer
I had never heard the song James Naughton delivered with panache, the clever comic Carolyn Lee's "Westport," about suburban affairs: "He caught her in the kitchen playing Westport."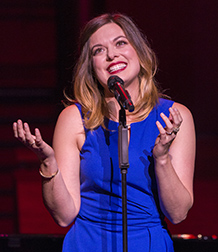 He also did "Witchcraft" in a jazzy baritone, seemed like in a 40s ballroom.
Loved Margo Seibert in the funny "The Boy From….. why when I speak does he vanish?" A comic take on "The Girl from Ipanema." Sondheim lyrics. This link isn't Seibert, but you have to hear it!
Debbie Boone is sophisticated in "Where do you start?…Separate the present from the past…Which books are yours." She is a compleat cabaret singer.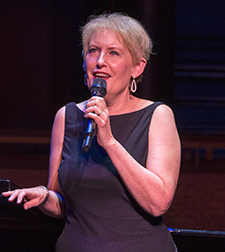 Next day focused on the music of Frank Loesser, whose most famous plays were "Guys and Dolls" and "The Most Happy Fella."
Liz Callaway's voice throbs with a rich thrilling soprano in "My heart is so full of you."
Andrea Marcovicci has a story in her voice, the charm of a medley, "Let's get crossed off everybody's list…Let's get lost."
Jane Scheckter, red-haired, very New York spirit, her alto creates a subtle drama, surrounds us in "What are you doing for New Year's Eve."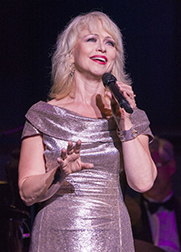 Danny Bacher with hazy beat, good swing delivery with scat, blows on a clarinet in "If I were a bell."
Marissa Mulder a little girl voice in patter, from a 1942 wartime film song, "I don't want to walk without you." Her pure torch tones are better than the little girl's voice!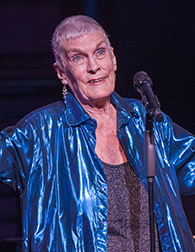 Irving Berlin told Loesser that his greatest song was "Traveling Light," which Karen Oberlin in a stunning silver gown presents in moving tones. But it's not mentioned that this affected him because it raised the memory of his first and beloved wife. He wrote When I Lost You, after she died of typhoid fever contracted during their honeymoon in Havana.
Sally Darling did a terrific number from the early 40s, with a bit of trill, a comic touch, "They're either too young or too old… What good is the army…. There is no available male."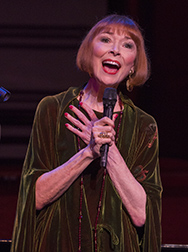 In Joshua Lance Dixon's nice jazzy rhythmic clear baritone in "I Believe in You," his voice moves out to encircle but not overpower, then explodes in drama, a very leading-man style.
Karen Akers has a voice like jewels. In "Spring will be a little late this year," the clear strong long notes of her rich elegant sound soar over the audience.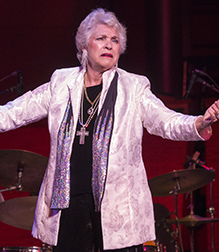 Mark Nadler at the piano in a green velvet jacket does the "Ugly duckling" with a comic injection of the melody of "Swan Lake."
Marta Sanders in white jacket and silvery glittering lapels did a superb, strong, jazzy, dramatic, smashing (have I run out of adjectives?), "Sit Down You're Rocking the Boat." She is a story teller, great performer, with an overpowering voice.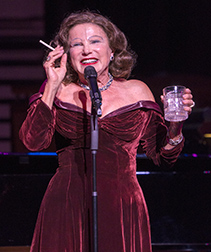 Anna Bergman performed "Somebody Somewhere," ["Somebody wants me"] in full thrilling operatic soprano.
Tovah Feldshuh riotous as Talullah Bankhead with her deep voice ensconced in a red velvet off shoulder gown "Murder, he says." She is a great comedienne.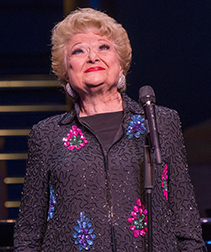 Jeff Harnar in "Hamlet" done in comic jazzy swing scat mode. Terrific.
Marliyn Maye "Luck Be a Lady" and "Joey, Joey," with slight southern tinge, tender with timber She tells the story with heart, with understanding of this guy, the wanderer. Brings down the house.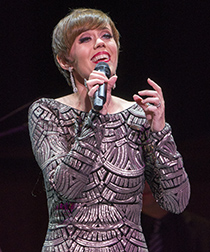 Carole J. Bufford in a silver lame dress doing "Lose that long face" torch song from "A Star is Born." She is a masterful singer and entertainer doing the jazzy sound of the 40s, takes the story and makes it powerful.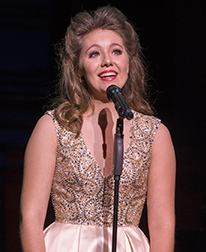 Hannah Jane Peterson at 18, is good, with a jazzy swing. Her "The Joint is Jumpin' at Carnegie Hall" was strong, cool, smashing. She is a new talent and was presented the Julie Wilson award, named for the singer and actress regarded as the queen of cabaret.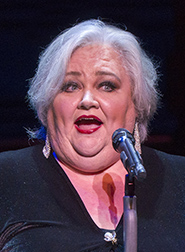 Natalie Douglas, long a part of the cabaret scene, has a little speaking voice that makes it hard to imagine her powerful singing, but she belts it out in dramatic torch song "As Long as He Needs Me," And Judy Garland's "By Myself….I'll go my way by myself." I liked her jazzy version.
The amazing Stephanie Blythe, a mezzo soprano at the Met, does "It's a New World," with a thrilling voice. And in "I don't care." she is funny and effervescent.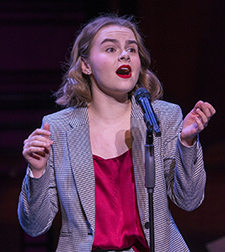 Leanne Borghesi in gold glitter and red shoes, has a classy soprano that takes on the medley "The Trolly Song"/"San Francisco" with real Broadway jazz at its best, even a bit of New Orleans sound.
Ruby Rakos plays teenage Judy Garland as ingénue in "Zing! Went the strings of my heart." With the 30s rhythm, you hear a charmer with a beat. She tells story with a hint of Garland in her voice.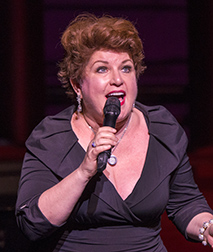 Karen Mason does "The man that got away" as a sorrowful torch song, soaring. And "Chicago," swinging on the glorious long notes.
Klea Blackhurst's "When the sun comes out," her trumpet voice calling up Broadway's Ethel Merman, which she acknowledges. It's the connection between the old and new cabaret.
What's also terrific about the cabaret conventions is that they are part of the cabaret community, and the singers come out to the lobby at intermission and after the show to shmooze with the audience.

Cabaret Convention, Jazz at Lincoln Center, Rose Hall, Broadway at 60th Street, New York City. Oct 28, 29, 30, 2019.