By Lucy Komisar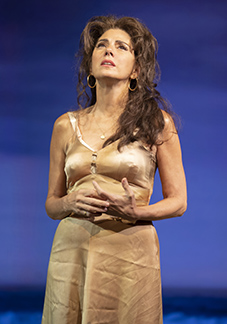 Serafina Delle Rose (Marisa Tomei) is traditional and feminist at the same time. And sensual. Traditional means Sicilian earthy, because she and her husband are Sicilians living on the Gulf Coast of Louisiana, between New Orleans and Mobile, in an area populated by their countrymen. It is 1950, and they have the sensibility of Sicilian peasants.
And superstitions. A woman with cataracts is regarded as The Strega, the witch (Constance Shulman), with "mal occhio," an evil eye.
The story is a bit hokey, but the brilliance is the mood, the peasant characters, the fiery Serafina.
When Rosario, her truckdriver husband of 12 years, dies in a crash, she withdraws into mourning, though not in the black worn by the widows who form a society expressed as a Greek chorus.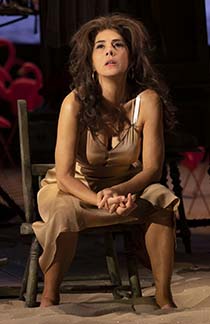 Several years pass with Serafina as a recluse. Her daughter Rosa (Ella Rubin) is 15, and sensual. When she brings a sailor boyfriend (Burke Swanson) home, Serafina orders him to get down on his knees in front of "My Lady," the Virgin Mary.
She is sensual only within marriage. She has declared, "Other women don't give men love." It takes a while for her to learn that her husband had been unfaithful with Estelle (Tina Benko), a blackjack dealer from Texas who works at a New Orleans casino.
Serafina is furious, crazed, hysterical, and she decides to live! That is the feminist part. She will meet Alvaro Mangiacavallo (Emun Elliott) whose name means "eat a horse."
She is a charmer, dynamic, tough. He is a lonely guy and wants to offer love. She thinks, "My husband's body, the head of a clown." After hearing of Rosario's rose tattoo, he makes the mistake of returning with one on his chest.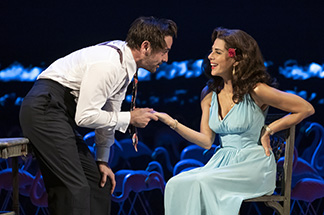 The seduction is a bit comical. He drops a paper link of dirty pictures. There's a hokey fight. But he will stay. It's a bit of a potboiler, including a mishap when he comes out of the bedroom in underwear and the noise wakes Rosa on the living room couch.
The story is like a folk opera, with projections of sea waves in colors. Some lines are in properly-accented Italian. But director Trip Cullman makes it smart and believable, nowhere near the soap opera the story could have been. But also credit Marisa Tomei's powerful performance."
The Rose Tattoo. Written by Tennessee Williams; directed by Trip Cullman. Roundabout Theatre at American Airlines Theatre, 227 West 42nd Street bet 7th & 8th Aves, NYC. 212.719.1300. Opened Oct 15, 2019; closes Dec 8, 2019. 2hrs30. 11/5/19. @Lucys_Reviews.