By Lucy Komisar
Even if you don't like rock, you will appreciate Adrienne Warren's bravura performance in this feminist story about a woman who puts up with abuse for years and finally throws off her Svengali to become a world-famous singer.
The book by Katori Hall and direction by Phyllida Lloyd provides a powerful female sensitivity.
Tina starts in a halleluiah church with soul gospel. And visions of cotton picking.
Her father the minister (Sheldon Henry) is abusive, slaps her mother (Dawn Lewis). She is tough and leaves him, which should have been an early lesson. But Zelma takes only her older daughter and leaves the young Anna Mae (a terrific Skye Dakota Turner, no relation).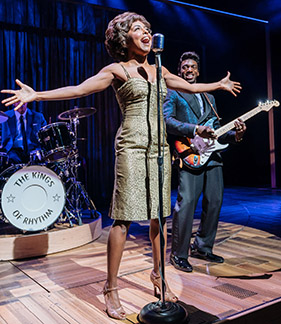 She grows up to the 1950s and the sound of Elvis. Her grandma (Myra Lucretia Taylor) presses her to go to her mother in St Louis for the music. She does, learns disco and R&B, and meets Ike Turner (Daniel J. Watts) at a club.
He changes her name to Tina. He is nasty from the start, taking drugs, beating her. Raymond (Gerald Caesar), a musician in the band, loves her, but she seems unable to escape.
You get a sense of what it was like for black artists playing the South. "Motel Mississippi" meant sleeping in the car when they were refused a room at a hotel.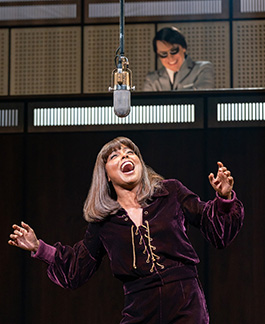 They go on TV. But still she lets herself be abused by Ike. You get no sense of why she is so personally weak, unable to get out. But finally, after 16 years and two sons, and a swallow of 50 Valiums that could have killed her, her "Proud Mary" reprise, "Rollin' on the river" is the message: Out!
With sons Greg and Ronnie to support, she is broke. Ike sues to prevent her from doing songs she wrote but that were put in his name.
Slowly with the help of her manager, Rhonda (Jessica Rush), determination and a powerful voice, at 40 she makes it on the R&B and Las Vegas circuit. She's glamour and glitter and goes to London for a recording date.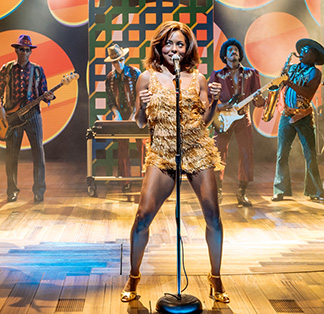 It's tough, she can't deal with the computerized music, and Capitol Records does not want a black singer. But she meets Erwin Bach (Ross Lekites), the German marketing guy who will be her lover and her husband.
The story is so real that it doesn't descend into soap opera. And it is intercut with great Tina Turner songs such as "What's love got to do with it?" There are smart projections like a blue-green lake and rain. A clever walk of umbrellas. Iconic costumes and wigs, ending up with her massive blonde creation.
Screaming rock is not my style, and I couldn't understand all the lyrics. But there are fireworks here, real and symbolic. Including high-kicks choreography by Anthony Van Laast that shows off Warren's multi talents. And the story of a woman you are glad to see triumph.
"Tina: The Tina Turner Musical." Book by Katori Hall with Frank Ketelaar and Kees Prins; directed by Phyllida Lloyd. Lunt-Fontanne Theatre 205 W 46th St. New York. 877-250-2929. Opened Nov 7, 2019. 2hrs30. Also on NY Theatre Wire.