By Lucy Komisar
Dec 3, 2019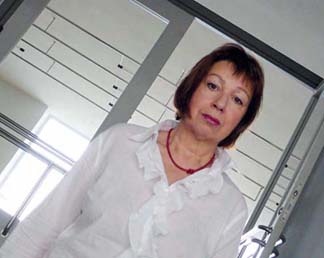 Angela Zumpe, a Berlin filmmaker, media artist and painter, was in New York in November to present a film along with a book that intercuts the story of L¡szl³ Moholy-Nagy, a visionary lighting designer and the most experimental of the Bauhaus artists, with her own story.
The Bauhaus was an influential modernist art school in Germany that focused on the relationship between art, society, and technology. Zumpe was a professor at the Anhalt University of Applied Sciences in Dessau, where the Bauhaus was based.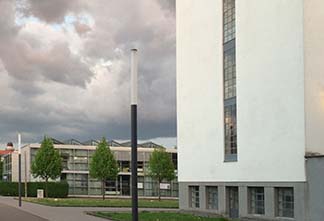 The Bauhaus was closed by the Nazis in 1933, but has had a major impact on western art. Its idea was to unite art and industrial design, ending the distinction between the fine and applied arts. Among the best known of its adherents were Walter Gropius, Paul Klee, Wassily Kandinsky and also L¡szl³ Moholy-Nagy.

Zumpe had started working in television. She recalls, "In my own work as an artist. I looked critically at American warfare in the First Gulf War and at how it was reported and began to produce my own video work from that material. I recycled CNN's tapes, used by RIAS TV, in my own style. I combined this material, which would otherwise have been deleted after having been edited down and reformatted for use in certain magazines." She used that for her video "Steinwelt" (Rocks) in 1991.
Moholy-Nagy's Bauhaus story dates to the Nazi time of 1929 to 35. Hers begins in 1998 when she started 20 years of teaching at the university. She showed her film, Things to Come, and talked about it in November at Deutches Haus at New York University. She also presented her book, And the ghosts I take with me. It is a fragmentary autobiography in pictures.
The book tells the story of Moholy-Nagy and how he shaped her art.
Moholy-Nagy (1895-1946), pursued a career in film in Berlin in the 1930s but was rejected by the mainstream movie audience.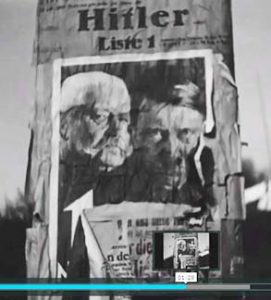 Conservatives attacked him as a "saloncommunist" and leftists repudiated him as a "cultural Bolshevik."
He had two wives and partners, Lucia and Sibyl. The film story is based on the memoir "L¡szl³ Moholy-Nagy, Experiment in Totality" (1950) by Sibyl Moholy-Nagy, his second wife.
That narrative is about their private and work lives, rather than his visual work, which appears in the film.
The elements of the film are Moholy-Nagy's own films, documentary films of the time, animations, photographs, and scenes in which Moholy-Nagy, his wives Lucia and Sibyl, and Lucia's brother Franz Schultz appear.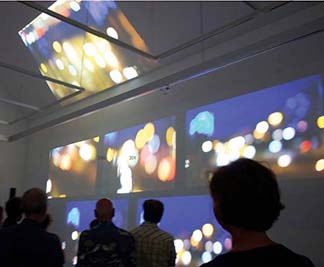 Zumpe's books tells that even before L¡szl³ Moholy-Nagy arrived at the Bauhaus, he had been experimenting with new forms of perception and design.
He developed his photogram from placing people between a light source and projection wall. This mutated the individual into the projection surface and also into the "shadow thrower" in the projected image. He constructed the light-space modulator, and called it the "trial machine for light painting".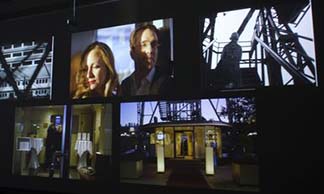 Although his attempts to be successful in the world of commercial film failed, his experiments were groundbreaking explorations of light, space, projection, and movement.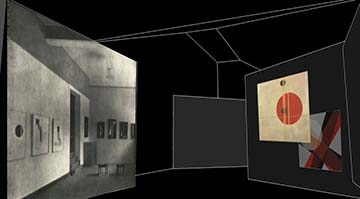 Zumpe was aesthetically inspired by Moholy-Nagy designs, with digital technology allowing structures and images to distributed on surfaces in space using projectors and light sources. Her film uses new technology to translate moments from Moholy-Nagy's life into the style that the artist intended in the 1930s to be the film of the future.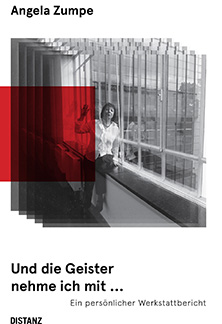 There are split screens in which the film tracks interact with each other. Sometimes different images run in parallel, sometimes one track move ahead, or they seem to challenge each other. Sometimes they split into more windows or become a single image.
See Images from the film Things to Come.
See the film trailer.
To get the book.
Photos are from And the ghosts I take with me.