By Lucy Komisar
Nov 30, 2019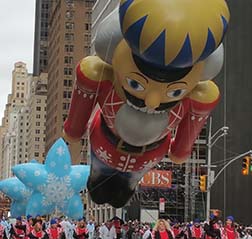 You could have been, literally, blown away by this year's Thanksgiving Day Parade. Winds of 20mph and higher gusts forced the high-flying balloons to dip low. You could see the cord-handlers struggling. Here's low-flying Nutcracker and Smokey Bear.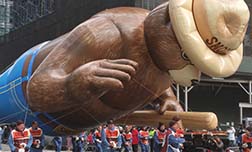 But the crowds down Central Park West and along Sixth Avenue loved it. They come from hardy stock.
The parade was started in 1924 by the children of European immigrants. Many workers at the Macy's department store were first-generation Americans.
They loved the country that gave their families opportunity and wanted to celebrate this American holiday with a European-style festival of the sort their parents told them about.
And now the marchers come from all over, here Georgia with a marching band, South Dakota with its iconic Mount Rushmore presidents rock sculpture.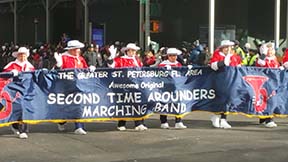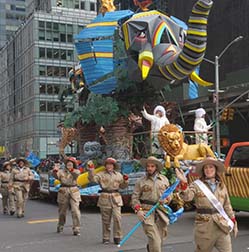 St. Petersburg Florida with a retired peoples ("Second Time Arounders) band and marching group, and Africa with a gorgeous elephant float and safari attendants.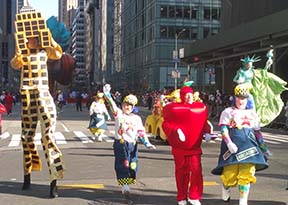 Of course, the home town, New York, is represented. Here is Plu Sayampol, a choreographer from Bangkok, stilt-walking as the Chrysler Building, along with yellow taxis, the Big Apple, the Statue of Liberty.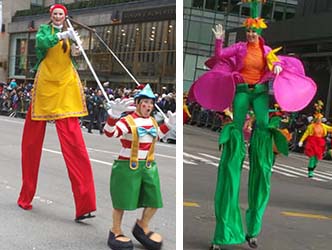 About stilt-walkers, always a favorite, here is the puppeteer and Geppetto, a lady as a flower.
Forget the chill, here are clowns with springtime nature themes: flower pot, bumble bees, even palm trees.

Never forget the heroes. My favorites were these kid super heroes and a clown fireman who rescues a PJ-clad kid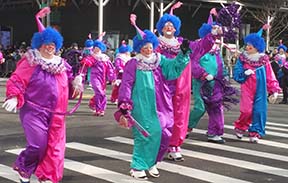 And just clowns in their classical outfits.
Thank you, immigrants, for this great American tradition!
Photos by Lucy Komisar