By Lucy Komisar
Charles Fuller's mystery race play, brilliantly directed by Kenny Leon, is still a stunner, nearly 40 years after it debuted on Broadway and won a Pulitzer Prize.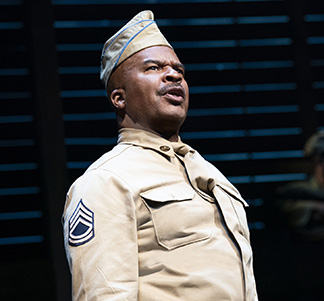 Sergeant Vernon Waters (the fine David Alan Grier) is a tough and often nasty head of a platoon at the army base at Fort Neal, Louisiana, in 1944. One night he is shot to death as he is screaming at his attacker, "They still hate you." Not clear what that means. He is black. Most of the troops at the southern base are black. Some immediately think he was shot by the Klan.
But there's a lot more to this complicated tale, and Captain Richard Davenport (a masterful Blair Underwood), a lawyer attached to the military police, is sent to investigate. It's complicated, because he is also black.
Race underlies the story. Captain Charles Taylor (Jerry O'Connell) went to West Point. Davenport graduated from Howard. Taylor says if he knew Davenport was black, he would have stopped the investigation. He says the locals will not cooperate in an investigation that could target their own.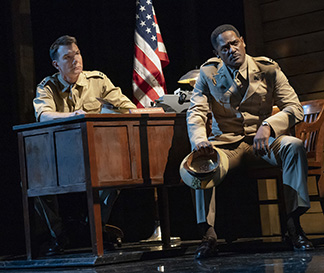 Davenport threatens that if Taylor blocks the investigation, he will get him called "a Negro hater" in the black press, which will damage his army career.
Underwood as Davenport is cool, controlled. He puts on dark glasses when he wants to establish the authority distance of his role from those he is dealing with. Taylor as the white captain is jittery, nervous, edgy.
Davenport begins to put together clues, interviewing the men. Private Wilkie (Billy Eugene Jones) asks if stripes were left on the sergeant's uniform, because Klan boys usually take them off. They were on.
Taylor admits that two superiors ordered him not to say the bullets were army issue. And that there were white officers who saw Waters outside the NCO club, drunk. Flashback, Byrd: "Come to attention, Sergeant! That's an order! Waters: No, sah! I ain't straightenin' up for y'all no more! I ain't doin' nothin' white folks say do, no more!"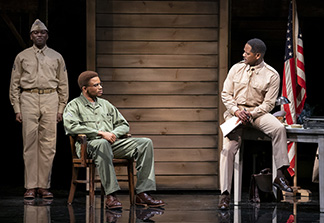 But the white officers have alibis: they returned to quarters and were playing cards with others when Waters was shot.
It's a tough job for Davenport. The army doesn't set a high priority on the investigation. He doesn't even have authority to arrest a white private without a white officer present.
The only possible suspects left appear to be among the black troops. It gets complicated when Davenport learns that there had been another shooting. He investigates what motivations the black troops Waters commanded might have had.
For example, Waters took away Private Wilkie's stripes because he was drunk on guard duty. Wilkie tells Davenport, "Three stripes? They took ten years to get in this army, sir!"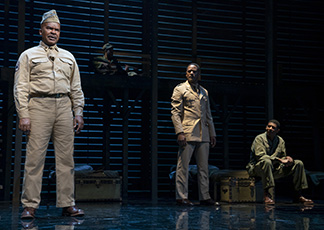 Waters doesn't like anyone he thinks brings down the race. Another flashback: He tells CJ Memphis (J. Alphonse Nicholson), who plays blues on the guitar, "The black race can't afford you no more. There use ta be a time when we'd see somebody like you, singin', clownin'"yas-sah-bossin'" and we wouldn't do anything. ….You bring us down"make people think the whole race is unfit!"
But PFC Peterson (Nnamdi Asomugha) complains, "He can't look good unless he's standin' on you!"
Methodically, Davenport puts together events and clues. And solves the crime. The complexity of Fuller's story is that it's not just about white-on-black racism, which would be too obvious, but about the distortion that racism causes in Waters' psyche. In the end, the real object of "they still hate you" is himself.
Kenny Leon's staging is mesmerizing, with soldiers in barracks singing and stamping in a bluesy march time and moving in dance steps. The set by Derek McLane is a barracks of cots set in a wood scaffolding with a slatted backdrop. With an outstanding ensemble cast headed by Underwood as Davenport and Grier as Waters, the production gets a deserved standing ovation.
"A Soldier's Play." Written by Charles Fuller; directed by Kenny Leon. Roundabout Theatre Company at American Airlines Theatre,  227 West 42nd Street bet 7th & 8th Aves, New York City. 212-719-1300.  Opened Jan 21, 2020; closes March 15, 2020. 1hr 50. 2/1/20. Also on NY Theatre Wire.