By Lucy Komisar
Beth Malone plays a terrific, gutsy, leftist Molly Brown who started out illiterate in a western mining town, helped her husband strike it rich in a gold mine deal, and instead of joining the nouveau riche, devoted herself to helping the poor, the union activists at her husband's mine and the suffragists. Plus, she managed to survive the Titanic.
This is Broadway quality. Malone has a strong alto voice and, with her gamine look, is a charmer. And director-choreographer Kathleen Marshall makes the production sparkle.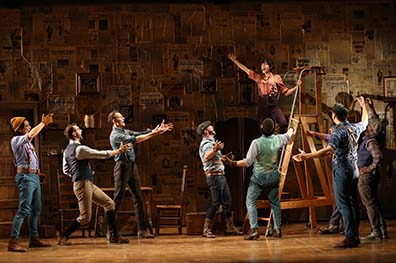 The production notes say, "none of the characters in the 2020 version appear in the 1960 version. Both have characters called Molly, but she says and does different things. The two versions share three lines of dialogue." But instead of a domestic husband and wife story, this is a very political play.
Molly Brown (1867-1932) was really on a lifeboat of the Titanic. When the U.S. Senate asked survivors to testify, she was one. They selected 50 men and only 2 women. Dick Scanlan's book takes the story modern. Molly was a social progressive and a feminist. This play takes off from there.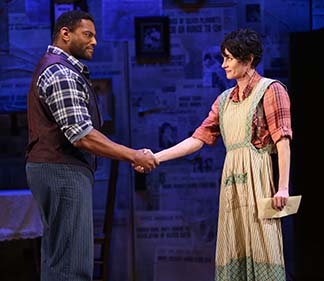 Molly has arrived in a silver mining town and defies the miners who say women are bad luck. J.J. wants to marry Molly, but she is tough, ambitious, insisting on her dreams of the future. They make a deal.
The silver mine is threatened by the gold standard. The owner is supporting a pro-silver candidate for president. Molly suggests that if women voted, he'd have a better chance. Doesn't happen. Grover Cleveland wins, silver plummets. But smart Molly helps J.J. figure a way to mine gold, makes sure he gets a piece of the mine, and they become millionaires.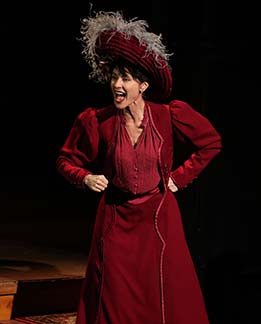 It's 1895, with an excellent picture of the nouveau riche in Denver as suffocating snobs. She is at the opera with one of them, Louise Sneed-Hill (the excellent insufferable Paula Leggett Chase) and comments "Mimi dies in La Boh¨me." Sneed-Hill declares, "You are not equating artists with Denver undesirables!" Molly thinks how many mouths the money spent on the opera could feed. By the way, to make a point about class, their maid, Mary (Coco Smith) eats with them at the dinner table.
With profits from the richest gold mine in North America, Molly sets up a food pantry and supports suffragists. Her motto is, "Share the luck with your neighbor!"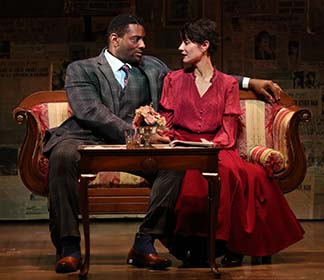 She pays off the governor to back a separate court for juveniles. And finally, after 17 years as an activist, in 1902, she wants to run for Congress. Husband is not so happy, "I'd like to change everything about you" till you say "yes, dear." Things will get difficult.
The miners who once were J.J.'s friends arrive, they want a union and J.J. is against it.
Sneed-Hill appears with other lady snobs in tow, and Molly and friend Julia (Whitney Bashor) spike her tea with brandy that, she acknowledges, "makes you see double and feel single!"
J.J. fires the workers, and she calls the "Denver Post" to announce she is with them.
The first part of the book is hokey, corny, has too much of the fifties. But it gets better, and the musical values are top.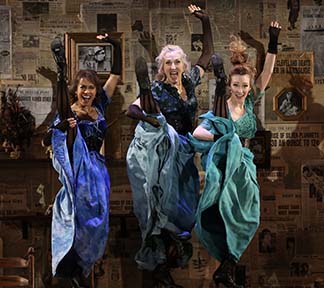 Whitney Bashor as Julia, the widow of a miner killed in a blast, has a brilliant operatic soprano. David Aron Daman, who plays J.J. Brown, manager of the mine, has a fine baritone. Omar Lopez-Cepero as the miner Vincenzo has a wonderful Italian tenor. The barbershop quartet numbers are delightful.
And, of course, with Marshall you get superb dancing. The dance hall girls number, "Belly up to the bar, boys" is a winner. Western square dancing is splendid.
There's more domestic drama, but I won't spill the rest of the plot.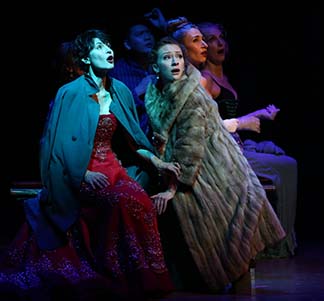 Except that when Molly arrives back from Europe with other saved Titanic passengers, Maureen (Kaitlyn Davidson) tells her that authorities are sending her back to Ireland, because she is now indigent and would be "a charge." That of course is borrowed from Trump's new immigration rules. (By the way, this was the case during the poor laws in 1600s England and the colonial U.S. People were blocked from entering towns unless they could prove they would not be a charge.)
Of course, Molly, the child of Irish immigrants, solves the money problem, as friends and family on the dock sing, "Share the luck with your neighbors!" That, of course, is a Bernie line. The New York audience liked it. Don't know yet how much other Americans agree.
 "The Unsinkable Molly Brown." Music and lyrics by Meredith Wilson, book and new lyrics by Dick Scanlan, based on the original book by Richard Morris. Directed and choreographed by Kathleen Marshall. Transport Group at The Abrons Arts Center, 466 Grand Street, New York City. 866-811-4111. Opened Feb 26, 2020; April 5, 2020 closing was advanced by theater shutdowns. Running time 2hrs30. 3/15/20. Review on NY Theatre Wire.