By Lucy Komisar
Three of my favorite things are wine, art and jazz. In Key West, you can have them all, and at the best times together.
Starting with natural art, I mean the gorgeous sunsets that splash vivid colors into the sky if you are lucky and the weather and clouds are right.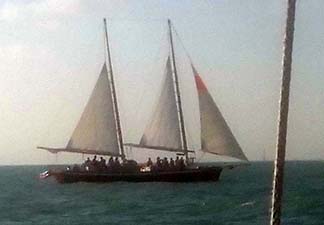 The sunsets in Key West are art objects. People go to see them at the north coast of the island either by sailboat or catamaran cruises or on the promenade.
Danger sunset wine cruise
A favorite way to enjoy them is on a Danger Charters sunset wine cruise. It's a 2-hour jaunt on a sailboat that takes about 20 people, and as many bottles of very good wine. Four whites and four reds to share with everyone on board.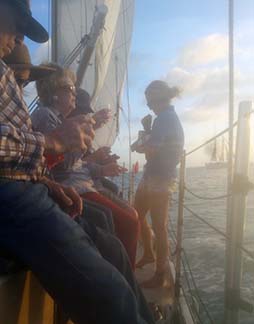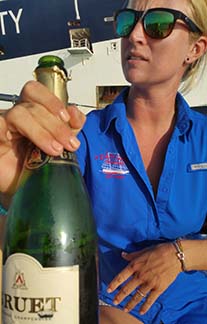 Here is crew member Ellen Badry with champagne she will pour. And there are hors d'oeuvres including shrimp and mozzarella.
Danger Charters, (305) 304-7999. 255 Front Street, Margaritaville Resort and Marina.
Many people gather to watch the sunset from the promenade. Before the sun falls, there are clowns and buskers and people selling kitchy art.

But half hidden from their view is a balcony bar above, The Bistro at 245 Front Street. From here you can sit at prime view with a glass in hand and wait for the great natural art.

Wine and Jazz
One of my favorite places to grab a glass of wine and some very fine music is at Tavern ˜N Town at the Marriott Hotel with Carmen Rodriguez, the island's best cabaret singer.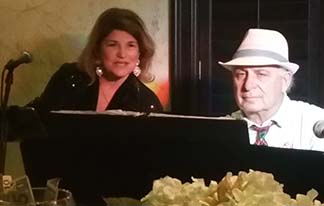 Carmen has full rich lush tones, does a lot of Carole King, Ella, other standards. Her accompanist is a terrific jazz pianist Larry Smith. I see them Tuesdays and Thursdays 5 to 9 pm at the large square bar in the lounge where fans gather early. Happy hour drinks are 2 for 1 till 7 pm and tapas such as steak bits and fish tacos are delicious.
The Marriott is just outside the center of town, but a free bus from the Faustos market at 522 Fleming Street near Duval leaves 20 minutes after the hour, returns 20 to the hour.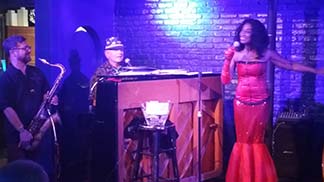 I saw Larry Smith another night at the Little Room Jazz Club with Tim Mayer on sax and an excellent vocalist, Victoria Horne. There was Billie Holliday, scat, jazz every way. And wine at happy hour is reduced price. So is food. You can sit at the piano bar at 5:30 pm or go to the main show at 8. No entry charge, no minimum. 821 Duval Street.
And finally art, by painters and sculptors who have been drawn to Key West for decades.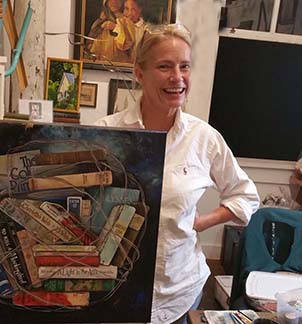 At the Walk on White every third Thursday, galleries on White Street open their doors, with complimentary wine for visitors. On my last trip I loved the work of Christine Fifer at the Historic Armory at 600 White Street where numerous artists have studios.
Her painting is an homage to the writers who with artists have made Key West their home.
Photos by Lucy Komisar.