By Lucy Komisar
Aug 21, 2020
I'm not an NPR listener, for reasons which will become clear, but I checked out its "fact check" of Joe Biden's nomination acceptance speech. Whew, many Pinocchios! On both sides.
Biden: I'll be a president who will stand with our allies and friends and make it clear to our adversaries the days of cozying up to dictators is over. Under President Biden, America will not turn a blind eye to Russian bounties on the heads of American soldiers. Nor will I put up with foreign interference in our most sacred democratic exercise: voting.
He mentioned Russia, of course. It has an elected government. And an opposition press. Well, I would have said, "Will you cozy up to the Saudis?" "What about Egypt?" No such luck.
Bounties have been fact-checked out of existence by some intelligence experts (NSA, which hears and reads everything anyone says) who note that there is no evidence. Or do you believe the sources, prisoners and criminals trying to get on the good side of their captors?
Foreign interference: The DNI tried hard in its report, but in the last page they admitted they had "no proof."
Note this from the DNI report, buried at the end: no proof.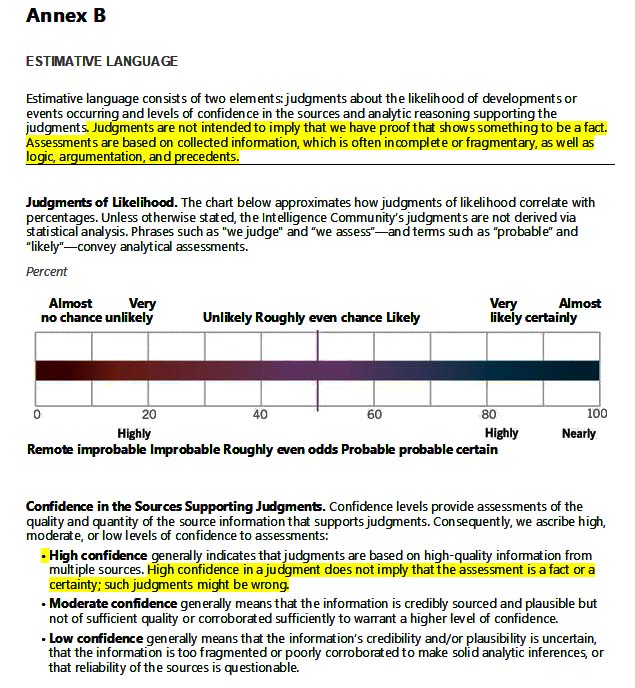 So here is what the NPR experts said. The links are to NPR's own past articles, not to evidence.
Fake Fact Check by Philip Ewing, NPR Election Security Editor:
Democrats all convention week have criticized President Trump for not doing more in response to allegations that have surfaced within the intelligence community that Russian paramilitary forces might have paid bounties to Afghan insurgents to target U.S. troops. Trump has said he didn't raise the matter with Russian President Vladimir Putin, but Biden tonight vowed that he would take some kind of action, without saying what. Biden's harsher tone about Russia could be one reason the intelligence community has assessed that Russia's interference efforts directed at this year's election " which Biden also mentioned " are aimed at denigrating him. The picture about Moscow's view on Trump this year is murkier, but in 2016, the Russians interceded to help Trump against Hillary Clinton.
Who will fact-check Philip Ewing? Note "allegations" means there is no proof. Assessed means there is no proof. Murkier, well you figure out that one. In 2016, sorry Hillary's trope also is without proof. Even though Robert Mueller tried and flopped in his attempt to help her out. Score for Philip Ewing, zero.
Fake Fact Check by Miles Parks, NPR Reporter, Election Interference/Voting.
Over the past nearly four years, President Trump has repeatedly contradicted his own intelligence agencies and sought to question whether Russia actually interfered in the last presidential election. It did; and the country is still at it, according to the U.S. intelligence community.
Russia successfully hacked the election networks of multiple states, and even though there's no evidence that any votes were manipulated, election experts say the U.S. remains vulnerable. Part of that is because Congress, throughout Trump's presidency, has declined to allocate the amount of money necessary to fix even basic aspects of the problem, like the fact that a number of states still vote using electronic voting machines widely considered insecure.
Now who will fact-check Miles Parks? No, there is zero evidence that Russia interfered in the 2016 election, which Hillary lost all on her own. See the DNI we don't have proof page. The NPR reporters apparently never got that far. There is zero evidence Russia hacked election networks. As to foretelling the future, well if you make up the past, you can invent the future, too. Score for Miles Parks, zero.
Shouldn't NPR provide evidence for its claims? Not really. Score for NPR, zero. Need to change the name of this network to "National Public Russiagate."
Comment: Lucy: Who will fact-check Philip Ewing? Note "allegations" means there is no proof. "Assessed" means there is no proof. "Murkier," well you figure out that one. In 2016, sorry Hillary's trope also is without proof. Even though Robert Mueller tried and flopped in his attempt to help her out. Lucy: Always enjoy reading you but hard to resist a couple simple and obvious corrections which did not require my law degree. Neither allegation nor assessed means no proof. Au contraire. There may or may not be proof. The words are a declaration that something is the case. The opposite of what you suggest. See Merriam Webster, etc. Please circulate this so that you are not considered to have attempted to mislead your faithful readership. Bob
LK: The "intelligence" sector of the deep state ran pages of charges and then only at the end said but it doesn't mean we have any proof. Do you remember the Gulf of Tonkin, WMD (weapons of mass destruction)? If they had real proof, they would use it. Lying is their MO. The "bounty" payments claim was so ridiculous it was rejected by the NSA. There has been ZERO evidence of any of the Russiagate charges. Don't you think that means something?