By Lucy Komisar
Dec 9, 2020

European Union foreign ministers in Brussels December 7 adopted a broad sanctions regime. It's aimed, they say, at the world's human rights abusers.
The sanctions framework will ban visas and freeze assets of individuals and entities the EU Council of foreign ministers deems guilty of crimes against humanity, slavery, extrajudicial killings, enforced disappearances, and arbitrary arrests. Also, those responsible for human-trafficking, sexual violence, and abuses of freedom of peaceful assembly, expression, or religion. Or "otherwise involved," which means they make financial profits from human rights abuses. Here is the Council decision in pdf and html.
According to a press release, "It will be for the Council, acting upon a proposal from a member state or from the High Representative of the EU for Foreign Affairs and Security Policy, to establish, review and amend the sanctions list."
There is nothing in the decision about due process for those targeted. Which makes the Council a Star Chamber, the name of such tribunals in the bad old days before liberal interventionist "human rights."

"Extrajudicial killings": could that include police murders in the U.S., UK, France? "Arbitrary arrests." Certainly not the governments who have persecuted, detained and abused journalist and publisher Julian Assange. Or the government (who is that ?) that runs the torture centers at Abu Graib and Guantanamo.
Not indicated if "otherwise involved" in profiting off human rights crimes extends to the big international banks who run the offshore accounts where culprits routinely stash their money. Probably not.
There was talk of who might be the act's targets. Russians of course, no mention of China. Too much $$ at stake.
I admit amusement that the targets are allowed to keep money for lawyers, or basic needs like food, rent, mortgage, medicine, even to pay out on contracts not connected with the charges, but on the other hand, they can't make claims for indemnity or compensation.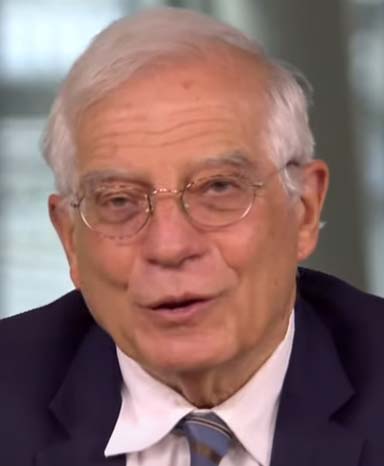 The EU's new chief of Foreign Affairs and Security Policy Josep Borrell told reporters in Brussels last month, "We have agreed to launch the preparatory work for a global sanctions regime to address serious human rights violations, which will be the European Union equivalent of the so-called Magnitsky Act of the United States,"
But a week before the proposal, at the European Parliament's Foreign Affairs Committee, he said he had never heard of Magnitsky or legislation named after him. An EU spokesperson played this down. He apparently hasn't heard of Julian Assange, either.
Borrell, a former Spanish foreign minister, said "This will be a tangible step reaffirming the EU's global lead on human rights." He was born in Catalonia, but opposes independence. Wonder if the jailing of Catalonian political leaders will put Spain on the sanctions list.
If you think I am suggesting any hypocrisy here, you would be right!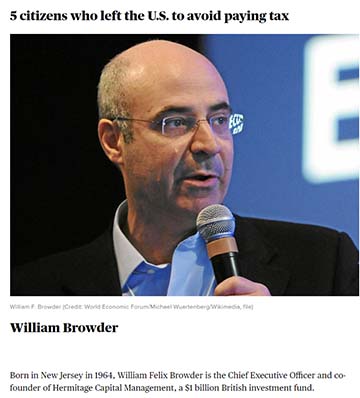 But, in fact, William Browder, who lobbied long and hard to call the EU measures a "Magnitsky Act," lost, because the ministers refused to name the law after his former tax-evasion accountant, Sergei Magnitsky.
There are five such laws, in the U.S., UK and 3 Balkan states, and they function as William Browder Protection Acts to build political walls against Russia calling him to account for $100 million in tax evasion and illicit buys of Gazprom shares.
Browder in media will make the best of losing the title fight, but coming on the cusp of the Swiss last month indicating to Browder they will close the case on his charges against a handful of his Russian targets, it cannot please him. In that case, he accused some half dozen Russians of getting money from the $230-million tax refund fraud that looted the Russian Treasury in 2007. Evidence shows that Browder was involved in the crime and that his wild charges in half a dozen countries are masterful diversionary tactics that have worked.
This new measure has some history, with Browder's fingerprints all over it.
The first Browder salvo was the Andreas Gross report adopted in 2013 by PACE, the Parliamentary Assembly of the Council of Europe. It was a sycophantic stenographic copy of Browder's line.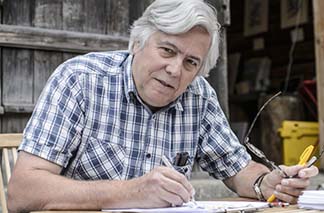 Even Gross, who is Swiss, later recanted about reference to Magnitsky being murdered. That is in the Andrei Nekrasov film, which the "pro human rights" European Parliament blocked from a screening there.
And U.S. federal court Judge Pauley in the Prevezon case in New York in 2018 said the Gross report was biased, based on Browder's statements and his witnesses, and he refused to accept it as evidence as being without credibility.
The case ended with a settlement agreement of $6 million to be paid by Prevezon, which it agreed to since it couldn't afford millions more in lawyers' fees. The deep-pocketed U.S. Justice Department had an upper hand even though it lacked the evidence to prove Browder's charges.
The European Parliament dutifully voted for a Magnitsky Act the next year, 2014. But the parliament can only recommend. It was up to the Council which represents governments to decide.
Here Browder used his favorite tactic, intimidation. He threatened Dutch Foreign Minister Stef Blok in April 2018 for not supporting a Magnitky Act. Browder said, "Being against the Magnitsky Act is often a career-ruining proposition. @ministerBlok should study what happened to former Canadian foreign minister Stephane Dion for vociferously blocking Magnitsky in Canada."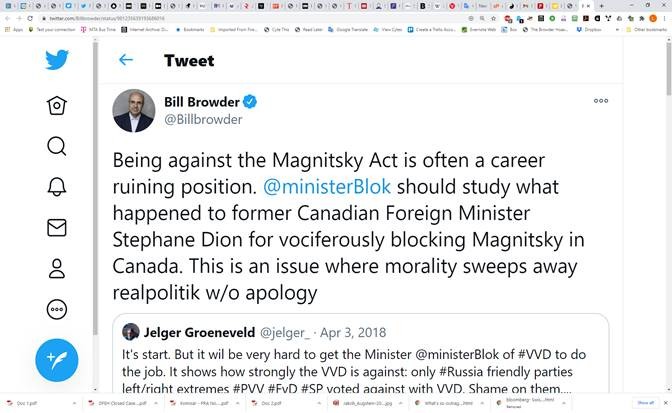 There followed EP resolutions in March and April 2019, calling for an EU-wide 'Magnitsky Act' and establishing a list of 32 Russian citizens declared responsible (with no evidence) for the prison death of Magnitsky, who it called an attorney instead of Browder's tax-cheating accountant.
Then the government of the same Dutch foreign minister Blok, who Browder had publicly threatened, introduced a resolution for a sanctions measure. But Blok said it would not carry Magnitsky's name, and the Dutch lobbied on that and won. After all, this was not supposed to be a ruling targeting Russia, which of course it was in Browder's eyes. Perhaps Blok was getting back at Browder for his attack.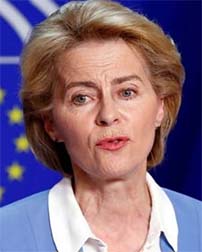 European Commission president Ursula von der Leyen persists in calling the measure a "European Magnitsky Act," because she is a Browder acolyte. (She is Germany's former defense minister, with a famously failed record. She got kicked upstairs to get her out of the German government.) Browder accused people who didn't want Magnitsky's name at the top of "appeasing the Kremlin." But that McCarthyite trope is getting tiresome. The majority of members of the European Commission? Really?
Beyond that is the issue of why, outside an international venue such as the International Criminal Court (ICC), which has clear due process for the accused, one country has the right to try someone for crimes alleged in another country.
The EU itself proclaims that, "Sanctions have become part of the EU's external relations toolbox in the past two decades, with over 40 different restrictive measures currently in place against individuals in 34 countries."
This appears to challenge or undermine the role of the ICC. Are these targets not worthy of ICC attention? No, the accusers would have to supply evidence and allow the accused a day in court. Too inconvenient.
In fact the EU has weaponized "human rights" to target international adversaries. We can be sure it will not name allies such as the U.S. and the UK for the persecution, detention and abuse of Julian Assange and other victims of egregious human rights crimes by the West. This so-called "human rights" regime is a fake.