By Lucy Komisar, Aug 18, 2021.
Democratic Party insider Robert Shapiro, an economist who was a top advisor to the campaign of Bill Clinton, served as his undersecretary of commerce, and then advised the Democratic nominees after him, breaks with establishment economics to target the corruption of naked short selling.
See his interview with me.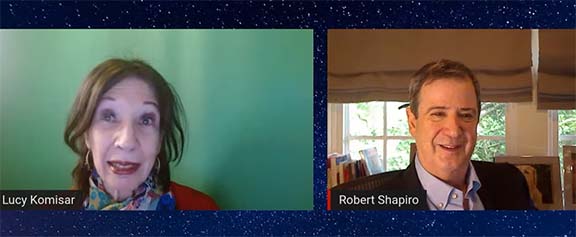 The video on Superstonk.
Robert Shapiro, now 72, grew up in Baltimore, where his father ran an international metals brokerage, buying and selling non-precious specialty metals, and his mother was a housewife and charity volunteer. In the political sixties, Shapiro attended the University of Chicago to study metaphysics. He recalled, "Student activism had a big effect on me. That was the era of Watergate and Vietnam."
He recalled, "I decided to study economics, since I wanted to be involved in public policy, and the way to be valuable in public policy is to understand better than anyone else the things that are of interest to everyone else. What everyone cared about was money." He went to the London School of Economics and to Harvard, where he got a PhD in political economy.
Then he moved to Washington D.C. He would be the economic advisor to New York Senator Daniel Patrick Moynihan and end up running his legislative operation. For two years he was senior writer on macroeconomic policy for U.S. News & World Report. He left to run the economic policy side of the Michael Dukakis presidential campaign. Then he co-founded the Progressive Policy Institute, a think tank to develop progressive policies that didn't depend on central bureaucracies.
Through that organization he became close to Bill Clinton and was chief economic advisor in his presidential campaign. In Clinton's second term, the President asked him to join the administration, and he became Undersecretary of Commerce. Shapiro would later be senior economic advisor to Vice President Al Gore and Senator John Kerry in their presidential campaigns.
In 2001, he started Sonecon, an economic policy consultancy that advises corporate executives and government officials as well as non-profit organizations. In addition to finance, his focus there is climate change and intellectual property.
Not long after lawyer Wes Christian started looking into naked short-selling scams in 2002, he contacted Robert Shapiro. He thought, "He was deeply embedded in the Democratic Party and would be able to influence a lot of senators and congressmen."
Christian and a colleague went to see Shapiro in his Pennsylvania Avenue office. Shapiro recalled, "They asked me what I knew about naked short selling, and I said 'nothing'."
Christian told him, "This could be the largest commercial fraud in U.S. history. We think it's doing terrible damage to a lot of companies."
Shapiro was quite skeptical. He said, "It seemed to me if it had the kind of impact they were describing that this would have not have gone unnoticed, and I would know about it, and there would be a lot written about it, and that wasn't the case."
Christian had brought boxes of documents from lawsuits he had filed. He recalled, "Rob would look at the papers like typical accountants look at things; he would look at them forever. He has such a methodical way of drilling you on questions and making you give him more detail. It was an exhaustive process. He'd ask me ten times as many questions as I had posed to him. At the end of the session, which lasted several hours, he said, 'Something's not right here. Something bad is going on, that's for sure.'" Christian asked him to research the issue. He told him, "We think you'll come to see it as we see it. This is something that has slipped through the cracks."
After more than six months of looking into the matter, Shapiro came to agree. He found huge numbers of shares sold short that far exceeded the available shares to borrow or would have made the shares to borrow so expensive as to economically preclude it, and yet there was outstanding short interest, (shares sold short and not yet delivered), equal to 60 to 100 percent of some outstanding shares, the "public float," which are the shares available for buying, selling, and borrowing.
He told Christian that "500 million to 1 billion dollars in shares are sold but not delivered every day between all exchanges. This is systemic," he said, "and involves thousands of companies."
Shapiro said that "massive fraud" was represented by the large fails in ex-clearing, moving buys and sells without going through the DTCC, the way the Badians did it.
He concluded, "It was clear this was a widespread phenomenon, and it had some significant effect." So, he became very involved. Christian filed court cases and Shapiro focused on policy.
Since the time Shapiro began investigating the matter, the SEC has put new regulations into effect to deal with naked short selling. If you take the agency's word for it, those regulations solved the problem. They don't deal with the fails Shapiro discovered that don't show up at the DTCC, because they are ex-cleared.
He challenged the SEC at a hearing where the person in charge cut off his microphone.
In this interview he explains that, and much more.
From Superstonk: AMA Navigation Links | Dr. Robert J. Shapiro & Lucy Komisar
As these AMAs can be pretty lengthy, and not everyone has time to sit down for an hour, please find some navigation links below that you can use to watch the relevant section of the recording.
————————————————————–
YouTube link here
5:52 – Intro – Who is Dr Robert J. Shapiro
6:26 – How Robert got involved with naked short selling
13:00 – Background on previous legal case work with Wes
16:45 – Stock Loans and Naked Short Selling
23:12 – SECs role in the 2008 financial crisis
29:48 – Why the DTCC "attacked" Robert & SEC/DTCC regulatory capture
34:18 – Robert's take on GameStop
40:38 – Robert's take on what the SEC Chair, Gary Gensler & Congress should be doing
49:20 – Ex-clearing, dark pools and OTC – an escape route
1:00:18 – SROs & Systemic Risk
————————————————————–