By Lucy Komisar
In this hokey, schmalzy soap opera about a black maid working for a Jewish family in 1963 Louisiana, the cast is better than the text. The script is by Tony Kushner – America's most over-rated unimpressive playwright — who based it on childhood memories. It was first presented in 2003 and it had the same flaws though less glitz, which must have been added to cover up the flaws.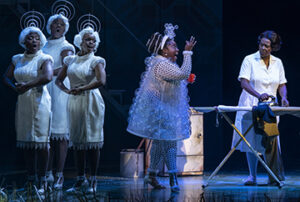 It starts out in a basement of a white family's home, but we don't see them, just the black maid, Caroline (the terrific and memorable Sharon D. Clarke) who spends her time doing the laundry and ironing.
The washing machine (Arica Jackson) is anthropomorphized in a white bubbles dress. The dryer (Kevin S. McAllister) is a guy with a lit red ring around his neck. The radio Caroline listens to is represented by three singers with antenna tiaras (Nasia Thomas, Nya, and Harper Miles). Bubbles and the three radio ladies are all terrific. I loved the doowap. But the story never gets surreal, so this is just a gimmick to distract from the slim text.
If this is fantasy, reality is tougher. Caroline in 1943 married a Navy man. By '45, the war was over, he was back and had no work. He hit her, broke her nose. She beat him up, he left. Divorced with four kids, she spent 22 years cleaning.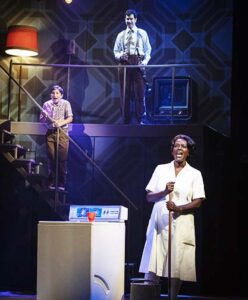 Upstairs is the family. The cigarette-smoking mother died of lung cancer. The father Stuart (John Cariani), who connects to his clarinet playing more than to any human, married Rose (Caissie Levy) because she, like his deceased wife, was from the Upper West Side.
Stuart's Jewishness is more cultural than religious. He tells his son, "There is no God, Noah. We don't believe in God and corny stuff." Rose is not happy. It's hot and damp. "I miss the Upper West Side." (Cariani and Levy are fine if a little dyspeptic as displaced New Yorkers.)
Noah hates his stepmother, mostly because she is not his mother. (Noah is played in alternating performances by Gabriel Amosoro, Adam Makké and Jaden Myles Waldman). Noah, with no emotional connection to his father or Rose, connects to Caroline.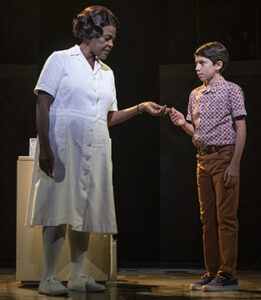 About the title, "change" has a double meaning. Noah leaves change in the pockets of pants he drops in the laundry basket. Caroline puts it in the bleach cup and sends it back. Rose is annoyed and tells Caroline that if Noah is so careless, she should keep the money.
At first she doesn't. But her kids want for the stuff other kids get from stores. She keeps it. It starts out as a dollar or two. But then Noah makes a mistake, and the money will cause a moral crisis. And Caroline's furious powerful solo, "Pocket change changed me."
So, why are we in 1963? The play opens with a view of a green bronze statue of a Confederate soldier. Caroline's friend Dotty Moffett (a very good Tamika Lawrence), a maid going to college at night, is an activist. I thought the story would be about the civil rights movement and the August '63 March on Washington.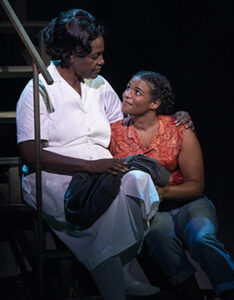 Then we learn why 1963. An anthropomorphic bus (Kevin S. McAllister) arrives and sings, "The president is dead…The earth has bled." Caroline's daughter says, "I aint got no tears to shed for a dead white guy."
Caroline's kids are the real backstory. Her daughter Emmie (Samantha Williams) is militant. As this is a musical, note that the kids do some fine dancing, and the lady in the moon (N'Kenge) is in superb operatic mode as she floats through space above the stage.
Then it is Channukah, and Stuart's parents and Rose's father are visiting. The Gellmans are forgettable McCarthyite Russophobes.
My favorite part of the show is Rose's leftist father Mr. Stopnick (Chip Zien). He sells hats in Macys and is waiting for the revolution. He declares, "Down with capitalist chazerai. As we predicted in the 30s."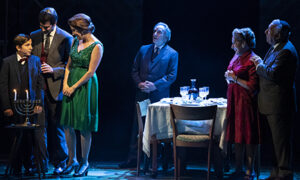 About Caroline's radical daughter who her mother wants to shush up, he says, "Since I came South, she's my first real conversation!" Nobody else in the family talks about the race question.
All the performers are better than the script. Think about what was happening in 1963 and realize that the central story here is a kid left some change in his pants pocket! Even the glitz doesn't cover up that nonstory. Maybe it was Kushner's life. It doesn't make a play.
Reader alert: I spent August 1962 to September 1963 as editor of the "Mississippi Free Press" in Jackson. So, I know what was going on in that time in the South. And I know what a fake cobbled-together play this is.
"Caroline, or Change." Book and lyrics by Tony Kushner; music by Jeanine Tesori; choreography by Ann Yee; directed by Michael Longhurst. Studio 54 254 W. 54th St. New York City. 212 239-6200. Runtime 2:30. Opened Oct. 27, 2021, closes Jan. 9, 2022. Review on NY Theatre Wire.