By Lucy Komisar.
GB Shaw is the doyen of political plays, and when you see them, you have to put yourself back in time to imagine the outrage of the elites. How they railed at his prickling their class oppression of women, by men and the rich, their snobbery and always their hypocrisy. One of the favorites is "Mrs. Warren's Profession," a 1902 feminist satire of the times given a fine production by the Gingold Theatrical Group. Except it's maybe not so outdated!
It helps to have the excellent Karen Ziemba as Mrs. Kitty Warren and a fine newcomer, Nicole King, making her off-Broadway debut as her daughter Vivie. Both characters make choices that were not acceptable for women, though it's hard to tell whether a woman running a bordello or becoming a judge was worse from the elites' point of view!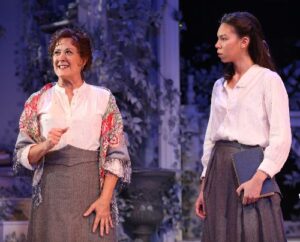 Kiemba reminds me of a tough grandmother in a fish shop who drives a hard bargain. Vivie and her mother have lived apart, she in Surrey, southeast of London, her mother in Brussels, it takes a while to find out why. But she is coming for a visit.
Vivie is assertive, strong, she will study law, she likes working and getting paid for it. She doesn't like the boorish men who pay her attentions. She's tough with her mother too. "Are you my mother? Where are our relatives? Who was my father?"
They do a dance to a banjo, with words "I see trees of green, red roses too….What a wonderful world," the irony added of course by the excellent director David Staller.
"Wonderful?" We learn Mrs. Warren had been a poor working girl. Went into biz with her sister because, "We had appearance and turn at pleasing men. We could get all profits instead of starvation wages." And, "The girls were very well taken care of, one married an ambassador." More on the hypocrisy side.
Mrs. Warren: "I always thought that it oughtn't to be. It can't be right, Vivie, that there shouldn't be better opportunities for women."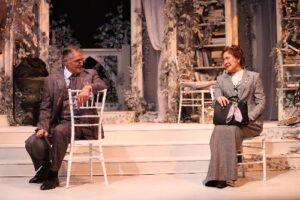 Her partner Sir George Crofts, (Robert Cuciolli,) a gentleman by label, demeanor and attire, invested 35%, safe from the money point of view. They have five places in Brussels, Oostend, Vienna, and Budapest. He wants to marry Vivie, young enough to be his daughter, in exchange for his property.
Vivie, "When I think of the society that tolerates you, and the laws that protect you! When I think of how helpless nine out of ten young girls would be in the hands of you and my mother! the unmentionable woman and her capitalist bully—"
But he, "Do you remember your Crofts scholarship at Newnham? Well, that was founded by my brother the M.P. He gets his 22 per cent out of a factory with 600 girls in it, and not one of them getting wages enough to live on. How d'ye suppose they manage when they have no family to fall back on? Ask your mother. And do you expect me to turn my back on 35 per cent when all the rest are pocketing what they can, like sensible men? No such fool! If you're going to pick and choose your acquaintances on moral principles, you'd better clear out of this country, unless you want to cut yourself out of all decent society." Decent? Really?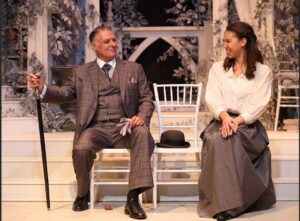 Vivie: [conscience stricken] You might go on to point out that I myself never asked where the money I spent came from. I believe I am just as bad as you.
Crofts: [greatly reassured] Of course you are; and a very good thing too! What harm does it do after all?
[Rallying her jocularly] So you don't think me such a scoundrel now you come to think it over. Eh?
This production, a charmer, if one can say that about the subject, takes place in a bower covered with pink flowers and set with white wooden chairs. The music is rag. The play of course caused outrage and condemnation. In this production, the acting is fine, the direction stays carefully inside the reality of the world that is satirized, and fans of Shaw, feminist and political theater should see it.
"Mrs. Warren's Profession," Written by George Bernard Shaw Directed by David Staller. Gingold Theatrical Group at Theatre Row, 410 West 42nd Street, New York. 212/714-2442, ext 2, 12pm – 5pm. Runtime 1hr 40min. Opened Oct 27, 2021, closes Nov 20, 2021. Review on New York Theatre Wire.