By Lucy Komisar
"Cullud Wattah" written by Erika Dickerson-Despenza and directed by Candis C. Jones is billed as about "three generations of black women living through the water crisis in Flint, Michigan," where community water was poisoned because the Republican governor, Rick Snyder, wanted to save money and in 2014 switched from Port Huron water to contaminated Flint River water. He was backed up by key state and city environmental "regulators," in quotes, because they didn't seem to think contaminated water came under their remit. Or lacked the integrity to challenge the governor.
The play promo says, "Marion, a third-generation General Motors employee, is consumed by layoffs at the engine plant. When her sister, Ainee, seeks justice and restitution for lead poisoning, her plan reveals the toxic entanglements between the city and its most powerful industry, forcing their family to confront the past-present-future cost of survival."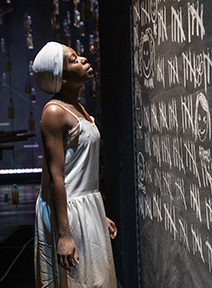 The title promises this is about the water crisis, with a double meaning, the brownish color of the water that comes out of the taps (plastic water bottles are hung on walls around the stage) and the skin color of the communities worse hit. Other walls surrounding the audience shows tabulations of the days with poisoned water.
And there is serious worker politics there.
Marion: My contract is up.
Big Ma: The union just negotiated contracts last year—
Marion: We know what side them UAW reps on and it ain't ours.
So, I expected a political play that zeroed in on how the water disaster affected one family, the workers, their union and what they did about it. But I read it wrong. It is a family drama; the water crisis is just a backdrop. Anyone seeking a serious look at the criminal poisoning of thousands of people and how many fought back must look elsewhere.
Alas, as a family drama, this is more like TV soap opera, complete with a recovered crack addict who sleeps around a lot and is pregnant for the seventh time (she lost the first six), the sorrows of a child with leukemia and a woman confronted with juggling her career against a possible suitor. None of those issues have anything to do with criminally contaminated water.
Though it is suggested that Marion's daughter Plum's leukemia came from the poisoned water, this is not back up by studies of what environmental toxins cause that illness. The culprits include pesticides affecting pregnant women, lindane used to treat lice, black hair dye and proximity to nuclear power plants, none relevant to Flint water.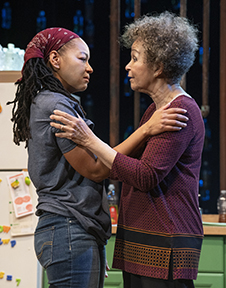 Nevertheless, there is fine acting here, especially the terrific Lizan Mitchell as Big Ma, a slight woman with an outsized voice who talks about God a lot and whose tone and demeanor reminds one of a preacher. Also the excellent Crystal Dickinson as her daughter Marion in a complex portrayal that runs on real self-awareness and passion, both toward herself, her family and the outside world.
There are also strong points in the play. First, the opening where characters in white gowns hand off the sung lines of "Lead in the Water," a take-off on a spiritual. "Lead/ in thuh wattah cheeldrun/ …Snyder playin god/ with wattah." It seemed like a cantata.
The political/personal issue pits Marion, who thought she was going to be laid off, instead is offered an $83,000 management job, which will pay for bills on the house (including, ironically, piling up water bills), Plum's medical care and making life more comfortable for all, and Ainee (normally Andrea Patterson, in this performance understudy Jennean Farmer) who wants to sign a class action lawsuit against Snyder, General Motors and collaborators in city and state, that could give her money to get her on her feet again.
Ainee attends a meeting at a UAW local hall about joining the class action. So, though it's not explained, this movement gets backing from at least some union members. Worth noting since Norwood Jewell, UAW plant chairman at GM's Flint Metal Center, was a key backer of Mayor Dayne Walling, who hit the button on April 24, 2014 that shut off the city's connection to the Detroit water system and switched to the polluted Flint River.
Marion argues that that such class action suits usually take ten years to go through the courts (true) and linking her to that suit could get her fired. So, they'd have nothing. And meanwhile, she has given Ainee a home when she was a crack addict.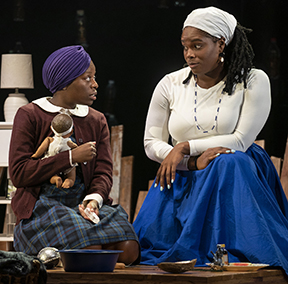 Ainee retaliates that she took care of Marion's kids when she was at work. "Kids" plural is the first time I realized Reesee was her 17-year-old daughter, not her sister. Marion is 34.
There's also some history. The family believes GM sent the people who killed "Big Daddy," an organizer, and had something fall on Big Ma's leg, causing the injury that led to her needing a cane.
Then it comes out that Marion, who has rashes on her body, knew that the bad water going to the GM plant was corroding the car engines. GM trucked in clean water, and then the government shifted the plant to good water, but continued poisoning the rest of the city. And Marion knew that but didn't tell.
Unfortunately, the political parts are few, and many elements are distracting and should have been edited out of the 2-hour 15-minute pastiche. If this is really about the Flint water crisis, the personal problems of Ainee and Marion and sections on Reesee and the Yoruba water god seem irrelevant. So do the sexual proclivities of Big Ma and Reesee. But these days maybe you have to hit all the buttons. Except here the button of working class politics.
"Cullud Wattah." Written by Erika Dickerson-Despenza, directed by Candis C. Jones. Public Theater, 425 Lafayette St., New York City. 212-967-7555.  Runtime 2:15. Opened Nov. 17, 2021, closes Dec. 12, 2021. Review on New York Theatre-Wire.
For the record and read out in the play are the defendants in the class actions:
Rick Snyder/ Governor of Michigan
Daniel Wyant/ Director Of Michigan Dept of Environmental Quality (MDEQ)
Liane Shekter Smith/ Chief of the Office Of Drinking Water & MDEQ Municipal Assistant
Adam Rosenthal/ Water Quality Analyst
Stephen Busch/ District Office Supervisor of MDEQ
Patrick Cook/ Water Treatment Specialist
Michael Prysby/ MDEQ Engineer
Bradley Wurfel/ MDEQ Director of Communications
Darnell Earley & Gerald Ambrose/ Emergency Managers
Dayne Walling/ Mayor of Flint
Howard Croft/ Director of Public Works for Flint
Michael Glasgow & Daugherty Johnson/ Utilities Administrators for Flint
General Motors LLC
City of Flint & State of Michigan
Flint Water Justice, about the class actions.
For more about toxic water in the U.S.
Hundreds of Toxic Chemicals Are Coursing Through Our Tap Water, New Report Says
The Tragic Cycle of Bottled Water
Two Forever Chemicals More Toxic Than Previously Thought
'Crisis of astronomical proportions' over Pearl Harbor contamination