By Lucy Komisar
I thought this was going to be a tacky, yellow press redux of the paparazzi chasing Diana.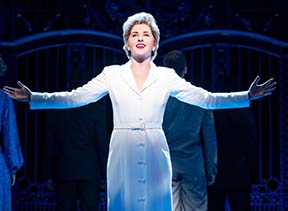 I was wrong. It is a terrific feminist, anti-royalist story (book by Joe DiPietro) of what happens when a woman, facing a powerful institution (the "Royal Family"), has the gumption to stand up and fight for her dignity.
Most is sung in couplets (rock and pop music by David Bryan, clever lyrics by Bryan and Joe DiPietro). And the dancing is smart and lively, especially by the paparazzi. All of it create a well-crafted and entertaining story of how the young naïve Diana (Jeanna de Waal) turns into a sophisticated, media-savvy woman in the face of a sleazy, pretentious, self-absorbed "Prince" Charles (an unctuous Roe Hartrampf) and his amoral pompous mother, "Queen" Elizabeth (Judy Kaye).
Direction by Christopher Ashley and choreography by Kelly Devine is up to the best Broadway standards.
I never followed the Diana soap opera, so I take that all or most of this is based on truthful articles and books about her and Charles and his lover Camilla. And imagined but very likely conversations between Charles, his mother, and Camilla. It's a terrific feminist story.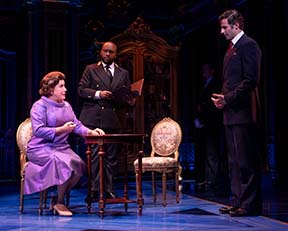 As Diana, Jeanna de Waal is a fine musical actor with an appealing singing voice. She transforms herself from the young Diana, who at 19 seems frumpy, a bit round shouldered, hardly elegant. How far from the privileged Royals, she was a preschool helper.
But as the Palace staff sing, there was
"A monarchy in deep distress
hounded by a hungry press
no way out, that is unless —
Elizabeth tells Charles, "We are in crisis! Our popularity is declining, the public trusts us less and less. Will you at least consider her, Charles?"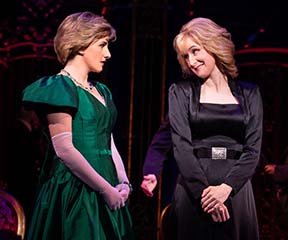 So, it was a public relations and marketing ploy, shifting public attention to the prince and a new princess. Charles' married girlfriend Camilla (well portrayed by Erin Davie) promoted Diana as a sweet young virgin to fill a role: "She is what the people want." Camilla keeps her eye on the courtship, including at cultural events. Diana: "You seem to pop up everywhere."
Speaking about culture, there were already divides. He likes classical music, Rostropovich. She like pop, Elton John. There's a nice opening rock scene. She is a romantic and reads Barbara Cartland, who turns up in garish pink. At some points, the story is Cartland-style cloying.
Charles is uncertain that they have anything in common. An understatement! He asks his mother about her and Philip. Elizabeth advises, "Love evolves and bends and men take other friends." Was that about Philip? If so, she would surely regret that advice to her son. And after he proposes to Diana, Camilla entreats, "When you get bored, come on by." Indeed, she's the sophisticate he wants.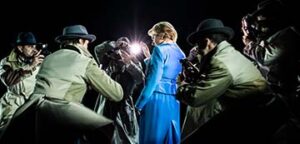 Poor naïve Diana sings, "I will make them love me." Lit arches backdrop the cathedral wedding. And Camilla is there. Of course, Charles is immediately unfaithful. But the press is giving what the Royals want. There's a terrific number with Diana and the paparazzi, "Snap snap click."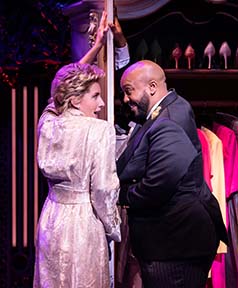 Then Diana grows up and becomes her own woman — she even fixes her dowdy wardrobe with the help of a loyal servant Paul (Anthony Murply) — Charles doesn't like her free spirit, which brings out his nastiness and sleaze. She doesn't like his affair with Camilla. But, if he is to be king, divorce is out of question. Why can't she just stay in her place?
He instructs her,
"There are centuries and centuries of protocol,
The damage you've done by ignoring it all.
Don't blame me for your antics!
Don't blame me for this dance!
I'm through with giving you one more chance!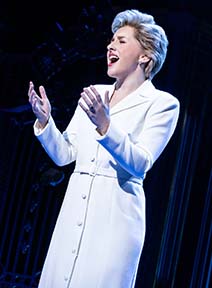 If my heart has strayed, Diana,
If our marriage has come to a halt —
You never once obeyed, Diana.
Goddamn it, it's all your fault!"
To remind her that she is a nothing: "All you've ever done is marry me!"
"You're worshipped by the world, Diana Isn't that enough?"
He leaves the scene, and she sings in a very good and surprisingly unsentimental number, "Why can't you love me as I love you?"
"Was he a fraud, right from the start?
How come I seemed to be the last to know?"
"Fantasies die,
who knew princes lie –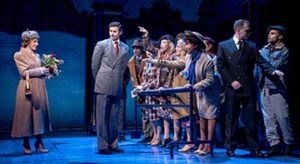 She gets smart, worldly. She mixes with "the people." She fights him in the press, portraying herself as a woman betrayed by her husband, which Elizabeth points out is a scenario that half the women in England can relate to.
But worse for the Royals, Diana takes a lover, James Hewitt (Gareth Keegan), right out of a Cartland novel, a cavalry office giving her sons polo lessons. It gets a bit hokey here, especially a split stage with Diana and James in one bed, Charles and Camilla in the other.
Later, Camilla's husband asks: "Are you still seeing your friend?" Camilla replies, "Are you still seeing your friend? Or should I say friends?" Ah, the etiquette of aristocrats."
And Diana is political in a way that grates on the upper classes. She is going to a hospital to see AIDs patients. Charles doesn't like that. She says, "Oh for God's sake, someone has to be there for these people, especially after what Margaret Thatcher has done." Meaning her near destruction of the National Health Service and other social welfare.
Charles: "Oh, so now we have political opinions?" Diana: "It's not an opinion, it's a fact that since Mrs. Thatcher has taken her claws out …  What's the point in having power if we don't use it to help people? AIDS is a growing crisis in Britain and no one's paying the least bit of attention to it." Charles: "But there are more appropriate causes." We know he became very interested in architecture, a better hobby for the rich, who spend their money on mansions.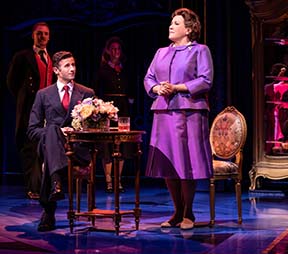 She challenges him. "I will end it with him if you end it with her." No, that won't happen. So, she uses the system that exploited her. Mr. Morton is writing book, and she calls him.
Elizabeth will not be happy.
Diana:
"So now the truth about Charles
and yes, his mistress Camilla
He's a third-rate Henry the Eighth
and she's Godzilla."
A good clever number with passionate voices. Diana ends up with a lot less respect for Charles and Elizabeth than the Prince and Queen rock stars she admires. So do the rest of us.
There's even a bit of humanizing Camilla in her song, "I miss you most on Sunday."
Yes, sometimes it's kitch, but it's kitch well done.
Minor complaint. De Waal as Diana, Hartrampf as Charles and Erin Davie as Camilla are perfectly cast, they could be doubles. Anthony Murphy as the servant Paul Burrell and Gareth Keegan as James Hewitt are also good. But Kaye as Elizabeth is miscast, too heavy, too brash, totally out of character from what we've seen in public depictions of the Queen.
It's a fine, almost historical play. Should be another well-deserved nail in the monarchy's coffin. How dare these people, with a history of imperialist oppression and murder, think they are better than "commoners" when they are incomparably and world-class criminally egregiously worse!
"Diana, The Musical." Book by Joe DiPietro, music by David Bryan, lyrics by Bryan and DiPietro, directed by Christopher Ashley, choreography by Kelly Devine. Longacre Theatre, 220 West 48th Street, New York City. 212-239-6200 or 800-447-7400. Opened Nov 17, 2021, closing Dec 19, 2021. Review on New York Theatre-Wire.