By Lucy Komisar
Will Pomerantz's staging of Anton Chekhov's "The Three Sisters" may be small in size, in a space with just a few sticks of furniture and runtime cut from 3 hours to 2, but the conception and production work grandly. The set by Brian Staton is fine and the cutting seems to leave nothing out. Bass, fiddle and guitar set a mood with evocative music by Nancy Harrow.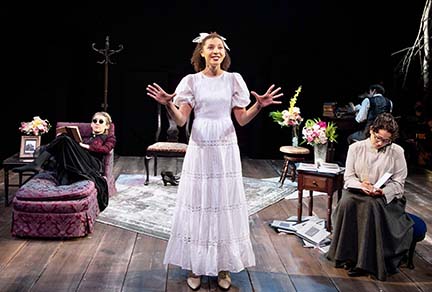 It's early 1900s provincial Russia. Sisters Olga, Masha and Irina are stuck in the family home in a military barracks town. They are of the petty bourgeoisie. Olga teaches at the high school along with Masha's husband Kulygin, Irina has an uninteresting job. They are entertained to various degrees by the officers quartered there. But they long to be in Moscow.
Others in the family entourage are the brother Andrei, fiancé and then husband of Natasha (a self-important lady we immediately dislike), the old army doctor Chebutykin, and the family nurse Anfisa.
This production rises on the talents of actors. Elizabeth Ramos straight and serious as Olga, Amanda Kristin Nichols suffused with unhappiness as Masha, and Essence Brown charming and naïve as the ingénue Irina. The sisters are matched by John Ahlin as a terrific blustery drunk doctor, and Nehal Joshi very good as the commander Vershinin whose discontent in marriage matches Masha's, so of course they fall in love.
The characters' hopes at first pierce their desperate sorrowful lives and loves. Crisis arrives with a big fire in the town that seems to presage the destruction of everyone's dreams. The military contingent is being ordered out.
Tommy Schrider is good as the pretentious HS teacher, Masha's husband Kulygin, and Harrison Bryan dominates the cynical and nasty captain Solyony. He could patent his dark scowl!
Jean Tafler has only a small role as the 80-year-old retainer Anfisa, but she could give a master class in transforming into the character one is playing.
If you haven't seen "The Three Sisters" before, or even if you have, this intime version is worth a visit.
The company is also putting on "About Love," a theatrical adaptation of Ivan Turgenev's short story "First Love," an autobiographical work about a youth of 16 who falls in love with a woman of 21 with many suitors.
This doesn't work as well, partly because it's done mostly as actors reciting the story text rather than engaging in real dialogue and also because the leads, alas, are not very good and race through their lines without creating characters.
The supporting cast Jean Tafler, Pilar Witherspoon, and Tom Patterson, are terrific. I don't mention the names of the others, because they appear to be just starting out, and I don't like to assign black marks, but the production fails for lack of competent actors in those main roles.
"Three Sisters" and "About Love." Written by Anton Checkhov and Ivan Turgenev, adapted and directed by Wil Pomerantz. The Frank Shiner Theater, 18 Bleecker Street corner of Elizabeth Street, NYC. Tkts, 212-925-2812, or at box office Mon-Fri 12 to 5pm and hour before curtain. Opened May 19, 2022, closes June 5, 2022. Review on NY Theatre Wire.