By Lucy Komisar
A few years ago I wrote about French actress Nathalie Schmidt appearing in a web series, "I DO," which was getting a lot of attention from web festivals around the country. The prizes keep coming.
"I DO" is a comedy about Zoe, a French woman immigrating to Brooklyn, who's desperately trying to find a husband so she can get a visa and work as a cabaret singer. Each of the six episodes explores a new screwball attempt to marry an American citizen. The total runs just under two hours.
Zoe is not looking for love, just working hard to find an American to marry her. She is from Paris, a little bit sophisticated, and she doesn't have the clues to understand the guys who try to help her. Through her naïve battle against the U.S. immigration system, "I DO" shows the diversity of Brooklyn.
Nathalie talked about understanding and playing the role of Zoe. She said, "Zoe is so in love with America. She has a genuine innocence. But she's often clueless, as she doesn't know the cultural or relationship "codes" in the U.S. That's why in her quest for the American dream she puts herself in odd or risky situations."
"The challenge as an actor was to stay on the thin line of the comedy dynamic, with Zoe remaining an optimist while facing possible heavy drama. I had to work on behaving a bit ridiculously, but believably. With this goal, I worked with Vernice Klier, a wonderful coach."
Here is what happened since I last wrote about Nathalie in August 2019.
September 15th 2019
It was a celebration underlined with sadness. After 41 years, restaurateur and impresario Robin Hirsch was forced by a greedy landlord to give up the Cornelia Street Café, a favorite Greenwich Village spot for intercontinental food, jazz and cabaret. Nathalie sang at his Cornelia Street Café in Exile Festival in the meatpacking district, accompanied by composer and musician David Amram.
Then to the continuing "I DO" awards.
Joël Bassaget, a Berlin-based critic and judge in TV and web series international festivals, wrote:
"The series is a success. It is pretty unusual to see the sitcom genre so well handled in a short form. It works and is really quite enjoyable. The episodes are often funny, and the situations comical. The cast is really cool, and what I like the best about it, one can feel the actors having fun playing their parts, which makes the viewer's experience even more enjoyable. I DO is fun to follow along and is a series of great quality."
Judges at these web festivals agreed: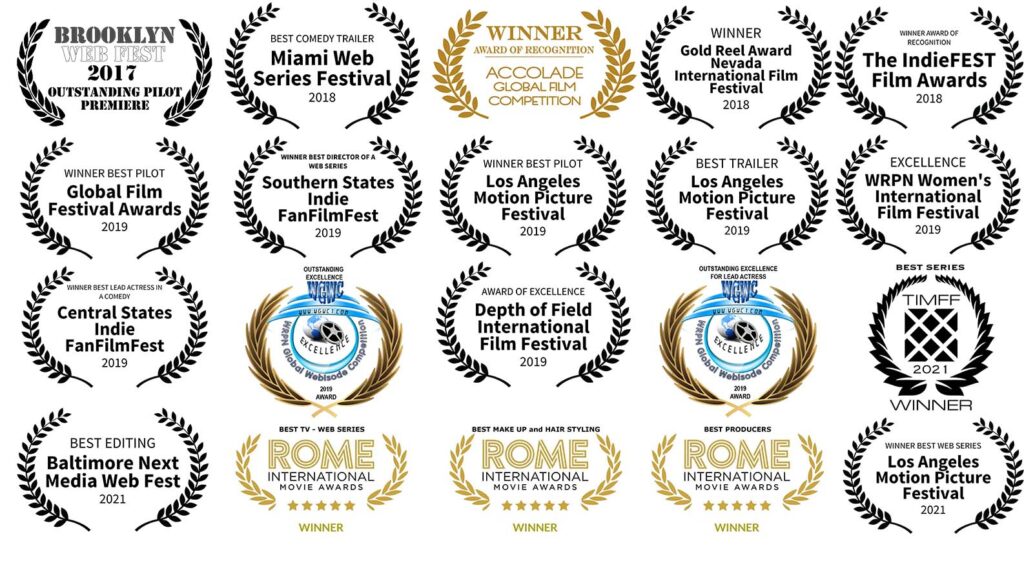 Some singled out Nathalie for her role as an actress and singer.
2021 AWA – the Asia Web Awards Festival (South Korea), Nathalie got Best Actress in a Comedy award nomination, November 2021.
2021 June, the Seoul WebFest, "I DO" got Best Music nomination – including for songs Nathalie performed.
Others were for "I DO" as a production she starred in.
October 2019
"I DO – the Pilot" was selected to be shown at the BNM Web Fest (Baltimore New Media Web Festival)
2020 was a dark year for all of us. 2021 was a good year for Nathalie.
2021
"I DO" the series was selected to be shown at:
• the Sicily Web Festival (Italy),July 2021 and
• the Apulia WebFest (Italy), September 2021.
• the Minnesota WebFest, Best Romantic Comedy nomination, September 2021.
• the New York Independent Cinema Awards, "Semi Finalist" nomination, September 2021.
• the Lima Web Fest (Peru), "Semi Finalist" nomination, September 2021.
• the Bilbao Seriesland (Spain), "Amets" (Independent Production) Section, where it got "Fresh Amets" nomination and "Top Amets" nomination, October 2021.
• the London International Web and Short Film Festival, Best Web Series "Semi Finalist" nomination, November 2021.
• the Baltimore New Media Web Fest, Best Editing Award, November 2021.
And the Grand Finale, so far, this trifecta:
October 2021
"I DO" Season 1 won Best Web Series award at the Los Angeles Motion Picture Festival.
November 2021
"I DO" Season 1 won Best Series award at the TIMFF (Tokyo International Monthly Film Festival), Tokyo.
December 2021
"I DO" Season 1 won Best TV /Web Series award at the Rome International Movie Awards.
Coming up in 2022
"I DO" the series was selected for the Miami Web Fest September 29 – October 2nd.
Earlier this year Nathalie acted in a feature film. More when the opening is announced.
Next, she will perform in a new series, "Killer The Hooker," a dark comedy thriller.