By Lucy Komisar
What's amazing about Shakespeare is that directors can do a complete change of time, venue, mood and still the magic works. The trick is to pull you into the story.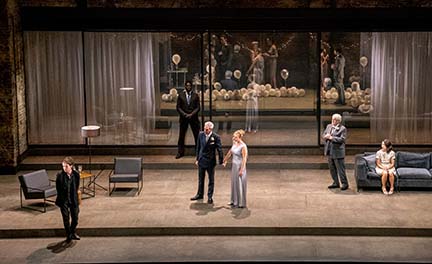 Robert Icke's "Hamlet" at the Armory starts with a video, could be the news, the funeral of the king of Denmark. The backdrop is a foreign military conflict. Then back at the palace we see 12 surveillance screens watched by security. Suddenly there's an apparition: the ghost of Hamlet's father.
On stage, the actors all wear black, or sometimes white, except the women who wear colors. Don't know the design reasons, but it makes them stand out. There's a party in the palace, with people dancing to sixties music under balloons and strips of lights. There's a lot of Bob Dylan throughout.
Hamlet (Alex Lawther) in a black suit is shown distraught. The ghost of Hamlet's father (David Rintoul) in military uniform calls for revenge for his foul murder.
Icke has made his take on Shakespeare so accessible and so entertaining that there are no barriers to audiences. Though sometimes the modern distractions pull your thoughts away from what are the accepted meanings, especially Hamlet's initial inaction and failure to answer his father's call for revenge.
Lawther is excellent in his portrayal of Hamlet as boyish, a naïf, insecure, unsure of himself. He will grow into smarts, or at least cleverly manipulative. Even getting some understanding of the scheme of things: "what a piece of work is man…."
Don't know if Icke had to go so far as have the Hamlet's uncle, the new king, Claudius (Angus Wright) and his queen, both drunk at the party, lying in a sexual embrace on an anteroom couch. (Understudy Lise Bruneau played Gertrude the night I attended.) I found Wright sharp and Bruneau flat.
This audience of course knows the play, so the technology makes it new again. Portly Polonius (Peter Wright) uses a tablet to contact the Norwegian ambassador, who also has tablet. We see him talking on a screen.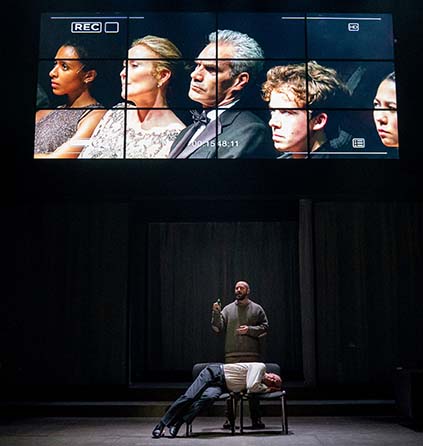 Hamlet is an intellectual, which may explain his recourse to a play by traveling actors that act out the king's poisoning to see how Claudius reacts. It was a smart way to get the evidence. When the play is presented, the king, queen and others sit in the real first row of the theater, and you see them on a large screen. Horatio (Joshua Higgott) of course videos the reenactment.
Hamlet, in his mother's chamber, pulls out not a dagger but a gun to kill Polonious, spying from behind a curtain, who he mistakes for Claudius. ("I took thee for thy better.")
The epic battle with Poland, of course, is shown on video. The soldiers look like those in any modern war. Later, guards carry assault weapons.
Does this all work? For those who know the play and for new audiences who might not be up to the traditional staging, it's a diverting reimagining. Even at 3 ½ hours.
"Hamlet." Written by William Shakespeare, directed by Robert Icke. Park Avenue Armory, 643 Park Avenue at 67th Street, NYC. (212) 933-5812. Runtime: 3:30. Opened June 28, 2022, closes Aug 13, 2022. Review on New York Theatre Wire.