By Lucy Komisar
John Adams: "I have come to the conclusion that one useless man is called a disgrace — that two are called a law-firm — and that three or more become a Congress. And by God, I have had this Congress!"
The best thing about "1776" is Peter Stone's script, which will never change. The controversy about this production staged by Jeffrey Page and Diane Paulus is about casting the men of this Continental Congress as female, including whites, blacks and transgenders.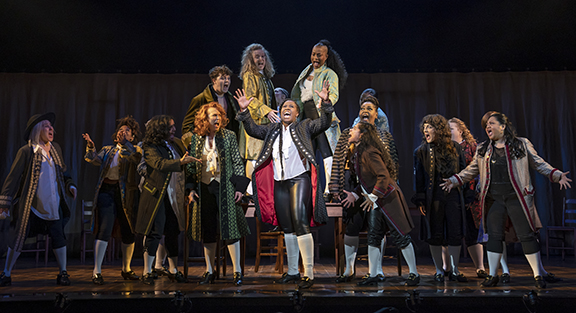 The play would be better with actors believable in their gender. If casting women was to point out their absence, it didn't register. Recall that in Shakespeare's time, plays cast men as women, who were there in real life but not allowed to appear on stage. Fortunately, there is some good acting that makes you accept the play on its diminished level. Carolee Carmello is terrific as John Dickinson, a patrician landowner from Pennsylvania. She is female, but she exudes the self-important supercilious man you want to boo.
And Sara Porkalob is utterly convincing as Edward Rutledge of South Carolina, with a sassy Southern accent, fighting to get an attack on slavery removed from the Declaration of Independence.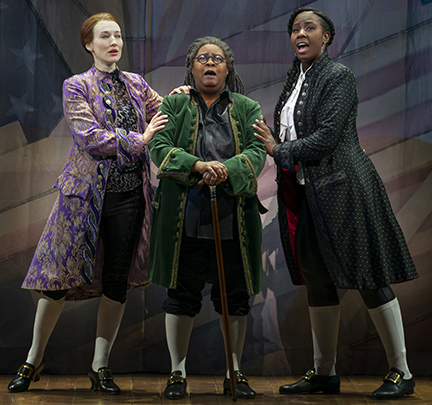 On the other hand, John Adams (Crystal Lucas-Ferry), the lead, never persuaded me she was Adams. Nor did "wife" Allyson Key Daniel make me think she was Abigail. Too tough. Abigail would have been softer, subtler.
It's all about the acting. Benjamin Franklin, drawing you in with his dry wit, gets a boost from Patrena Murray, who speaks in a deep voice. But when I checked the program, Murray was not trans but "she/her." Acting!
Joanna Glushak is fine as Stephen Hopkins, the souse from Rhode Island. I also liked Gisela Adisa, charming as Robert Livingston, who explained the dysfunction of the NY State legislature (plus ça change). Shawna Hamic as Richard Henry Lee of Virginia is a delightful comic actor.
Peter Stone's story is important. Aside from the casting (not most of the acting), it would have been better with scenery, which was mostly lacking.
But the show is about the politics. Note the complaint that England has discouraged industry and pillaged resources. Classic colonialism.
Thomas Jefferson (Elizabeth A. Davis) is portrayed as a pregnant woman/man. Is that symbolic or just woke casting? She/he was pretty quick to give up on parts of the Declaration southerners didn't' like. And Davis lacks the assertiveness Jefferson would have had.
Of course, it's a history lesson. Rutledge of South Carolina about the slaves: "They are not people they are property." Jefferson, "They are people treated as property. I have resolved to release my slaves….an offense against man and god." (Hey, what about right now?)
A superb number is the "Molasses to Rum" in which Rutledge (Porkalob) explains how the North makes money from the slave trade. And you see a slave auction with buyers from Nantucket who will sail boats back to Boston.
John Adams says, "Mark me, Franklin — if we give in on this issue, posterity will never forgive us." Well, he was wrong on that! Posterity mostly doesn't know of the deal. This fine play should remind them.
"1776." Book by Peter Stone, music and lyrics by Sherman Edwards. American Airlines Theatre, 227 West 42nd Street, NYC. Runtime 2:45hrs. Opened Oct 6, 2022, closes Jan 8, 2023. Masks required in the first row. Review on New York Theatre-Wire.