By Lucy Komisar
We know Edward Hopper's iconic "Early Sunday Morning," the low red buildings.
But at the Whitney Museum's Hopper exhibit, there are paintings most of us have never seen before.
Even though the Whitney has the largest collection of Hopper painting in the world.
Many were donated by his widow. And appropriately since the Hoppers lived in Greenwich Village, at Washington Square Park, a half-hour brisk walk to the museum at Gansevoort and the Hudson River.

Hopper was a realist whose work was often more impressionist than photographic. And it reflects strong opinions about the places where he lived. For example, the low red buildings are not by chance. He hated skyscrapers. He did numerous works of "low rises," even from neighborhood rooftops.
Here's what he thought of office high rises: it's a satire. "Office in a small city."
He wanted to portray the interior life of the city, inside spaces. At the Automat, a woman with cup of coffee. At a restaurant, diners and a server. A couple seen through the window of their apartment. Boss and secretary at an office at night .


He liked the theater – his wife had been an actress – and he did some painting and drawings on the theme. He even saved ticket stubs! They show that he saw Gielgud in "Hamlet," "The Cherry Orchard," "Doctor's Dilemma," "Strange Interlude" and "Green Pastures."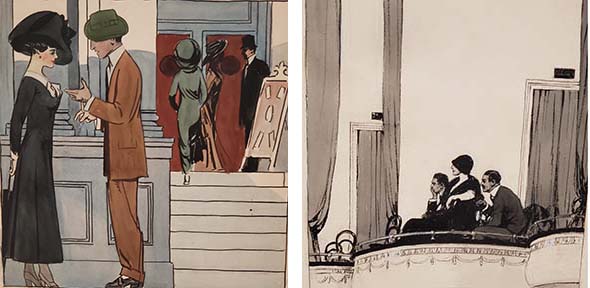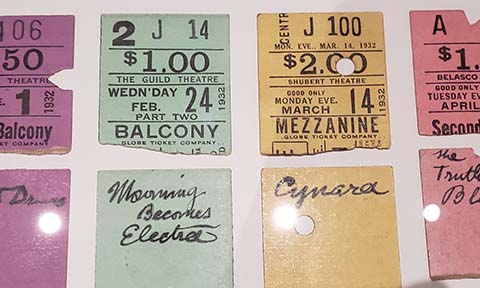 He had a sense of fantasy. Some pictures seem surreal. Here is a bar in Paris from which you can see a bridge over the Seine. But it doesn't really look that way. There's nothing in between. And a brownstone on the Upper West side near Central Park, but you don't have a clear vision to the park either. No people or cars.

The Whitney exhibit has some videos of Hopper painting in his later years. Here are earlier self portraits.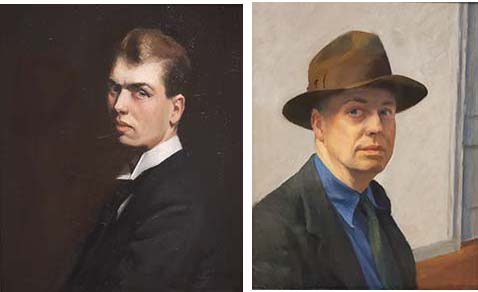 This link goes to a map of New York where the sites of various Hopper paintings are marked. Click the markers and you see the painting of that site. Some also show you what the site looks like now.
Photos by Lucy Komisar.
Whitney Museum of American Art, 99 Gansevoort Street, New York, (212) 570-3600.
Exhibit is on till March 5, 2023.
Timed tickets are required.
Pay What You Wish on Fridays, 7–10 pm. Advance Tickets for these hours are required.