By Lucy Komisar
Oct 31, 2022
Some things stay the same in this 49th year of the Halloween Parade, started by Ralph Lee and his iconic skeleton puppets in the courtyard of Westbeth artists' housing in the West Village. It was moved to the street when it got too big, now Sixth Avenue from Canal to 15th Street. Thousands line up behind police barriers, many don costumes and participate, others just hang out in the streets and local restaurants. The whole neighborhood is filled with Halloween revelers.
The parade starts at 7pm and gets to the Village at 10th Street just before 8. I like that spot because the TV cameras are there and their lights illuminate the parade. For the first time, people who paid $250 got places in front of the Jefferson Market Library at 10th Street with good views and even seats.

Here the Brass Queens, the women's brass band from Brooklyn, leads the skeleton puppets that are the historic start of the march. At 10th Street you see the iconic white spider that climbs the tower of the Jefferson Market Library, once a local courthouse.
The theme was billed as "Freedom." Some of the marchers were interested specifically in "Peace and Freedom" or "Justice and Freedom." Thankfully I saw no warmongering "lets fight a war with Russia" slogans. The Deep State Democrats must have stayed home.
These folks know who makes war: the fat cat war machine, Lockeed Martin, Raytheon, Boeing who loot the treasury and send the cash back to the Congresscritters who fund them. A circle of death.


But in general, the theme of Freedom was missing.Maybe people who care about those issues think this is not the venue to raise them. If newspaper headlines have no effect……There were some more specific political commentaries telling stories the mainstream media blocks.
Did Fauci lie when he said masks don't matter, just vax? Of course he lied. Is Hunter Biden's laptop a roadmap of family corruption, of course it is. The parade belongs in the archives of popular history. Bet the mainstream media doesn't run these photos.

And the music: a Samba band and dancers and a women's drum band.

And because I like individuals' clever costumes evoking fantasy, here are Dorothy, Toto and the red shoes; a couple of 18th Century aristocrats; and a four-armed Hindu Shiva.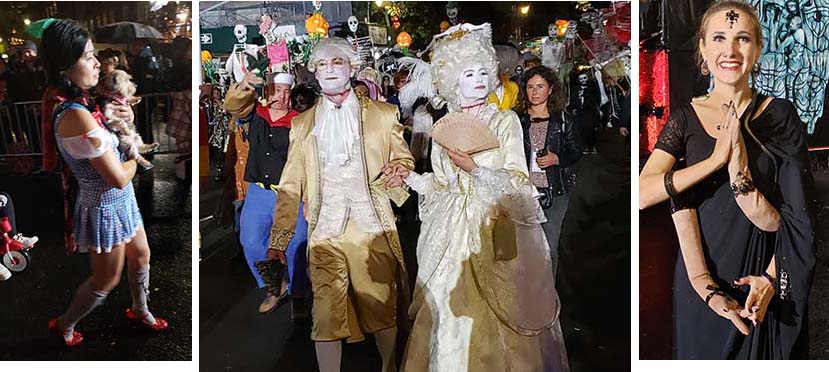 Photos by Lucy Komisar.