By Lucy Komisar
What's better than seeing an artist's work at a museum?
There are some event promoters who would like to persuade you that it's even better to experience an "immersive" event, meaning you are surrounded by huge blow-ups of the painter's works as in this exhibit of Claude Monet's art.
That doesn't cancel out museums, but it has some advantages.
The immersive Monet exhibit proves that using technology to show how an artist added color to a specific painting can be quite fascinating.
And it's relaxing if you sit on a stool or bench on a large room and see the pictures posted to you rather than having to walk around.
I liked the instructive rooms at the beginning, with explanations and photos.
And huge paintings where you can see details you might miss in the real-sized ones.

The favorites of course are the water lillies. And what this exhibit does is detail how Monet painted them. As the video changed, I took photos to show how the colors were added. It was for me the best and most unusual part of the exhibit. You probably won't get this in a museum.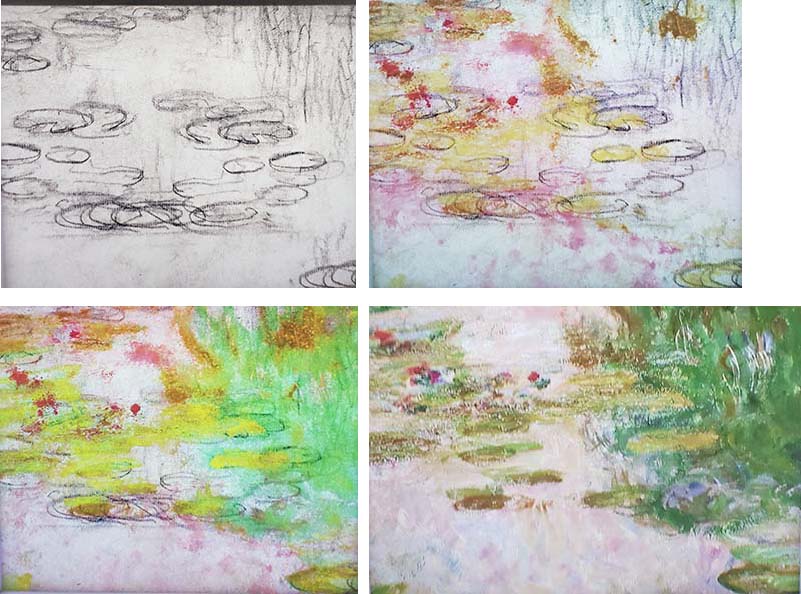 Giverny, the Normandy town where Monet lived and where he created the carefully designed garden with a real water lillies pond, is in a French department on the English Channel — la Manche in French.
So, there are paintings about the sea.

And of Monet's wife at the beach.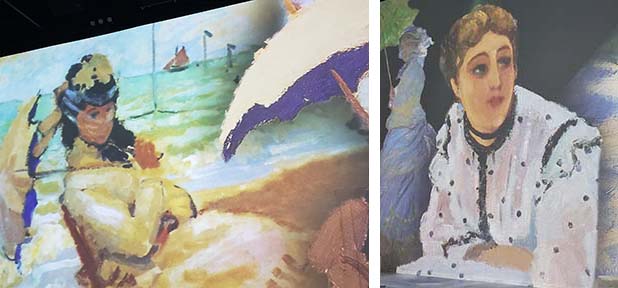 Artists seem to like painting picnics on the grass.
Did I enjoy this visit? Absolutely!
I would have liked a larger number of paintings – these were mostly water lilies, a few seascapes, an impressionist church, railroad clocks, some all-over color designs.
Nothing to compare to the largest collection of Monet paintings at the Musée Marmottan-Monet in Paris. On the other hand, how often do you spend an evening in France?
Monet Immersive Art Exhibit. Concept developed by Swiss creative lab Immersive Art AG in cooperation with Alegria Konzert GmbH. At 30 Wall Street, NYC. Tickets from $25 for kids, $28 for students, $33 for timed tickets, $45 for flex tickets with priority access. Mon-Wed 10 am to 6 pm, Thurs 10 am to 8 pm, Fri & Sat 10 am to 9 pm, Sun 10 am to 7 pm. Through Feb 26, 2023.
Concurrent exhibitions in Berlin, Zurich and Mülheim. Upcoming shows in Vienna, Hamburg, Stuttgart, Munich, Stockholm, and London. A U.S. national tour planned for 2023.
Monet's Giverny estate with house and garden is a museum now, open to visitors. I spent hours there, then went to lunch at a charming simple country restaurant in the village. If you go to Giverny, get information and tickets at Fondation Claude Monet, 84 rue Claude Monet, 27620 Giverny. Tel: 33 (0)2 32 51 28 21 ext 357. Online booking. Opens April 1, 2023. 9:30 to 6. Go early to avoid tour bus crowds.