By Lucy Komisar
Brilliant, clever, trendy, stunning, wonderful, the best musical of the season, every number a show-stopper.
It's 1933 Chicago, time of depression and prohibition. This is a crime comedy based on the 1959 Billy Wilder film with Marilyn Monroe, Tony Curtis and Jack Lemmon.
Sweet Sue (NaTasha Yvette Williams) with a great jazzy tone that sometimes dips low as if it were pulled over gravel — of course, she does skat — runs a girl band in a speakeasy.
A couple of musicians, Joe (Christian Borle) and Jerry (J. Harrison Ghee), sax and double bass players looking for a gig in a show bar, see a gang murder by mafioso Colombo, known as "Spats" (Mark Lotito), and his confederates. Witnesses will be killed. They run into a dressing room and appropriate the clothes and wigs which of course yields the costumes of the girl band.
They happen to be white (Joe) and black (Jerry). Long story, Joe's parents, counterfeiters, fled when "the heat" turned up. Jerry's family across the hall took Joe in, so they are "brothers." When they try for a job and are told "You (Joe) come on back. Your friend can get lost." Joe says, "Jerry's not my friend, he's my brother," segue the song, "You can't have me if you can't have him." Race shadows the story but very subtly, never the main pitch. Makes it work seamlessly.
After a police bust, the "Society Syncopators" are taking a train west to perform along the way in exotic places such as Iowa with plans to end up in California. The star of the show is Sugar Cane (Adrianna Hicks) a jazz-warbling charmer with marcelled hair. She also happens to be black. Sugar talks about going to the movies in Georgia where she had to sit in the balcony.
The destination in California is San Diego's (still) best hotel, the Del Coronado. The hotel and frequently changing sets (by Scott Pask) are grand. (The hotel figures in the film, but is called the "Seminole Ritz Hotel" in Miami. An integrated jazz group didn't want Florida.)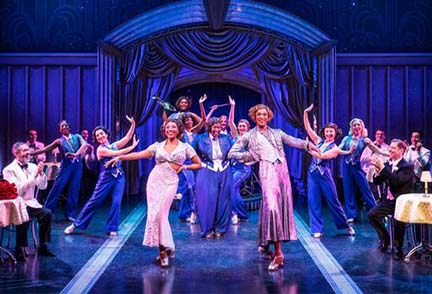 Hotel proprietor Osgood Fielding III (Kevin Del Aguila) hits on Jerry, who now goes by "Daphne." Daphne is a good-looking "woman" with real personality. Ghee is terrific in the role. Joe/Josephine seems ill at east. But he finds himself in a more comfortable identity (the German screenwriter whose suitcase of clothes he filches) when he switches back to male in pursuit of Sugar.
I loved the Mexican mariachis' song and dance, "Let's be Bad," including the twisty dancing Osgood. There's a mood of forties musicals, with jitterbug and tap, high kicks and jumps (director Casey Nicholaw is also the choreographer), great costumes (by Gregg Barnes) and glitter.
And for the woke present, a change from the film, there's Jerry's moment of self-discovery: "I am, in fact, both Daphne and Jerry." Gone the famous close of the film. Osgood presses marriage, Jerry pulls off his wig to reveal "I'm a man," and Osgood replies, "Well, nobody's perfect."
"Some Like it Hot" means hot jazz. And Sugar's high octane torch song, "All that left to ride out the storm." The music by Marc Shaiman and lyrics by Scott Wittman and Shaiman are smart and enhance the story, not just dropped in for a pause.
As always happens in forties films, the bad guy, Spats, is caught in the end by the inventive cop Mulligan (Adam Heller) who disguises himself, what else, in girl band drag.
"Some Like it Hot." Book by Matthew López and Amber Ruffin. Music by Marc Shaiman. Lyrics by Scott Wittman and Marc Shaiman. Directed and choreographed by Casey Nicholaw. Sam S. Shubert Theatre, 225 West 44th Street, New York City. 212-239-6200. Runtime 2:30. Opened Dec 11, 2022. Open run, tickets on sale till Sept 2023. A clip of video. Review on NY Theatre-Wire