By Lucy Komisar
Key West – It takes a while before you begin to figure out the truth of this mystery that excoriates the capitalist oppression of the working class. And I won't spoil it. Priestley, a British socialist, wrote it in 1945, setting it in 1912. It gets a terrific production, helmed by director Patrick New, expertly cut in half from the original three-hour script.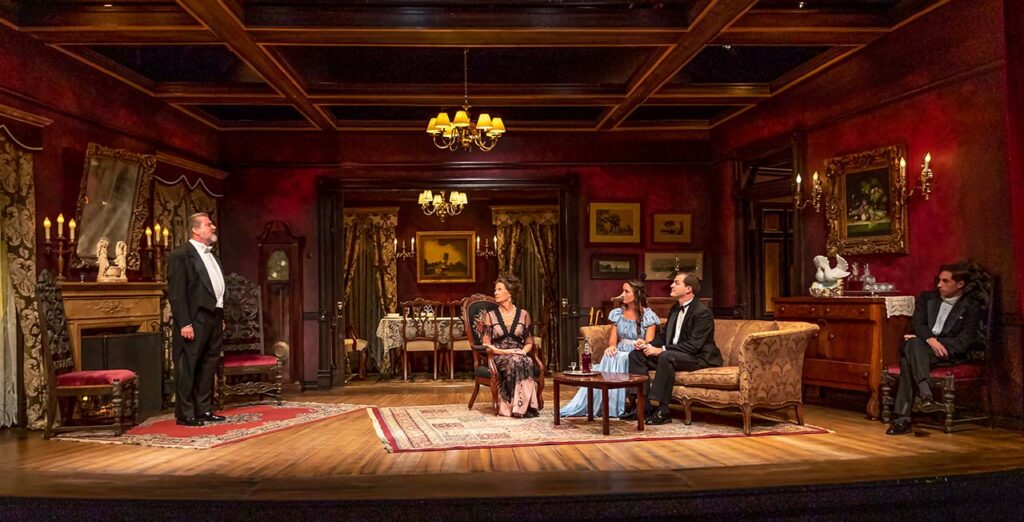 The set by Michael Boyer is a great lush movie scene with a fireplace, tapestry couch, pictures on walls, the home of a rich factory owner, Arthur Birling (David Black), his wife Sybil (Barbara Mundy), daughter Sheila (Jillian Todd) and son Eric (J. Michael Wright). The men are in tuxes, the women in gowns. It's a celebratory night toasting Sheila's engagement to Gerald Croft (Arthur Crocker), son of a rival factory owner. Such marches are the way industrial empires are built.
Priestley's message targets the rot and evil on which those fortunes are made. It's about the cruelty of capitalism that exploits and defiles workers. The evil incarnate is Arthur, given a perfect Midlands accent by Black, a portly former mayor who expects the royal honors which flow to his sort.
The class conflict is clear. Arthur says, "Last month, just because the miners came out on strike, there's a lot of wild talk about possible labor trouble in the near future. Don't worry. We've passed the worst of it. We employers at last are coming together to see that our interests – and the interests of capital – are properly protected. And we're in for a time of steadily increasing prosperity."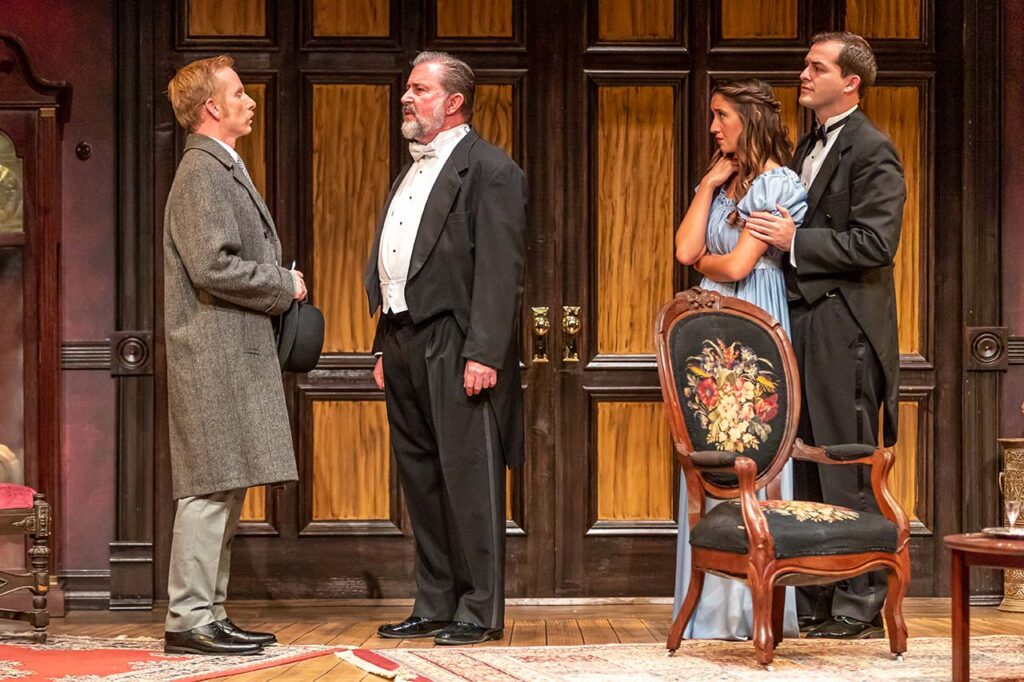 For his class, not for workers.
He says that "a man has to make his own way – has to look after himself – and his family too, of course, when he has one – and so long as he does that he won't come to much harm. But the way some of these cranks talk and write now, you'd think everybody has to look after everybody else, as if we were all mixed up together like bees in a hive – community and all that nonsense."
Birling sounds like an early version of the neoliberals who hold power in the West and determine everything from labor rights to Covid policy: "You're on your own!"
An inspector Goole (the impassive, relentless Dan Waller) arrives to disrupt the family idyl. A young woman, Eva Smith, has died after swallowing disinfectant. He confronts Arthur and shows him her picture. The mogul admits he discharged her, she was a troublemaker, organized a strike of the workforce to demand higher wages.
The alcoholic son Eric (brought to life by a morose hollow-faced Wright) tells him, "You could have paid that." He replies, "I paid the going rate."
Eva Smith seems to have had a life of ups and downs that would challenge any soap opera script. A job as a shop girl ended when Sheila (portrayed by a distraught Todd) got angry that she looked better in a dress she wanted and complained to the management.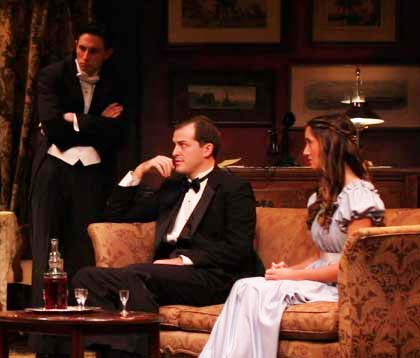 The inspector says Eva Smith changed her name to Daisy Renton and shows a photo to Gerald (a supercilious Crocker). He admits meeting her at the Palace Bar, which was frequented by prostitutes, having an affair with her, then dropping her. Eric, shown a photo, admits he then took advantage of her. He gave her money, but when she found out he stole it from his father's business, she refused to take it, showing more honor than any of her rich abusers.
No one in the family is let off. The haughty mother, Sybil (shown as perfectly snooty by Munday), headed a women's charity organization and when the girl, pregnant and calling herself Mrs. Birling, indeed the name of the father, sought aid, she refused to help her.
The children take on the blame. The Inspector notes that Sheila "feels responsible. And if she leaves us now, and doesn't hear any more, then she'll feel she's entirely to blame, she'll be alone with her responsibility…" But he tells them they have to share the guilt.
When Gerald protests, "After all, y'know, we're respectable citizens and not criminals," he replies, "Sometimes there isn't much difference as you think. Often, if it was left to me, I wouldn't know where to draw the line…..This girl killed herself – and died a horrible death. But each of you helped to kill her."
Of course, this is about the exploitation of the working class.
The Inspector warns the patriarch and the others, "One Eva Smith has gone – but there are millions and millions and millions of Eva Smiths and John Smiths still left with us…. We are responsible for each other. And I tell you that the time will soon come when, if men will not learn that lesson, then they we'll be taught it in fire and bloody and anguish." At the end of the Second World War, when Priestley wrote the play, there were indeed worker movements that threatened the rule of capital, but they were put down by the U.S. and its clients ("allies").
There's a twist at the end not to be revealed here.
The acting is excellent, Patrick New's directing is fast paced and subtle. It's a classic of English theater, winning awards for revivals in the 90s in London and New York. The Waterfront production shows why.
"An Inspector Calls." Written by J.B. Priestley. Directed by Patrick New. The Waterfront Playhouse, Mallory Square, 407 Wall Street, Key West. Runtime 1:20. Opened Jan 12, 2023, closes Jan 28, 2023.