"Major U.S. life and annuity insurance companies are endangering their policyholders' benefits with risky investments that trade client security for bigger payouts for executives and shareholders….These strategies are part of a broader industry shift as insurance mutuals become publicly-traded companies. Private equity firms, too, have entered the insurance business and assumed greater control over corporate pension funds." ~ Lucy Komisar
By Catherine Austin Fitts
March 4, 2023
Lucy Komisar is one of the top financial investigative reporters in the new media. Lucy is known for unraveling the most complex financial frauds—particularly those involving sophisticated cross-border transactions.
Lucy has recently published two articles as part of a blockbuster investigation into the US insurance company, digging into the finances of "Athene Life & Annuity Company, owned by Apollo Global Management Inc., one of the world's largest asset management and private equity companies; Metropolitan Life Insurance Company (MetLife), the country's largest life insurance concern; and Accordia, purchased last year by KKR & Co. Inc, also known as Kohlberg Kravis Roberts, the multi-billion-dollar investment and private equity firm. Together, these companies account for roughly one in six life insurance policies and annuities written in the United States."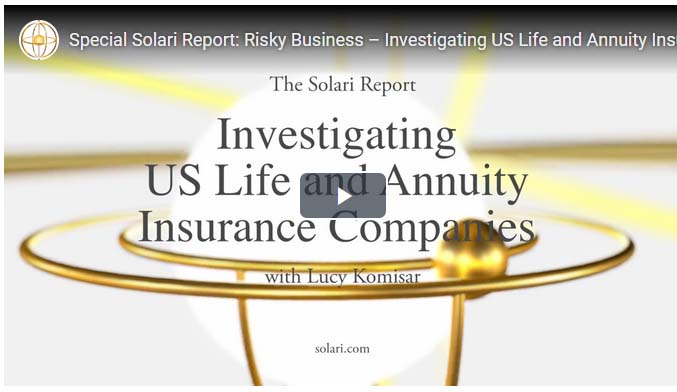 Lucy found a disturbing pattern. Americans buy an insurance policy. And then quietly, the company starts to move or lower the quality of its assets in a manner that impacts or threatens the value of our policy. Policyholders have no burglar alarm to warn there fundamental change in the deal – or the price at which the deal was made – and we need to pay attention.
This interview is a reminder that it is good to pay attention to the quality of any insurance company on which we depend. If we depend on the company credit to protect the value of a meaningful financial assets or value, you or your financial planner need to monitor any changes in financial strength.
This is especially true if there is a buyout or change of control. When control shifts to private insiders who can benefit one class of investors over another, or fundamentally shift the value of policyholders assets without full disclosure, its time to pay attention.
As soon as I learned Lucy had published a new investigation, I immediately asked her to join me on the Solari Report. If you have not yet discovered Lucy and her website The Komisar Scoop, you are in for a treat.