By Lucy Komisar
April 16, 2023

The Bahama Village exhibit is one of the best I've seen at the Key West Museum of Art & History. The village is a charming area of the town, famous for the restaurant "Blue Heaven" where chickens walk among the diners and sometimes there is live jazz or country music.
But I'd never thought about how that community came to be. It's a complicated story.
With photographs going back to slave times and including current day culture, this exhibit of the history of Bahama Village runs till May 21. It was curated by Dr. Cori Convertito, curator & historian of the Key West Art & Historical Society.
The story goes back to the 1800s when settlers arrived from the Bahamas. Others came from St. Augustine and Cuba. They became shop owners who ran groceries, barber shops and restaurants. They were construction workers, shipbuilders, seafarers, sponge harvesters, teachers, seamstresses, nurses.

But some new residents were brought as slaves. A local paper showed the deck of a slave ship brought into Key West.
The neighborhood drew not only blacks but also Chinese, who found a welcome.
The people brought their skills and culture. They established the (segregated) Frederick Douglass school in 1871.
The most vivid aspect of Bahamians culture, which still exists, is the Junkanoo dance, music and costumes which originated in West Africa.

Outside the exhibit, a local group, the West Graveyard Junkanoos marched and played.
Its leader is Harold Pelote, a Junkanoo drummer and teacher.
He is part of the Bahama Village Music Program for children who might not have other access to music education.
There is also a nod to the cultural contribution of Stepin Fetchit, who I learned came from Key West. He was born Lincoln Theodore Monroe Andrew Perry. Of Jamaican and Bahamian descent, he was a comic who played vaudeville and films and was considered the first successful black film actor. Though he's often considered a figure representing black subservience, because of the roles he played, the community recognizes him as a successful actor. He made about 50 films. More recently critics look at his role as a "trickster."
Key West Museum of Art & History
281 Front St, Naval Air Station
Key West
(305) 295-6616
The Bahama Village Music Program.
Sunset Sail
After an hour or two at the museum, it's just a few steps to the ticket shop and boarding place of Sunset Watersports Sip n Sail.
Here we get on the boat. It's a catamarin. A catamarin means you don't worry about the waves knocking you back and forth. It is solidly set on two long planks not on a hull.
Which means it's comfortable to walk aound the boat, to port or starboard, to see the view and the sunset.
Fist stop is to pick up wine and food. It's an open bar. And more good nibbles (chicken, meatballs, etc) than you can eat.
And then everyone hangs out, enjoying the entertainment, a very good guitarist and singer.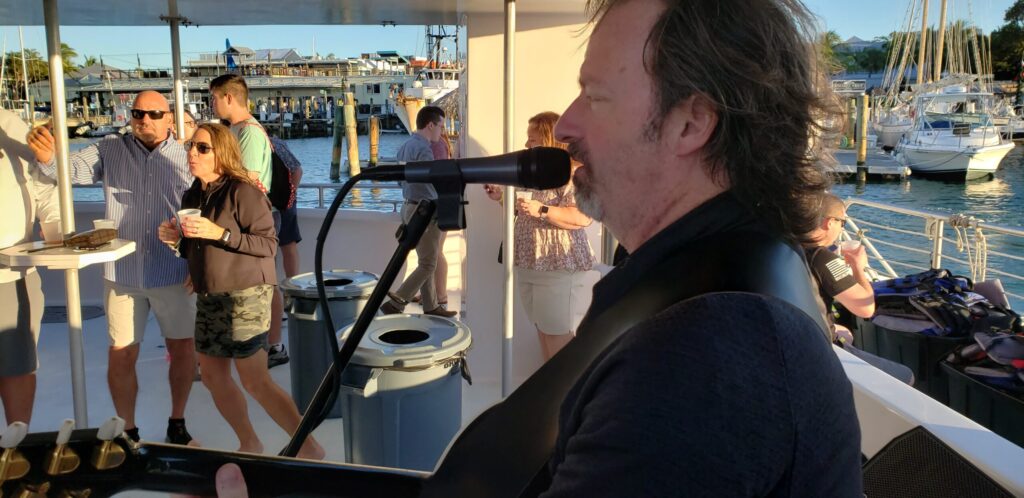 And then the gorgeous sunset. My favorite is always the one with a sailboat silhouette. Ahhh!
Sunset Watersports Sip n' Sail
201 Williams Street
Key West
info@sunsetwatersports.com
(305) 296-2554

All photos by Lucy Komisar