By Lucy Komisar
What you have to understand about this play by Doug Wright is television. It's not just about television, it is television. It's not just about the Jack Paar Show of the 1950s, for much of it, it is the show. So, forget subtlety. Push up the jokes. And hit on celebrities. Jane Mansfield is not there, but let's talk about her.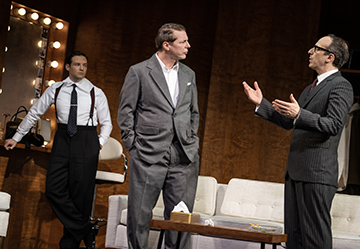 It both excoriates what was wrong and is what was wrong with such television. The people in charge don't want to deal with anything but pablum. On the other hand, Oscar Levant (a nonstop intense Sean Hayes) has no railings and runs off about the forbidden topics of politics religion and sex. That is ascribed to his mental illness. He is a schizophrenic who hears voices and knows he is mentally ill.
Robert Sarnoff (Peter Grosz), the head of NBC which runs the Paar show, wants him to steer clear of politics, religion, sex. He also doesn't like ethnic humor.
Levant says, "You took the whole world off the table."
I liked his quip that, "A politician is a man who would double cross that bridge when he comes to it." But he gets close to or over the edge. "Hoover, he can't run in heels…" "Arthur Miller and Marilyn, she converted. Now that she's Jewish he can eat her." Those easy-target jokes weren't really funny and did cross red lines. There were phone calls from Cardinal Spellman and the Legion of Decency. On the other hand, we know that Spellman was homosexual, hardly considered "decent" by the Legion.
As cable TV and comedy clubs prove, it's easy to get attention with sex jokes. Levant may have been too crude for TV at the time, but there should have been something between that and pablum. I preferred the Mort Sahl political genre, also in the 50s. Political with smarts.
As Levant, Hayes has a grating nervous voice. He talks like he has marbles in his mouth, he grimaces, shakes. After a while, you want him to get off that one note. And I found the mental illness bits went on too long.
June (Emily Bergl), his wife of 19 years, had him committed to a medical facility, because he was violent, but snuck him out on a deceptive pass to do the show. The medical orderly (Marchánt Davis) who arrives to take him back appears like his Inspector Javert.
As Paar, Ben Rappaport is cool (in the old sense) and graceful, curiously declaring he's not from the coast, but from Michigan. So not too cool (in the current sense).
Director Lisa Peterson does a good job persuading you that this is happening in real time. Though sometimes I wished it were speeded up!
Levant, a man of talent, for the Paar show and our show, at the end sits at the Steinway and plays Gershwin's "Rhapsody in Blue," all the while hallucinating Gershwin (John Zdrojeski) and lamenting his inferiority before the man he says showed him the limits of his own talent. That's one part that Levant/Hayes gets wrong. Sad that the pianist didn't appreciate himself.
"Good Night, Oscar." Written by Doug Wright, directed by Lisa Peterson. The Belasco Theatre, 111 West 44th St, NYC. Runtime 1hr40. 212-239-6200 or 800-447-7400 Opened April 24, 2023, closes Aug 27, 2023. Masks optional.