By Lucy Komisar
June 30, 2010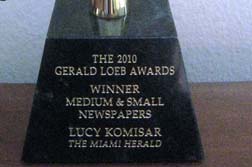 Last night I accepted a Gerald Loeb award trophy for the Allen Stanford investigation. The Loeb awards are the highest honors in U.S. business and financial journalism. I and my colleagues, Miami Herald reporters Michael Sallah and Rob Barry, won in the category of medium & small newspapers. The prize submission was entitled Keys to the Kingdom: How State Regulators Enabled a $7 Billion Ponzi Scheme.
In my acceptance speech to a room full of major media editors and journalists, I pointed out how ten U.S. print and online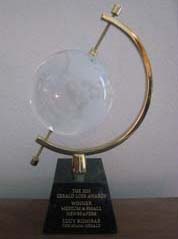 mainstream and alternative media had turned down my exposé of how the Florida Banking Department facilitated the Stanford scam before the Miami Herald bought it. It reflects the sad state of investigative journalism in the country. My comments were applauded.
The Loeb award is the fifth prize this story has won this year. The awards were established in 1957 by the late Gerald Loeb, founding partner of the brokerage firm E.F. Hutton,  to honor journalists who contribute to the understanding of business, finance and the economy. It is administered by the UCLA Anderson School of Management. The judges are editors and journalists of major U.S. media.
The dinner was held at Capitale, an event space which inhabits the grand lobby of what once was a bank in downtown Manhattan. As other awards were also given for stories dealing with the corruption of the banking system, the venue was perhaps appropriate.