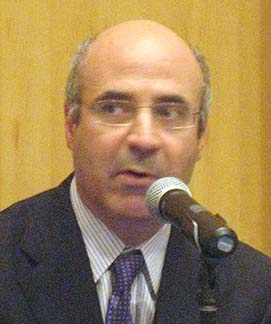 By Lucy Komisar
Dec 2, 2016
Today, the Institute for Advanced Studies in Princeton banned me from attending a talk by William Browder, a controversial American-born investor whose undocumented stories about the theft of several of his Russian companies and the death of his accountant Sergei Magnitsky have led to a ban in the U.S. (2012) against people he has accused, without evidence, of human rights abuses and the theft of those companies.
About a half hour before I was to leave for Penn Station to take the train from New York City to Princeton, Chris Ferrara, the media director for the Institute for Advanced Studies, called to say I had been banned from the event. I had previously gotten confirmation of my attendance.
This decision by the Institute [no connection to Princeton University] is an egregious violation of its commitment to open discourse. If it is now to ban people who might raise challenging questions from attending campus meetings open to the public, that is a terrible black mark on its reputation. It should apologize for this action and pledge not to repeat it. [I'll let you know if that ever happens. Don't hold your breath.]
Here is the confirmation I got several days ago:
| | |
| --- | --- |
| Subject: | Form submission from: World Disorder Lecture – Bill Browder |
| Date: | Tue, 29 Nov 2016 16:30:45 +0000 |
| From: | Institute for Advanced Study <donotreply@ias.edu> |
| To: | xx@lucykomisar.com |
  
Thank you for registering to attend the World Disorder Lecture Series
featuring Bill Browder on Friday, December 2 at 5:30 p.m. in Wolfensohn Hall.

Should you have questions or need to change your registration, please email
events@ias.edu.


Today I  called to get more details and indicated I was a reporter. Then I got this message:
| | |
| --- | --- |
| Subject: | William Browder Event |
| Date: | Fri, 2 Dec 2016 14:03:59 -0500 (EST) |
| From: | Christine Ferrara <cferrara@ias.edu> |
| To: | xx@lucykomisar.com |

Dear Ms. Komisar,
Thank you for calling us earlier about the lecture by William Browder this evening. Unfortunately, we cannot grant you access to the lecture nor the reception that follows. This event is not open to the general press, and in any case, all press must be vetted and approved by Mr. Browder's London office. I understand from the office that you have not sought approval to attend, so we cannot permit you to attend. Please note that your name has been removed from the registration list.
As I mentioned earlier, the talk will be live streamed via the Institute website at www.ias.edu, so you are welcome to view it live and also view it afterward on our site. The video should be uploaded within a few days.
Thanks in advance for your cooperation and understanding. I will also follow-up with a phone call to ensure that you received this message.
Best regards,
Chris Ferrara
---
Christine Ferrara
Director of Communications
Institute for Advanced Study
1 Einstein Drive
Princeton, NJ  08540
609-734-8239
cferrara@ias.edu
www.ias.edu
Browder was obviously not happy at the idea I would attend, as I had exposed him as an offshore tax evader in this story for 100Reporters.
In the same story on my own website I included many links to documents.
The matter is important beyond Browder's personal interests as it has damaged relations between Russia and the U.S. The willingness and ability of conservative Arizona Senator John McCain and liberal Massachusetts Congressman Jim McGovern to lead their colleagues into drinking Browder's Kool-Aid is another story.
I suspect cold warrior politics in the first and believe any human rights claims na¯veté  in the second. No surprise from McCain, but too bad for McGovern, who was a congressional staffer working against Ronald Reagan's Central American wars.
Look to my future story about how Magnitsky helped Browder organize multi-million-dollar tax evasion schemes in Russia and how, when Magnitsky was arrested, Browder threw him under the bus. And snookered mainstream western politicians and media.
Some tweets:
Katrina VandenHeuvel, editor of The Nation
https://twitter.com/KatrinaNation/status/804859807106822144
William Browder a Censor? Princeton's Inst. for Advanced Studies/ designed for free inquiry/bans indpt journalist Lucy Komisar from lecture
and Mark Ames, who co-edited The Exile in Moscow in the late 1990s-2000s:
Mark Ames Retweeted Lucy Komisar
Bill Browder, the billionaire hedge funder who asset-stripped Russia & pays hacks to PR him as a modern-day Sakharov