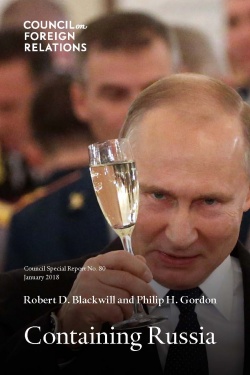 By Lucy Komisar
Feb 10, 2018
The Council on Foreign Relations Russia policy report "Containing Russia" by Robert Blackwill and Philip Gordon is a coldwar2.0 "let's fight the Russians" polemic that makes many claims but is slim on evidence. Here's one false assertion I know, because I spent over a year researching and writing about William Browder and his Magnitsky hoax. Important because it helped charge Russiagate.
So forget about the cover photo of Putin with a flute of champagne! So he is the rich guy against the low-income American officials and members of Congress who represent the working classes! (joke)
The Council is a neoliberal, neocon organization that represents the interests of the wealthy 10% and the corporate-military-surveillance state. I've been a member since 1994.
Starting there, the authors write: "… the summer of 2012, the U.S. Congress passed the Magnitsky Act — a set of tough sanctions on eighteen Russian officials involved in the "torture and death in prison of Russian human rights whistle-blower Sergei Magnitsky." I don't comment on the rest of the report, but this part shows they didn't bother to research, ignored facts, or deliberately reported falsehoods.
Torture? The Wall Street Journal links to the definitive prison report. Not exactly a left-wing media. The report describes awful conditions and medical care, says nothing about torture. There is no evidence that Magnitsky was tortured. It's a fable. The best Browder could come up with is black and blue marks on Magnitsky's wrists and ankles. Wrists because he pulled against handcuffs. Ankles because perhaps he kicked against bars or doors. But neither critical organs. Or did the killers aim expertly only for wrists and ankles? Because in Browder's evidence, there are no other bruises shown. A Death-Certificate he cites selectively says no signs of a violent death detected.
Whistle-blower? The fake lawsuits against Browder's stolen companies, the first step in the theft of budget funds from the Russian Treasury, was reported to police April 9, 2008 by Rimma Starova, a hired director for Boily Systems, a shell controlling the companies. She returned to testify again July 10th. The companies had been used in the scam to get a fake tax refund from the Treasury. She didn't talk about the theft of funds, but she gave police a clue and a roadmap.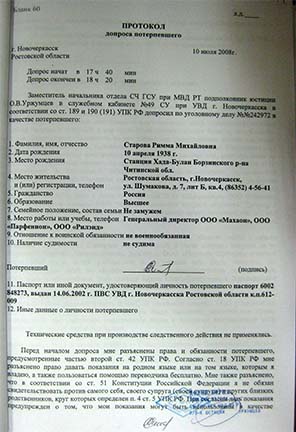 Then, Paul Wrench, director for Browder companies registered in the offshore tax haven of Guernsey, filed complaints of the tax refund fraud July 23. The story was published in Vedomosti, July 24. This link is on Browder's own website! And the same day the New York Times, which gets a lot wrong, also reports, Mr. Browder said he had learned that his former holding companies had been used to embezzle $230 million from the Russian treasury.
Not till his Oct 7 interrogation did Magnitsky, before his arrest for complicity in tax evasion, refer to "fraud of budget monetary assets in the amount exceeding 5 (five) billion rubles." A three-months-later whistle-blower? When Russian and American media had already reported it? For his Oct 7 testimony, see 100Reporters story with link to what Magnitsky said.
Do Blackwell and Gordon know these facts?
The story in more detail: Magnitsky, accountant at Moscow's Firestone Duncan, handled Browder's Hermitage account. He was arrested on evidence he organized Hermitage tax evasion, claiming employment of disabled workers when its subsidiaries had none and claiming investment in the region when they did none. Browder would admit the first scam in U.S. federal court. But though he later claimed Magnitsky spent nearly a year in prison abused and tortured, and his lawyers were in touch with him, he kept silent till Magnitsky died. Under Russian law, Magnitsky would have been released if Browder had paid his taxes. But that was Browder's $70 million.
The torture myth: To repeat. While Magnitsky's prison conditions were deplorable, torture was a myth. The Wall Street Journal links to the definitive report of Magnitsky's imprisonment. It says conditions were dreadful and he got bad medical care. Nothing about torture; no evidence of torture, just Browder's claims.
When Magnitsky testified about his conditions in October 14, 2009, a month before he died, he said, "The required medical aid is not provided to me in full. I have repeatedly been prohibited to be visited by my mother and wife or speak over telephone with my minor children. During the period of confinement. I have repeatedly been deprived of the possibility to take a regular shower, have a TV set and a refrigerator or simply live in normal conditions, as far as it is possible in a detention facility." That was all he said. Not pleasant. Not torture. (On Browder's website.)
The whistle-blower myth: The authors call Magnitsky a whistle-blower. They don't explain it, but Browder's hoax is that Magnitsky accused Russian officials of a $230-million fraud against the Russian Treasury via fake tax refund claims, and therefore was arrested. In fact, Rimma Starova, a hired ˜name' for Boily Systems, a shell company that had taken control of three Browder companies, perhaps worried she might take a fall after a reported Browder tax evasion investigation, testified to Russian police April 9 and July 10, 2008 about fake lawsuits that were the first step in theft of budget funds. (Culprits still murky.)
Browder in his book says that his group filed official complaints about the tax rebate fraud (through which he acknowledged he lost nothing because his stolen companies were empty shells) July 23, 2008. They were signed by Paul Wrench, a professional director in Guernsey for offshore companies, who said under oath at U.S. District Court in New York Sept 25, 2015, that the only person he recalled discussing the content with was Ivan Cherkasov, Browder's London partner. The fraud story, with more details, was published in Russian newspaper Vedomosti, July 24, 2008.

Hermitage put out a press release Sept 16, 2008 that a British Virgin Islands court had issued an injunction against Boily Systems that it said had used Hermitage's shells to defraud the Russian government of $230 million. The ruling was in response to court filings by HSBC, trustee of the Hermitage Fund, July 11, 2008. (This is on the wayback machine which copied the original later deleted when it no longer fit Browder's fake story of Magnitsky as whistle-blower. Though curious since he could not delete Vedomosti and NYT.)
Magnitsky does not mention the fraud until October 7, 2008, at an interrogation to which he was summoned as a suspect in Browder's tax evasion –for which he was arrested in November — when he tells of "a fraud of budget monetary assets in the amount exceeding 5 (five) billion rubles." That is six months after Starova's first testimony. After the HSBC court filing. And after publication in Vedomosti. So, no whistle-blower. All these documents are publicly available, and the authors should have consulted them. Their Magnitsky story casts doubt on their credibility. As it regards Magnitsky, the CFR report is a fake. See details. And here.
Mr. Blackwill and Mr. Gordon, what is your response?
[Over a year later, they had not responded.]