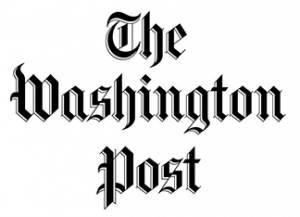 By Lucy Komisar
Dec 21, 2018
Yet another fake Browder story!
The Trump Tower meeting gets another intriguing layer
By Philip Bump Washington Post, Dec 20, 2018
"…..When they met, Trump Jr. didn't get what he was hoping for. Veselnitskaya, working from prepared notes, walked through an intricate and tangential accusation that a businessman named William Browder had allegedly committed tax fraud in the United States and Russia, as had one of Browder's partners, Ziff Brothers Investments, owned by Dirk, Edward and Daniel Ziff. (Notes Manafort took during the meeting and provided to investigators match the narrative above.)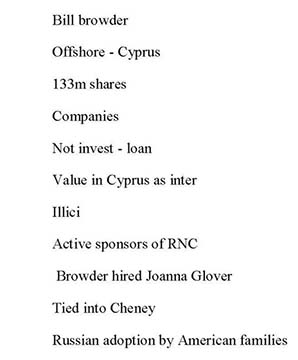 LK: Glad he mentions this, most reporters don't. Bump wrote about this in July 2018. I wrote about this in May 2018.
The implication, anyway, is that the intent of the Veselnitskaya meeting was not to disparage Clinton but, instead, to disparage Browder and the Ziffs. Why? Because Browder's conflicts with the Russian government, including those allegations of criminal behavior, have significant international ramifications.
About a decade ago, a number of Browder's Russian investment companies were seized by Russian authorities and given to new owners, who alleged fraud by Browder that meant his companies had earned no real profits " and allowed the new owners to demand huge refunds for the taxes paid on those now-nonexistent profits.
False, companies were not seized by Russians. Where does he get that?
LK: No, the companies were not seized by Russian authorities. Evidence, please? A court in 2007 accepted legal papers filed by unknown individuals via shell companies which were not challenged by Browder or his Hermitage companies even months after they got notice of the suits.   Those shell companies obtained the Browder companies. Not Russian authorities. In July 2007, HSBC, trustee of the Hermitage Fund, filed a document that it would need to increase its legal fund from $3 to $10 million because of the theft of the companies, but Hermitage didn't indicate it knew about this theft till October. How come HSBC seemed to know before Browder/Hermitage? Or is there another reason why Browder didn't challenge the theft of his companies till December?

In his July 2018 story, Bump writes: Browder hired a lawyer named Sergei Magnitsky to investigate what happened. Magnitsky uncovered the chain of events above, learning that it was perpetrated by government officials and members of the Russian mafia. Among those involved in taking over the company were corrupt police officials, subordinates of whom later arrested Magnitsky for tax fraud. Magnitsky was jailed.
LK: OK HE LATER FIXED part of that. Magnitsky was not a lawyer. So why didn't Bump look into this fake lawyer claim, which Browder invented to deflect attention from what Magnitsky was really doing — working as Browder's Hermitage accountant for ten years overseeing the company's fraudulent tax returns? Because the rest of what he says, that Magnitsky uncovered the Russians doing corrupt stuff, is false.
Part of the problem for Bump and many of his colleagues is relying on other media who also get it wrong. The Telegraph article he cited above says, However, in evidence in court, he claimed to have been the victim of a personal vendetta for testifying against a senior police officer, whom he argued was central to an alleged $230m ( £140m) tax fraud he had uncovered that implicated the police, members of the judiciary, tax officials, bankers and the Russian mafia.
However, if you look at Magnitsky's only testimonies, Oct 2006, June and Oct 2008, before his Nov 2008 arrest, there is no mention of the police officers being connected to a fraud. He said that only in Oct 2009, a month before his death, in a declaration which journalist Oleg Lurie, who talked to him in prison, suggests was forced by his "employers" who he told Lurie had promised to get him out if he signed a statement he said had nothing to do with his tax evasion charge. At any rate he made that fourth statement eleven months after his arrest.

Bump: Browder and a forensic accountant named Sergei Magnitsky investigated the Russians' actions, finding links to law enforcement and organized crime. Magnitsky was arrested and died in prison under questionable circumstances.
Magnitsky didn't investigate anything.
LK: No, Magnitsky, who was not a forensic accountant (where does Bump get that?), didn't investigate anything. If you look at the deposition of Paul Wrench in U.S. Federal Court, Southern District of New York 2015, you see that when he is asked who he collaborated with on the investigation, about which he filed in July 2008, he doesn't mention Magnitsky:
Q. Did you discuss this document with anyone at the time you signed it?
A. At the time I signed it? I would have discussed this document before signing it.
Q. With whom?
A. With Ivan Cherkasov. [Browder's partner.]
Q. Anyone else that you recall?
A. Not that I recall.
Six years after Magnitsky's death, with Browder shouting to the world he was a whistleblower, Wrench under oath does not back Browder up.  Doesn't mention Magnitsky. Or Mr. Bump, can you prove he did the investigation? Citing Browder doesn't count.

Then Bump figures out an anti-Trump reason for the Russians asking for documents about the Ziff Brothers weeks before the Trump Tower meeting.
He writes: "It immediately raises the question: Did the Russian government get information that ended up being handed back to the campaign of the man who would soon be president? The answer isn't clear."
The Ziffs' tax cheating

LK: Information from what source? In my interviews with Natalia Veselnitskaya, she explained how the Ziffs were using corrupt pass-throughs to cheat on paying multi-millions of Russian taxes on their profits from Gazprom shares. And that those profits to their U.S. companies were not reported to the SEC. She didn't say where she got that information.
Bump suggests without saying it that it came from the U.S. If from a private source, why didn't that individual get a whistleblower's award by informing the SEC or the IRS? If from an official source, why didn't that information lead to action by the SEC or IRS? Mr. Bump, if the answer isn't clear, why are you raising the question? To plan unsupported ideas in readers' minds?

Then he purports this to be a Russian plot: "Veselnitskaya, despite initially denying links to the Russian government when the Trump Tower meeting came to light, has indirect but clear links to Putin. She admitted earlier this year having done work directly for Yury Chaika, the Russian prosecutor general."
LK: In fact lawyers talk to prosecutors and share information with them all the time. Do you think that isn't happening with Mueller?  Does someone who does work for the U.S. attorney general have "indirect but clear links" to the U.S. president?
Now for the big fake news:
She did work for Denis Katsyv, owner of a company, Prevezon Holdings Ltd., that was accused by Justice Department attorneys for the Southern District of New York of being involved in a money laundering effort. The person who discovered that alleged money laundering? Sergei Magnitsky.
LK: A total lie. No evidence. Please Mr Bump supply the evidence. Review the Wrench deposition. Claim by Wm Browder doesn't count.
Magnitsky didn't blow a whistle. The first indication of the $230m tax refund fraud was by Rimma Starova, the nominee director of a British Virgin Islands shell that owned the implicated shell companies. When in April 2008 she read in the papers that authorities were investigating, she went to police  to give testimony to put herself in the clear. Translation.
The fraud involved shell companies being used in a collusive lawsuit in which their "owners" paid fake liabilities and then claimed a tax refund for that amount.
A the time of the Wrench filing in July 2008, Browder told the tax refund fraud story to the New York Times and Vedomosti. He writes that in his book Red Notice page 236.

Magnitsky does not mention the fraud until October 7, 2008, at an interrogation to which he was summoned as a suspect in Browder's tax evasion –for which he was arrested the following month " when he tells of "a fraud of budget monetary assets in the amount exceeding 5 (five) billion rubles." That is six months after Starova's first testimony. Three months after publication in Vedomosti and The New York Times.
Veselnitskaya admitted in an interview with NBC News last year that she was feeding information to the Russian government. In November 2017, Reuters reported that Fusion's research formed at least some part of the Veselnitskaya presentation to Trump Jr. and others. Veselnitskaya told NBC that Chaika hoped to "verify it through his own investigation."
LK: Well, we know that US lawyers never ever talk to Justice Department people. Or try to get evidence from other investigators. The Post and Philip Bump should correct their important errors, especially about Magnitsky being a whistleblower, which is a key element in the falsely based Magnitsky Act.

BTW, most of the questions where does Bump get that? are answered by drill down and you get Browder. Fake news of the decade. But WashPost will not change any of this, because it fits with its ColdWar2.0 we hate the Russians meme. Could this be why you don't trust the media?