By Lucy Komisar
July 29, 2019

More Browder fakery, this one on @Politico in a story today about the new national intelligence director nominee, John Ratcliffe. William Browder, ever ready to feed clueless reporters his fabrications, finds a willing one in @NatashaBertrand.
NB: First she refers to the Magnitsky Act, "passed in 2012 to punish those suspected of being involved in the death of Russian tax lawyer Sergei Magnitsky, who uncovered a $230 million tax fraud scheme in 2008 on behalf of Browder's investment advisory firm Hermitage Capital."
LK: NO, Magnitsky was an accountant, not a lawyer. Browder admits that in his deposition and it's listed on page 1, #8 in Magnitsky's testimonies. He calls him a lawyer to deflect attention from the fact Magnitsky handled his tax evasion for ten years.
Second, the scam was first reported by Rimma Starova, a Russian. She was the nominee director of Boily Systems, the British Virgin Islands shell that owned the stolen companies and read in the papers that authorities were investigating the theft. To put herself in the clear, she went to police in April and July 2008 to give evidence.
In her first report to police in April, she did not mention the $230 million, but she reported that the old owners of the scam companies, that is the Browder organization, had initiated the fake lawsuits, whereby they were essentially suing themselves. She says Kone and Glendora (Cyprus shells owned by Browder/Hermitage) were behind this. She talked about the fraud in July. Magnitsky didn't mention it in testimony till October.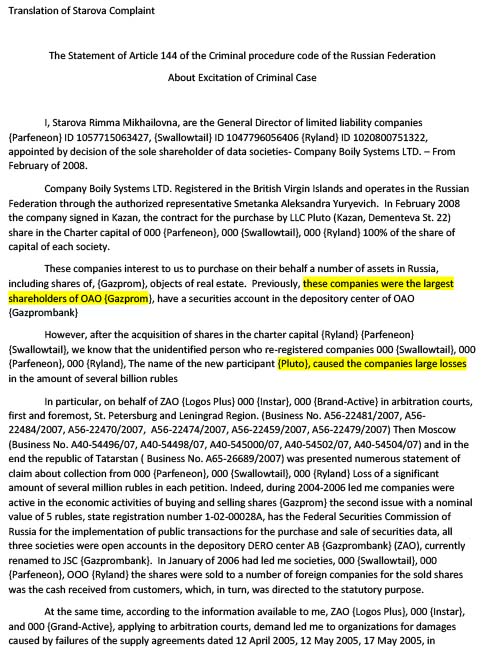 NB: Then Browder is quoted enigmatically: "Ratcliffe was one of our lawyers at Ashcroft dealing with the fallout from Magnitsky," referring to the law firm former Attorney General John Ashcroft formed with Ratcliffe and another former U.S. attorney in 2009.
LK: The "fallout" was his lobbying for the Magnitsky Act, and the lobbyist was Juleanna Glover, Ashcroft's partner, not Ratcliffe.
NB: "In July 2009, Browder hired Ashcroft Sutton & Ratcliffe, which had been formed months earlier, to represent him in New York in a case that would quickly snowball into one of the biggest corruption scandals of Putin's tenure, implicating high-level Kremlin officials and Putin allies."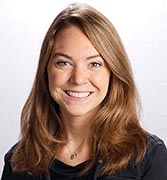 LK: She seems to be referring to the Prevezon case, but that was not brought till 2013. Browder didn't start lobbying the Justice Department for it till 2012.
In 2009, Browder filed a petition in New York Federal Court to get information about Renaissance Capital, who he accused of being involved the 2007 tax refund fraud which used his "stolen" Russian shell companies. He said, true, that Renaissance had pulled the same scam a year before. He was trying to get back the companies which had been transferred to Boily Systems, the BVI shell Renaissance controlled, and he was in negotiations with Renaissance. But he dropped the petition and retrieved the companies when Magnitsky – who knew the truth about the scam — died.
NB: Ratcliffe was one of Browder's lawyers on the case that " with the help of Ashcroft's lobbying firm " resulted in the passage of the Sergei Magnitsky Rule of Law Accountability Act in 2012.
LK: No, the Renaissance matter had nothing to do with the Magnitsky Act. And Browder didn't start pushing for the Magnitsky Act till 2011/2012. Indeed Glover, a partner at Ashcroft, was his lobbyist.
NB: Asked about Ratcliffe's posture toward Russia and Putin, Browder suggested that Ratcliffe should be going into his new role with eyes wide open. "Anybody who's ever worked on the Magnitsky case," Browder said, "understands what an evil guy Putin is."
LK: ….what an evil guy Browder is. But people who know the real Browder/Magnitsky story already know that. A National Security Correspondent should demand evidence to back up politically important claims, not just be a stenographer. Because that leads in this case not just to misinformation but to utter confusion.