By Lucy Komisar
June 1, 2020
The Australian Parliament Foreign Affairs subcommittee, considering a Magnitsky sanctions act promoted by convicted tax fraudster William Browder to target people in enemy states (read Russia), invited submissions by citizens and foreigners. I sent mine in late March. It was finally posted, heavily redacted to cut out key elements, including forensic photos of Sergei Magnitsky showing no beating marks. The whole argument of the Magnitsky Act was that he was beaten to death. It's a lie. This shows it. The Aussies redacted it.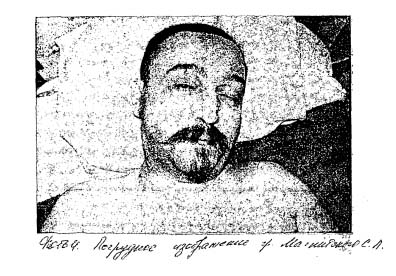 Though links on other submissions exist, mine were all killed, dozens, all leading to evidence in public and official documents and testimony. I had said at the top of the submission: "please be aware of and retain the hyper-text links which connect to the supporting documentation." I click on my pdf original and go to the evidence. I click on what the Australians posted, and the blue link goes nowhere. I have asked the committee to restore the links.
This Fault Lines interview today tells what happened, beginning at 2hrs 30min in.
To get my submission and Browder's reply, go to #110 on the Aussie website. Match the redactions to what you see below. And the links below work!
Redactions are supposedly to protect the privacy of individuals, but some of the names have been publicly reported, some no longer exist, some don't take much guessing, and some are redacted in some places and allowed in others.
The Australian staffers assigned to this don't know the complexities of the case. Most likely Browder directed the redactions and the killing of links.
Now, here is a key to understand what they don't want you to know. I've put related paragraphs together with separations to begin new sections.
Plain text is from my submission.
Redactions are shown in italics.
Some of the names, redacted in some places, are curiously visible in others. They are underlined when left visible.
My comments are in parenthesis ( )
I've added subheads to make sections clearer.
Click on the links to see the urls. But not on what the Aussies posted!
Here are the redacted photos and texts
The smoking gun of Browder's fabrications are Magnitsky forensic photos, all blacked out.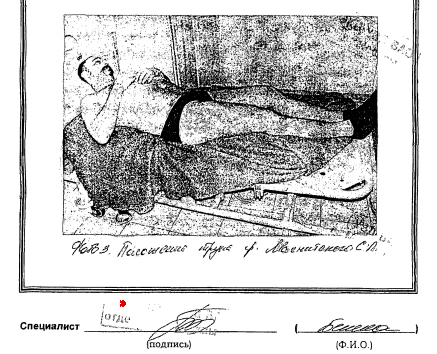 (Browder had this and other forensic photos of Magnitsky's body, but suppressed them, because they showed no signs of beating. The Australian Parliamentary committee also suppressed them. They are on a forensic document the link to which was blocked.)
From my submission:
He got them from Russian forensic Report 2052 which features those images and more. Katie Fisher, was doing public relations for Hermitage.

Fisher posted the photos them to Google Cloud. If you follow the link, you'll see the name Katie Fisher there, because it's her account and she apparently didn't mind people knowing that. [Update: no longer, she killed the link!]
He built his Russian investment fund Hermitage on offshore shells, including Berkeley Advisors in the British Virgin Islands, set up by Mossack Fonseca of Panama Papers fame.
(Do you think nobody knows who that famous Panama Papers shell company agent is?)
Konstantin Ponomarev, a founder of Firestone Duncan which handled Hermitage accounting told me that in 1996, the firm developed for Browder "a strategy of how to buy Gazprom shares in the local market, which was restricted for foreign investors.
(It was an interview on the record. The name of Hermitage's accounting firm is public record.)
Evading taxes
But Browder knew how to finesse the tax bill. He transferred Saturn to an associate to bankrupt it. That was accomplished by selling the company to VRMG, Visao Risk Management Group, an Israeli/Moscow security firm run by ex-Mossad agent Jakir Shaashoua, who had worked for Edmund Safra, Browder's first major investor who owned Republic National Bank, and for HSBC, Browder's Hermitage trustee.
Browder admitted the transfer. He said in his court deposition, "We registered his — his corporate name or his personal name or something." Saturn was replaced by another shell company, Parfenion, which would figure in Browder's tax refund fraud story. (The deposition link is cut, Saturn and Parfenion are allowed)
(Browder talks about transferring Saturn in his deposition – it was linked, but the Aussies killed it. Do you think nobody knows who ran Republic National Bank?)
The tax refund fraud
Here's what really happened. Moscow lawyer Andrey Pavlov, who worked on the collusive legal cases, told me, in several hours-long interviews in New York, that he was approached by Viktor Markelov, a convicted felon, who proposed to hire him. Markelov wanted him to obtain a court order based on an invented liability for the Hermitage companies, which would then lead to a claim for a tax refund.
Pavlov said the refund application would require detailed information from the companies' books for the year, which he said pointed to inside involvement.
Markelov went to prison for the tax refund fraud. At his interrogation, Markelov talked about the role of Pavlov and also recalled getting documents from a man he knew only as Sergei Leonidovich, as in Sergei Leonidovich Magnitsky, who was the agent of the unnamed client. (The final y on Magnitsky was unredacted!)
(Pavlov talked to me for an on-the-record interview. No privacy involved. Markelov was tried and sent to prison. No privacy involved. He mentions Sergei Leonidovich in his testimony, which the Aussies blocked. But you can copy the link above.)
Transferring the Browder shell companies
Powers of attorney were provided by Browder's Cyprus shells to Oktai Gasanov, cited by Markelov as his collaborator. Here's the power of attorney (translation) from Browder's Kone Holdings. Browder claims the powers of attorney are forgeries, but Yianna Alexandrou, employed at the Cyprus company formation agent that set up the shells, swore in a deposition in U.S. federal court that she recognized her signature.
Then the three Browder shell companies were sold to a new figurehead owner July 31, 2007 per this sale agreement. See the reference to Glendora, a Browder shell company in Cyprus which was the owner of the Kalmykia shell Parfenion.
(Curious that Browder's shell Kone is visible but Glendora and Parfenion not.)
(Then there is a photo of the bill of sale of Parfenion, one of the shell companies involved in the tax refund fraud. It says Parfenion in English in big red letters. Glendora in English is underlined.)
Parfenion bill of sale between the crooked collaborators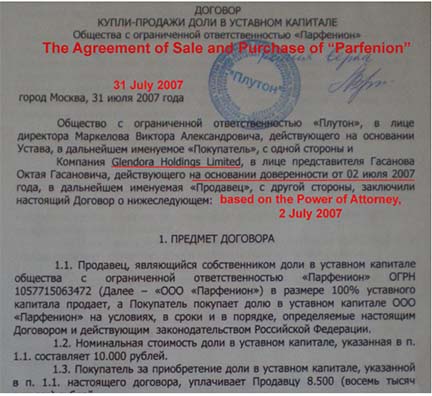 ((The title below the screen shot is redacted. Then this entire section that follows explaining the bill of sale is redacted.)
Pluton LLC, represented by Viktor Alexandrovich Markelov, is the buyer. Glendora Holdings Limited, represented by Oktai Gasanovich Gasanov, is the seller. Glendora was Browder's Cyprus shell company, owner of his Russian shell Parfenion. In his interrogation, Markelov says Gasanov was his collaborator in the tax refund scheme.
(Whose privacy is protected? Markelov who admitted the crime and went to prison? Gasanov who died of a heart attack in Oct 2007 while the plot was going on. Glendora is redacted though clearly visible in the bill of sale.)
Reregistration of the shell companies
The companies were, according to Magnitsky, not officially re-registered till September. Magnitsky, in June 2008 testimony, says that after "rulings dated 3 and 7 September 2007 by the Arbitration Court of Saint-Petersburg and Leningrad Region" the companies were "were re-registered on 11 September 2007 and 20 September 2007 under new legal addresses in Moscow." The rulings related to the collusive lawsuits. If that is true, the companies till then would have been registered as owned by Glendora, with their old addresses.
(But Glendora is prominent in the July bill of sale. So why wasn't the company re-registered for five or six weeks? Did the old owners want to keep control, along with the old mailing address?)
Magnitsky testified that he received the law suit notifications only on October 16, which conflicts with the July date on the Parfenion notification receipt, sent to an address he confirms is correct. He didn't explain why mail was apparently not picked up for months.
(So Magnitsky's name allowed here, but the testimony link is cut, and Parfenion, visible on the bill of sale, is now redacted.)
Browder ignores the lawsuits
Pavlov told me, "In October the whole Browder team knew about these claims and didn't appeal the decision [allowing the take-over of his companies] which had been granted." That October 16 notice said there would be a hearing October 22. Hermitage sent no lawyer to the hearing. Pavlov said, "They did nothing till the money was paid out of the budget [the Russian Treasury]" at the end of December.
Browder's complaint says that the true owners of the companies Mahaon, Parfenion, and Riland, learned about these lawsuits by pure chance, and long after the fact. Not true, as the lawsuit notice went to the companies' legal addresses, from which Firestone Duncan people, who monitored the mailboxes, got them.
(Pavlov spoke in an interview he knew was for publication. The three Browder shells are widely cited by Browder as having been stolen. Plus they no longer exist. Firestone Duncan is publicly known to have handled Hermitage accounts. So why the redactions?)
Rimma Starova a thorn in Browder's hide
(Browder was really upset about this part involved Rimma Starova!)
Then this. Rimma Starova, a pensioner living in Kazan, capital of the Republic of Tatarstan in southwest Russia, saw a Kommersant article about an investigation into Hermitage companies. She was the "hired name" sham director of the three cited Browder shell companies which now were owned by Boily Systems, a British Virgin Islands shell. The companies had been re-registered by Markelov's Russian shell, Pluton, used in the tax refund scheme, and then transferred to Boily.
She was concerned the trail would lead to her, and to put herself in the clear, she went to the local police. She told them about the fake re-registration of the companies and false certificates of debt in the amount of 13.5 million rubles (that would be equivalent to the companies' profits) that were key elements of the tax refund fraud. Starova doesn't talk about a theft of companies by outsiders and certainly not by government officials, but links the scam to Glendora and Kone, Browder's Cyprus shells. Her April 9th complaint; English translation.
(Starova, redacted, made a public declaration to police. Boily Systems, redacted, was used in the reregistration of Browder's companies. Markelov, redacted, admitted to this. But Browder wants to throw people off the trail, so redacts those names. And redacts not only Glendora again, but Kone, which was left visible earlier. Now, here's a mystery. Why are the month April and the word translation redacted as well as the underlying links killed? Because they complicate Browder's narrative that Magnitsky was a whistleblower, when Starova was the whistleblower. Her first complaint was April, the second July, Magnitsky mentioned the theft of companies in testimony he was summoned to give only in October.)
Killing the Wayback Machine!
(Here's my favorite redaction, also referring to Starova, a document on the Wayback Machine. Browder was so unhappy with it that he killed it twice! First online where his Hermitage Fund had posted it and then on the Wayback Machine copy shown here, which was completely redacted, along with my caption pointing out that April 2008: Ms Starova files a criminal complaint with the Russian Interior….. And just in case you were curious, the words Wayback Machine were redacted as well as Starova in my explanatory text below the screen shot. Though now April is okay!)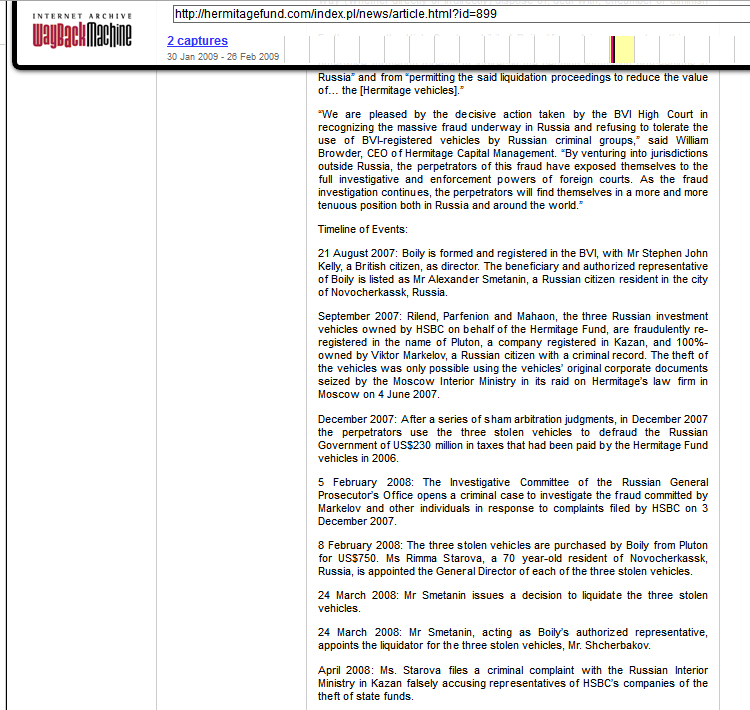 A Hermitage press release dated September 16, 2008, since removed from its website but saved by the Wayback Machine, claimed that Starova in April had filed a complaint with the Russian Interior Ministry in Kazan "falsely accusing representatives of HSBC's companies of the theft of state funds." Browder's shell companies were legally "owned" by HSBC as the Hermitage trustee. Starova was accusing Browder of the scam.
(Wayback Machine and Starova are redacted)
Browder fabricates story of theft of his companies
Browder responded by fabricating the complex "theft of companies by government officials, tax refund fraud" story. In June 2008, Magnitsky was interrogated about the transfer and re-registration of the companies. Browder's website, Russian Untouchables, would brazenly claim that, "Sergei stated that he had discovered evidence of theft of Hermitage Fund companies (Rilend, Makhaon and Parfenion) and violations of the law by officers Artem Kuznetsov and Pavel Karpov." This is his url: Magnitsky names Lt Col Kuznetsov and Major Karpov and their role in the thefts (5 June 2008)
(The redacted names of Browder's companies are public, Browder has repeatedly attacked the tax investigators by name. Note, he calls them officers not tax investigators. They are redacted from Browder's own url. The link of course has to be killed because it does not do what the title says it does. As close as it comes is "it was highly likely that the very electronic files stored in the computers of Firestone Duncan (CIS) Limited and impounded during the search were used to draft the new version of the Articles of Association." However, Magnitsky also had to know that the true company documents had been officially filed and that no one could just walk in with forgeries and pretend to be owners.)
Starova made a second statement to police July 10th that the re-registered companies appear to have stolen 5.4 billion rubles from the state. That would be the $230 million they had paid in taxes. Her July statement; English translation.
Two weeks later, July 24th, Hermitage director Paul Wrench filed a complaint in Russia about the fraud, seven months after it occurred, and Browder gave an account to the New York Times and the Moscow newspaper Vedomosti. Neither story mentions any discovery or role by Magnitsky, later anointed by Browder as "the whistleblower," though he would not be arrested till November 2008. (Browder mentions this complaint all the time)
(Here again there's a problem with a redacted month, July, and the word, translation! They don't fit the Magnitsky as whistleblower timeframe. Paul Wrench is redacted, though Browder has talked elsewhere about the complaint, which was dated after Starova's July statement. And the links to the newspapers are killed.)
The murky Rengaz/Renaissance connection
(This next part gets into dicey territory that strengthens the evidence that Browder himself was involved in the tax refund fraud.)
In November 2008, Bloomberg Businessweek said that two subsidiaries of Rengaz Holdings, a fund created by Renaissance Capital in Moscow, had been used in a tax refund fraud in 2006, but that the company had not filed a complaint. The source obviously was Browder. He had hired BakerHostetler lawyer John Moscow two months earlier to find evidence of that Rengaz fraud. But Moscow left the job in May 2009 without finding what Browder wanted. That is why London attorney Neil Micklethwaite of Brown Rudnick filed a declaration in July 2009 in U.S. federal court in the Southern District of New York seeking judicial assistance to conduct discovery to get information from Renaissance he said Hermitage needed to defend against two cases in Russia.
Browder curiously writes in his 2015 book, "Red Notice" that in early December 2007, one of his associates told him about a phone call from the president of Renaissance Capital, Igor Sagiryan, who offered to fraudulently bankrupt the Hermitage companies Browder would later say were stolen to engage in the tax refund fraud. The conversation occurred before the fraudulent Treasury payout at the end of the month.
(These grafs about Rengaz and Renaissance Capital redact the names of key people in the story, including John Moscow, Neil Micklethwaite and Igor Sagiryan. Pavlov told me he worked on both the Renaissance and Hermitage company frauds. Businessweek already wrote about the Rengaz/Renaissance connection. Browder leaked that to the reporter during a sparring match with Renaissance, also reflected in the Moscow-Micklethwaite actions, but he'd probably like that erased.)
Pavlov explains how Browder was connected to the Hermitage tax refund fraud
It seemed odd, but in fact, there was a connection. Lawyer Pavlov told me that he and the same "professionals" were involved in tax refund frauds involving Renaissance and Hermitage companies. He added, "When Browder created shell companies in Kalmykia, he used the same address for them as did Renaissance — if we look at the addresses of companies created at Ulitza Lenina and Kolnikova. And according to documents filed, they were the same people, Plaksin and Arlo, who did this for Renaissance a few years before." Pavlov told me he had set up liabilities both for companies owned by Rengaz/Renaissance Capital and for the Hermitage companies.
(Browder is sloppy. Sometimes Renaissance is redacted, other times it slips through.)
I quoted Pavlov in a 2017 exposé of Browder in 100 Reporters. Two months later, Browder put Pavlov – who had worked on the tax refund collusive lawsuits in 2007 and had no possible connection to the death of Sergei Magnitsky more than two years later — on his U.S. Magnitsky sanctions List. It was both a punishment and a way to keep him from visiting the U.S. to talk to reporters as he had talked for many hours to me. Of course, no way for him to challenge the sanction.
(Here Pavlov's name is allowed. Why redacted earlier? Because he implicates Browder.)
The second part, a take-down of Browder's letter attacking me and my submission, will be posted next.
This is the transcript of a May 15th hearing at which Browder and his supporters testified. There were no other hearings or other views permitted.
THE PARLIAMENT'S RESPONSE June 10, 2020
Dear Ms Komisar
Your objections to the redactions have been noted and considered by the Sub-committee, however they have decided not to amend or remove any of the redactions. The redactions were made in accordance with the principles of privacy, safety and relevance that are applied to all submissions.
Please be assured that at all times the Sub-committee members have had your full unredacted submission before them during their meetings and deliberations. The redactions only apply to the version of the submission that the Committee has put on its website.
Regards
Lynley Ducker | Committee Secretary

Joint Standing Committee on Foreign Affairs Defence and Trade
Department of the House of Representatives
PO Box 6021 | R1.120 Parliament House | Canberra ACT 2600
Ph. (02) 6277 2313 | www.aph.gov.au
MY RESPONSE
——– Forwarded Message ——–
| | |
| --- | --- |
| Subject: | Re: Dc FW SF+EK – Questions to Subcommittee about redaction of Komisar submission on proposed Magnitsky sanctions act [SEC=OFFICIAL] |
| Date: | Wed, 10 Jun 2020 08:26:51 -0400 |
| From: | Lucy Komisar |
| To: | Committee, JSCFADT (REPS) <JSCFADT@aph.gov.au> |
Can you tell me the reasons for redacting the words April, July and translation? What privacy, safety or relevance principles were involved?
I am glad the members have the full version and that issues of privacy do not affect them. I am sorry Australian citizens can't see the uncensored version.
Lucy Komisar
To readers: How do you spell corrupt?